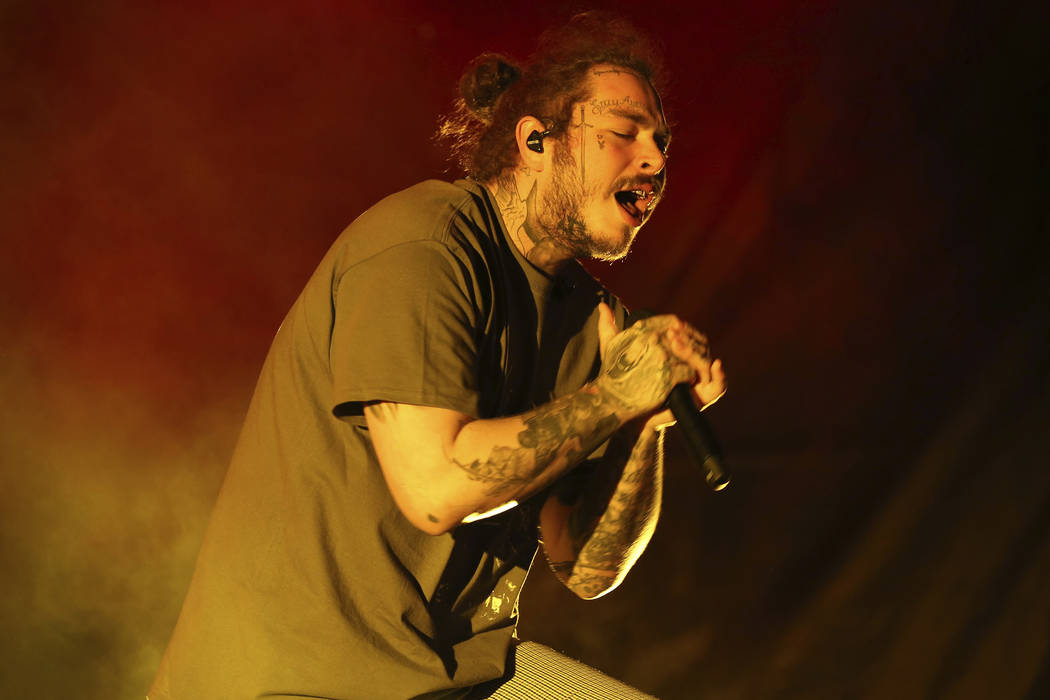 New star, old debate.
Post Malone's life has become a lot like his teeth: golden.
The 22-year-old rapper with a barbed-wire tattoo on his forehead bears an uncanny resemblance to Ol' Dirty Bastard — and also takes a few cues from the late Wu-Tang Clan great's delivery, alternating a singsongy approach with laconic, thick-tongued rhymes.
It has made Malone a sensation.
His latest album, "Beerbongs & Bentleys," a tuneful meat pie of hip-hop, country and hard rock, broke the single-day streaming record upon its release in April, logging 47.9 million streams in its first 24 hours. It went platinum in four days and racked up the most first-week sales of 2018.
Although Malone comes across as a stoney, likable dude, he's also become a divisive presence.
As a white guy making millions through an art form that originated in the African-American community, Malone has been accused of cultural appropriation.
It's an unfair critique. Cultural appropriation exists, of course, but not in this case.
Defining the terms
Cultural appropriation is predicated upon an imbalance of power: The artistic expressions of a minority are co-opted by members of the majority, who benefit in ways that the art's originators aren't able to because of their minority status.
Neither has happened in hip-hop. In fact, the opposite has.
You can argue this wasn't always the case.
The first rap record to top the Billboard album chart was the Beastie Boys' "License to Ill" in 1987.
A few years later, Vanilla Ice dropped what at the time was the fastest-selling rap album.
You can understand how genre forebears such as Run DMC, Public Enemy and LL Cool J might not appreciate being massively outsold by either.
But when the Beastie Boys and Vanilla Ice took rap to new commercial heights, it paid dividends for the genre as a whole, a genre that was then, as now, predominately made up of African-American artists.
It's fair to take issue with the fact that an African-American art form was mainstreamed by white voices.
But look what's happened since then.
Counting down the 50 top-selling hip-hop albums of all time, three white acts make the cut, with Eminem joining the Beastie Boys and Vanilla Ice.
It's hard to contend, then, that African-Americans have been shut out of hip-hop's financial gains or seen their share of wealth generated by the music diminished by culture vultures.
While Post Malone may be getting real rich, real quick, who could argue that he's doing so to the financial disadvantage of his African-American counterparts, who greatly outnumber him on the charts?
Getting a bad rap?
The other side of the cultural appropriation argument speaks more to the meaning and motivations of the culture itself: If one group takes the expressions of another and misrepresents or subverts it — intentionally or not — it could be seen as making a mockery of it all.
Once more, this line of debate could be applied to earlier times in hip-hop's development (see: Vanilla Ice).
It's something that white artists themselves have addressed several times.
"I am the worst thing since Elvis Presley / To do black music so selfishly / And use it to get myself wealthy," Eminem rhymed on "Without Me."
Despite those words, delivered with a knowing wink, it would be hard to contend that Eminem hasn't made serious, lasting contributions to hip-hop.
Who would want to strike his catalog from the hip-hop canon simply because of his skin color?
Plenty of white kids have grown up on hip-hop, become inspired by it and seek to express themselves through the music they love.
Why would it be deemed culturally insensitive for them to do so?
At root, this is a large part of the value and beauty of culture: It has the power to bring different people together under a shared umbrella of mutual appreciation for creative expression.
Once there, the exchange of ideas, viewpoints and artistry can be a powerful vehicle for fostering empathy, understanding and maybe admiration, even among those who may not have a lot in common otherwise.
That's a good thing, even if Post Malone's music isn't your thing.
Contact Jason Bracelin at jbracelin@reviewjournal.com or 702-383-0476. Follow @JasonBracelin on Twitter.