Rapper Sage Francis adding varied sound to Extreme Thing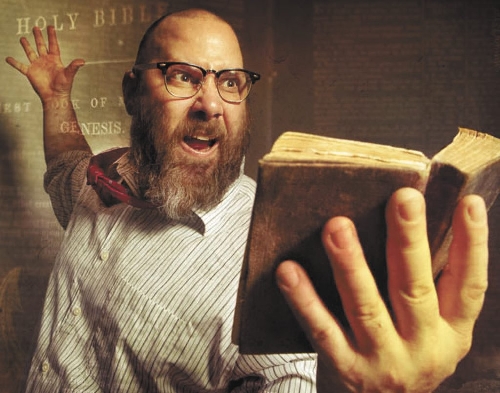 He's thinking of hitting the stage acting like a soundman who suddenly decides to hijack the mic.
Rapper Sage Francis has long been something of a misfit, even in hip-hop, where the burly MC has been among the genre's more distinct underground voices for more than a decade now.
But this Saturday at the annual Extreme Thing music and sports festival, which is typically dominated by punk and metal bands and features such hard hitters as Hollywood Undead, Suicide Silence and Emmure this year, Francis will fit in even less than he normally does, which is why he's currently contemplating coming out in a different guise — at least we think he's joking.
"I'm curious as to who made the mistake to include me on the show," he chuckles. "I have to fight the tide a little bit if people aren't aware of what's going on, because people come into a punk show or a rock show with certain expectations, and they see a rapper and maybe they have a certain stereotype about what hip-hop is."
Francis has made a career out of challenging said notions of what defines hip-hop.
Take his latest album, "Li(f)e," for instance.
It's a bit of a departure for a dude whose livelihood has been posited on artistic left turns.
The disc finds Francis collaborating with an array of musicians in more of a band context, working with a number of notable indie rockers from groups such as Grandaddy, Califone, Death Cab For Cutie and late Sparklehorse frontman Mark Linkous.
The end result is one of Francis' most varied, compelling releases.
With its plucky banjo and group vocals, "The Best of Times" sounds like a campfire singalong. Touches of harmonica and a spare, reverberating beat lend "16 Years" a haunting feel, while "London Bridge" is a more straightforward rocker with purring organ lines, growling guitar and a chorus of kids chanting along in the background.
It's a long way from the dense, hypnotic, sample-heavy sound Francis has come with on recent releases.
"I was just looking for melody lines and really hoping that nobody was going to try and make a hip-hop beat or come up with cool loops," he says of what he looked for from his collaborators. "I told people that we were basically looking for demos that you'd be writing for yourself and we'll adapt to them."
Equally personal and political, "Li(f)e" sees Francis speaking of the sting of a first love, the struggles of growing up in a divided household and the insecurities associated with taking his art public, in addition to challenging various powers that be, like organized religion.
Having started rapping at age 8, Francis' view of hip-hop changed dramatically when he happened upon an open mic night in his native Rhode Island that featured spoken word performances.
He'd soon become a poetry slam champion in the late '90s.
"I started feeling really stuck with my hip-hop stuff, because I realized that I wasn't really getting what I wanted out of hip-hop at a certain point," Francis recalls. "And then I saw these people talking about things that you don't hear about in hip-hop, and I was like, 'Damn, what is this? This is good stuff.'
"It kind of opened me up," he continues. "Hip-hop is so insular. I think being involved in the spoken word scene, I started realizing like, 'Damn, it's actually not cool to be calling women bitches. Homosexuals are actually amongst us, they're not just an imaginary thing that we should hate on to make ourselves look cool.' I had to change my language, I had to change the way I thought about the world and how I wanted to explore it in my music. That was really important. I had to grow as a human and an artist. It was weird, because I think that hip-hop, to begin with, helped me to do that. But at a certain point, I hit a ceiling and had to sneak out a window."
So where does that leave Francis now?
He's both an outlier and a creative force in hip-hop.
Basically, he somehow fits in by not trying to fit in.
"I feel like an outsider, but at the same time, I know that I'm not excluded. I'm involved in it," he says. "It's like I'm an excepted weirdo in those circles. It's not like I'm Christopher Columbus from some whole other land.
"I don't know," he says, catching himself. "Maybe I am."
Contact reporter Jason Bracelin at jbracelin@ reviewjournal.com or 702-383-0476.
Preview
Extreme Thing, with Sage Francis and others
11 a.m. Saturday
Desert Breeze Skatepark,
8245 Spring Mountain Road
$17 in advance, $20 day of show (800-745-3000)