Rescuing animals is part of Rodgers' rock 'n' roll reality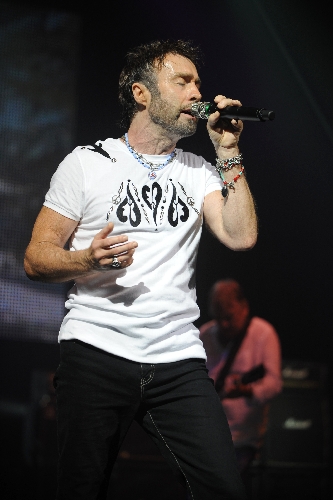 Paul Rodgers' music has been incredibly influential on the rock world. When he performs Saturday at Eastside Cannery, he will sing hits from his years in Bad Company, Free and The Firm.
So his set list could include the rock staples "All Right Now," "Bad Company," "Can't Get Enough" "Feel Like Makin' Love," "Rock 'N' Roll Fantasy" and "Radioactive."
"It's a kind of best-of (concert)," Rodgers says. "I like the crowd to be happy — because they make the show."
His songs continue to be relevant. The Vegas band Five Finger Death Punch remade "Bad Company" into a hit in 2010.
But here's what you don't know about Paul Rodgers: He and his wife are saving the lives of racehorses, cows, dogs, cats and deer.
They own a rescued dog and eight cats. They feed 14 deer. They give time and money to animal charities Critter Aid and Hope for Wildlife.
And they've been helping save retired racehorses through the charities www.racehorsesanctuary.org/ and seraphim12foundation.org/.
"When they finish their horseracing life," Rodgers says, "they're so highly strung, people shoot them.
"I went to the sanctuary and thought, 'To shoot these wonderful beings is a terrible crime, really.' "
He and his wife — who live in a remote part of British Columbia — felt compelled to help.
"They rehabilitate racehorses down to where they live a normal life," he says. "These things cost money, so we try to raise funds and help them.
"These horses — highly strung as they are — they bring autistic children out there, and they are as gentle as lambs with autistic kids."
Rodgers was turned onto the racehorse sanctuary by his wife, Cynthia, who learned about it through singer Deborah Bonham, sister of the late Led Zeppelin drummer John Bonham.
The Rodgerses can't get enough of animal welfare.
"We just procured a cow," Cynthia Rodgers tells me. "This cow was found running loose down in a town near Vancouver. It had been living in a park near a slaughterhouse. So it escaped slaughter."
She says they also help with a neighbor who rescued crocodiles and alligators from university experimentation.
And about 14 deer cycle through their yard feeder.
"So I've got a deer restaurant now," she says.
They also help people. Cynthia Rodgers has been known to hand out $100 bills at concerts. No, I'm serious.
At Rodgers' last concert in Vegas, they raised money for the Boys & Girls Club. They are planning to do the same Saturday, to raffle autographed Rodgers items to raise money for the Boys & Girls Club in Laughlin.
The Rodgerses are also trying to expand a California charity nationwide. It's called Kids Rock Free, and it pays for music lessons for kids in poverty.
Cynthia Rodgers is such a true believer in helping people and animals, she can't fathom it when people stock up on, say, $500 pairs of shoes, she says.
"I'm just like, 'Really?' " she says. "You know, animals are suffering. People are suffering. And that's what you want to do with your money?"
It's important to remember that Rodgers is doing his charitable part while also extremely busy.
On a personal level, he's a workout fiend. He's been like this since the 1970s, when he looked around at friends and peers abusing hard drugs and dying from them, and didn't want to end up like that.
Plus, his wife is a physiologist.
"I married a Canadian lady who was a fitness expert. That was my downfall. I could no longer be the couch potato I long to be," he jokes.
Being physically fit helps him perform.
"I don't want to see someone crawling onstage with a hangover. I want to see someone who's up for the show and ready to rock," he says.
In the last year, he's led a U.K. tour, including a sold-out show at the Royal Albert Hall; recorded a CD/DVD, and cut a Bob Dylan song for an Amnesty International album.
This summer, he joins the original cast of Bad Company for a rare European tour.
And he has been recording songs with the late Otis Redding's guitarist Steve Cropper.
"The tracks are so cool. It's like going back in time to those Otis days," he says.
"This is so amazing to me. As a kid from Middlesbrough (England), I was listening to this stuff when I was 14. And here I am, writing lyrics for that band."
He's grateful for all this.
"Music has given me so much, from way back and being a teenager. I would have been running around the streets of Middlesbrough without music. I don't know what I would have happened really, because, hmm …
"It gave me a sense of direction and self-worth. I find now music crosses all barriers and brings people together."
Doug Elfman's column appears Tuesdays, Thursdays and Fridays. Email him at delfman@reviewjournal.com. He blogs at reviewjournal.com/elfman.