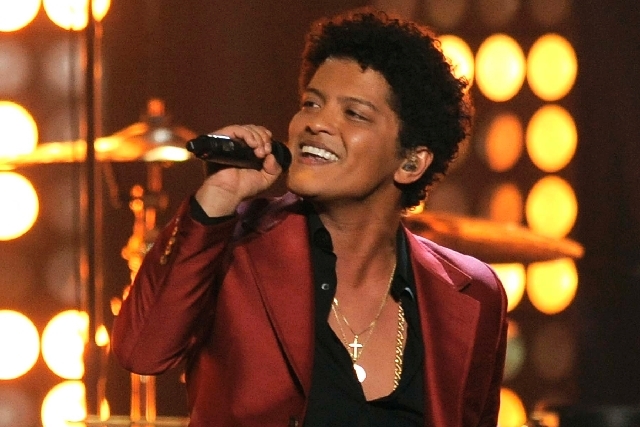 He called it "R&B 101," and he boiled it down to a single utterance voiced with syllables elongated, testing the elasticity of the word like a boulder dropped onto a trampoline.
"D-a-a-a-m-m-m-n-n!" Bruno Mars howled with the crazy-eyed zeal of a street preacher forecasting some locust showers.
According to Mars, mastering the delivery of this exclamatory burst is the true test of a soul man's worth, even more so than his ability to sing and dance.
"I'm tellin' ya," the 27-year-old implored to a sold-out MGM Grand Garden on Saturday, perhaps sensing some skepticism towards this assertion. "I've been doing this for a decade."
By "this," Mars means mining R&B's past to excavate hunks of contemporary pop gold.
And he's been doing it much longer than a decade, touring as an Elvis impersonator before he was in kindergarten.
"I made my first album because I have a place in my heart for old school music," Mars announced prior to "If I Knew," a song that began with gospel-like yearning and ended with Mars' voice going up and down, up and down, like an overworked elevator.
Flanked by an eight-piece band, Mars seemed intent on giving the adoring crowd something of a musical history lesson, a Cliff Notes version, at least, surveying '70s funk lite via the carbonated, Jackson Five-worthy "Treasure," Bob Marley-indebted reggae on "Show Me," growling, pompadour powered '50s rock and roll during a cover of Barrett Strong's "Money (That's What I Want)" and the more slickly produced, sexually ribald R&B of his teen years for a stripped down, heavy breathing, window fogging take on Ginuwine's "Pony."
Mars, who initially made a name for himself as a songwriter, sampled some of the more modern-sounding hits he penned for other artists, performing Travie McCoy's "Billionaire" and B.o.B.'s "Nothin' On You," but in both cases, the songs' radio-friendly sheen was deliberately scuffed up and hardened by maximalist drumming and assertive bass lines that registered in the gut like indigestion.
Smiling as if he was auditioning for a part in a toothpaste commercial, Mars served as a switch-hitting bandleader, ripping guitar leads from his knees like Marty McFly in "Back to the Future" and bashing out a feverish drum solo prior to an exultant "Locked Out of Heaven."
Mars' singing voice is lithe and supple, smooth as a pair of fresh-pressed slacks, though he'd occasionally let it loose like a kid relinquishing his grip on a balloon to watch it soar up and away.
In his songs, he mostly plays the role of tender-hearted Lothario, a carefully calibrated mix of naughty and nice, who puts his woman on a sky-scraping pedestal ("On top of the world is where I stand when you're back in my life;" "If perfect's what you're searching for, then just stay the same"), takes the blame when love goes bad ("My selfish ways caused a good strong woman like you to walk out my life") and then flashes a decidedly more steamy side ("Clothes are not required for what we got planned").
Throughout the show, Mars winked at his seductiveness, pausing at one point to find a lady in the crowd for he and a trio of his bandmates to engage in a bit of competitive sweet talking.
Turns out the woman was named Page.
"I'd like to turn your page all night long," Mars purred without missing a beat.
Then the band lunged into "Runaway Baby," a concussive, full-contact funk throw down where Mars sang into a bullhorn at one point.
"Run away, baby, before I put my spell on you," he cautioned, knowing full well that it had already been cast.
Contact reporter Jason Bracelin at jbracelin@reviewjournal.com or 702-383-0476.
review
WHAT: Bruno Mars
WHEN: Saturday
WHERE: MGM Grand Garden
ATTENDANCE: 13,500
GRADE: A-