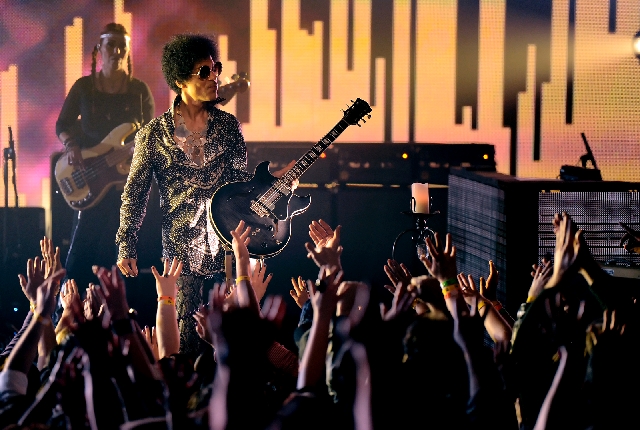 That rare ability to master the art of onomatopoeia is as essential to any true soul man's arsenal as the candy-coated tongue that enables him to sweet talk your girl out of her clothes and into his bed.
Take it from Prince, a man gifted at making his words sound exactly like what it is they are attempting to convey.
This is key, because the primal impulses — the libidinal urges that he frequently sings of — elude simple description in the same way that it's nearly impossible to characterize the scent of a rose, for instance.
And so he has to find alternate ways to get his point across.
This skill set, among many others, was on full display at The Joint at the Hard Rock Hotel on Friday.
"I got a question: Do you like rock and roll?" Prince asked during the first of his two shows of the night. "I do too, but I like mine funky."
Only he didn't pronounce it as "funky," but rather "funk-k-k-a-y-y," doubling down on its syllables and savoring each one like verbal bonbons.
It became less a word than an expulsion of energy, a guttural release, and in this way, was perfectly representative of the songs that followed.
Like his diction, Prince's tunes are malleable and fluid, every bit as dimensionless as the night sky outside the concert hall.
A number of his songs revolve around seduction, and his playing follows suit: he takes his time with them, enjoying the moment, running his hands over every contour.
The show opened with "Let's Go Crazy," but it didn't much resemble its original recorded version. Played at half-speed, the band lingered in the groove, digging in, until it was a thing of cast-iron heaviness, concussive as a head-on collision. They even threw in the bass solo from Edgar Winter's "Frankenstein."
Similarly, the pop bounce of "U Got The Look" was eschewed for heightened rhythmic torque that manifested itself in bass lines that growled like a hungry belly, while the normally brisk and buoyant "I Could Never Take the Place of Your Man" became a bluesy slow burn that simmered and hissed like it was being griddled.
Prince did play cinematic ballad "Purple Rain" kind of straight, in a roundabout way, before detouring into the falsetto ecstasy of "Adore" and then returning to finish the song.
"Contrary to rumor, it's new for me every time," he said upon introducing the song, and judging by the way he played with the tune's boundaries, it wasn't an empty sentiment.
Prince wasn't alone in powering his repertoire in myriad new directions.
On this tour, he is being joined by 3rd Eye Girl, a female power trio that he assembled, in part, by seeing each of them perform individually on YouTube.
Prince didn't treat them like a backing band, however, and they certainly didn't act like one.
"We are 3rd Eye Girl, and my name is Prince," he announced early in the show, as if he was just another member of the group and not the evening's star attraction.
Guitarist Donna Grantis, zip-locked into a leather body suit, ably traded solos with one of the world's greatest soloists, commandeering songs like "Endorphinmachine" and "Screwdriver," busting out Pete Townsend-worthy stage moves and playing with just as much aplomb.
Bassist Ida Nielsen downright dominated the aptly titled "Let's Work" and the hair-on-fire funk of "Bambi," locking in with drummer Hannah Ford in rhythms so airtight, you could practically hear them gasp for oxygen.
On surging rockers like "FixUrLife Up" and the instrumental "Plectrum Electrum," their combined momentum was suggestive of a boulder roaring down a mountainside.
"I'm in a daze, but that's the way it's gotta be," Prince sang during "I Like It There," giving voice to the prevailing sentiment of the evening, which culminated with him inviting members of the audience onstage for an impromptu dance party soundtracked by a medley of hits and boogie down productions ranging from "When Doves Cry" to "Housequake" to "I Would Die 4 U."
"It's funky up here, y'all," Prince beamed from beyond a keyboard, barely visible amongst a jungle of gyrating limbs.
And by "funky," he meant "funk-k-k-a-y-y."
Contact reporter Jason Bracelin at
jbracelin@reviewjournal.com or 702-383-0476.
REVIEW
Who: Prince
When: Friday
Where: The Joint at the Hard Rock
Attendance: 3,500
Grade: A