Rock in Rio plans permanent venue on Las Vegas Strip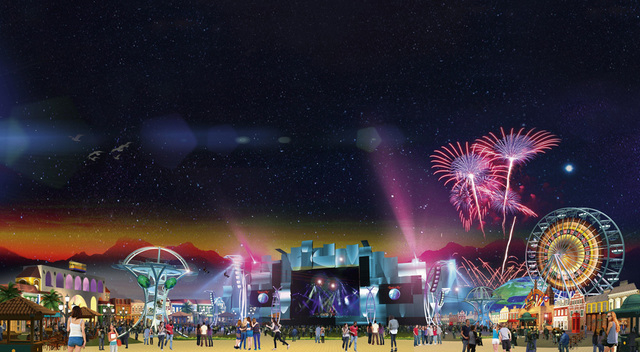 Currently, it's a dusty lot populated by clusters of rocks and islands of weeds with a plywood fence hiding its drabness from the bright lights of the Strip.
A little over a year from now, promoters say, it will be transformed into the City of Rock, a permanent, 33-acre, open-air concert venue with a capacity of 80,000 at the southwest corner of Sahara Avenue and Las Vegas Boulevard.
The grounds will serve as the home of the Rock in Rio music festival, which makes its American debut here on two consecutive weekends in May 2015, with different acts each week.
"I would like it to be the Super Bowl of music festivals," says Rock in Rio founder Roberto Medina in a Skyloft suite at the MGM Grand on Monday, where new details emerged surrounding the previously announced event.
One of the biggest music festival brands in the world, Rock in Rio current encompasses shows in Brazil, Spain and Portugal.
At last year's festival in Rio, where Beyonce, Justin Timberlake, Metallica, Bruce Springsteen, Bon Jovi and dozens of other acts performed, all 600,000 tickets were sold out in four hours, according to event organizers.
All Rock in Rio concerts are centered in the City of Rock grounds built specifically for each site.
The Vegas City of Rock, which will cost $40 million to construct, will consist of a circular layout with various themed streets corresponding with American, British and Brazilian cultures.
There will be five stages, including an electronic and an indie stage.
MGM Resorts, with Cirque du Soleil and investment firm The Yucaipa Companies, will oversee construction of the new venue, which is committed to hosting the bi-annual event in 2015, 2017 and 2019.
"We are going to create the infrastructure and grounds enabling this thing to happen," says Bill Hornbuckle, president and chief marketing officer at MGM Resorts International. "It'll be fully astro-turfed, there will be paving and other infrastructure in play — electric, sewage, etc. — so that when this event comes and goes, the balance of the time it can be used for other festivals — jazz, country, food."
Hornbuckle says that he could see the grounds hosting one-off sporting events like boxing and UFC cards and Major League Soccer games.
According to Hornbuckle, the plan is to grow the festival to eight days by 2019, where it would take place over two four-day weekends with one weekend centered around rock artists and the other weekend around pop performers.
The partnership between MGM Resorts and Rock in Rio was facilitated by Cirque du Soleil, who came became familiar with Rock in Rio while touring their shows in Brazil.
"When (Rock in Rio) told us they were looking at breaking into the North American market, we said, 'OK, we have the perfect city for you and we have a great partner to introduce you to,'" says Jerry Nadal, senior vice president, resident shows division at Cirque du Soleil. "It was kind of a no-brainer for us. We think it's the next wave of entertainment out there."
There won't be Cirque acts performing at Rock in Rio, but the company will supply production support culled from among their 2,000 Vegas-based employees as well as marketing and sales assistance.
Though no artists have been announced for Rock in Rio yet, Medina says that there already have been 10,000 tickets reserved for the concerts on the event's website (www.rockinrio.com) since they began promoting the shows last month in a series of newspaper advertisements.
Tickets will officially go on sale in January. In the meantime, there will be a promotional event in New York City's Times Square in September where, according to Medina, a major act will perform and where details of the lineup will most likely emerge.
Medina also says that there will be a major media campaign to promote the festival.
"We already have $30 million invested in communications in the U.S.," he notes in Portuguese, speaking through a translator.
Hornbuckle says that the City of Rock grounds will take about 45 days to set up and another 30 days to tear down after the event is over, with the venue's infrastructure remaining in place, and hopes that Rock in Rio will help revive the stagnant north end of The Strip, benefiting adjacent properties like Circus Circus and, in future years, the new SLS Las Vegas hotel and casino, which is scheduled to open over Labor Day weekend.
"I think the happiest guy in town today is Sam Nazarian," he says of the founder and CEO of the SBE Entertainment Group, which owns SLS Las Vegas in partnership with San Francisco-based private equity firm Stockbridge Capital Group. "It's going to help Circus Circus, it's going to help that whole end of the Strip, because it's had a couple of tough years as we all know."
Referring to Medina's background in advertising — he owns one of the largest ad firms in Brazil — Hornbuckle sees Rock in Rio as a vehicle to promote Vegas as a whole.
"At the core of their company, these guys are marketeers," he says. "They'll spend $25 (million), $30 million promoting this event globally. The net beneficiary of that is the brand of Las Vegas. Yeah, MGM Resorts will benefit highly from that, but at its core, this is a Las Vegas sell."
Contact reporter Jason Bracelin at jbracelin@reviewjournal.com or 702-383-0476. Follow on Twitter @JasonBracelin.