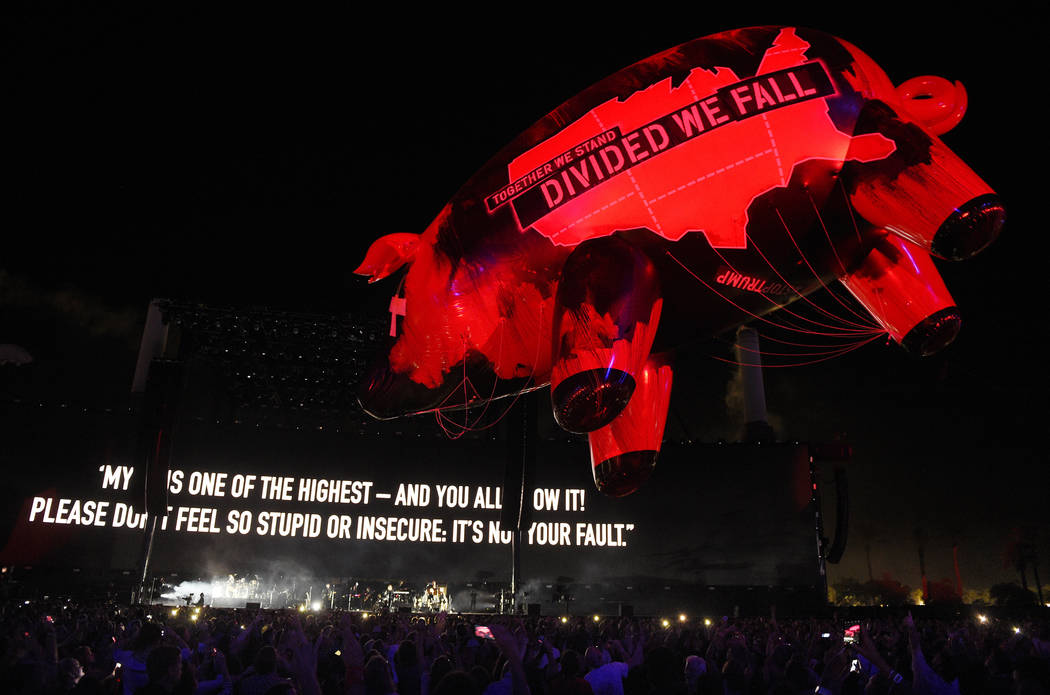 "Could we do a show without the flying pig? Yes. Would we? No."
The menacing inflatable pig was a signature of Pink Floyd, and now it's a constant of Roger Waters solo tours.
"It's great. And it doesn't feel old. It still feels very relevant and very new," says Sean Evans, creative director of Waters' "Us + Them" tour.
But like "The Wall" tour, which Evans also worked on with the 73-year-old British rocker, old symbols take on new meaning. The flying pig now carries a cartoon image of Donald Trump with the word balloon "I won!"
In fact, Trump imagery — and sound bites — are all over the tour docking at T-Mobile Arena on Friday. Trump's face is plastered with the word "Charade" to match a key lyric in "Pigs (Three Different Ones)." The Floyd classic "Money" features Trump's Atlantic City casinos.
Word is spreading quickly that the Floyd classics have been refinished to match the dark sarcasm of Waters' two-week-old solo album, "Is This the Life We Really Want?" Already, Evans says, people are chanting along to a key phrase in the new song "Picture This": "Picture a leader with no (expletive) brains."
"It's gone over pretty well in red cities (such as Tulsa, Oklahoma)," Evans says. "We were expecting much more outrage, but I guess people know what to expect by now."
And those who do walk out? "I guess people just attribute different things to Pink Floyd. People think it's just, 'Put it on and check out' music. But they're not really listening to what it was saying. It's always been pretty serious music, and full of statements.
"This might be a bit more specific," he adds, "but it's nothing new. If people are surprised, I just feel like they haven't been paying attention to the music."
Some of the Trump imagery was introduced at last year's Desert Trip festival. "Honestly … we didn't think he was going to get elected," Evans says. Did anything change in light of comedian Kathy Griffin discovering that imagery can go too far?
"If you're pushing it too far, you can alienate," Evans says. "It's finding a place where it's more putting your arms around someone and saying, 'Have a listen to this. Have a think.' The 'Pigs' thing is probably pushing that a bit. But still it's done with a smile."
The new album reflects "fear of the fact that everything is running away from us and nobody is the child who says, 'But the emperor is not wearing any clothes,' " Waters recently told The Associated Press.
The new songs are "essentially about our dilemma as human beings as to whether we can find ways to accommodate each other's needs, and to discover our potential for empathy for others, including refugees," Waters added.
No one has ever accused Waters of subtlety, even if the new album's lyrics are more aggressive and outrageous than the often subdued, orchestral instrumentation.
Evans chuckles when he recounts how the new tour went from not even attempting to match the spectacle of "The Wall," to coming within one truck of the $60 million rock opera that toured for three years (and is preserved in a concert film co-directed by Waters and Evans).
"The funny thing is that we did (say) there's no way we're going to top 'The Wall,' " he says. "But what we did say was we wanted to do something that messes with the space and does something different in that arena space."
The result includes close to "400 feet of moving image in an arena, which is ridiculous." And an effect involving the "Dark Side of the Moon" pyramid is best saved as a surprise for those who haven't peeked on YouTube.
Concert promoters and casino executives have made Waters a standing offer to stage "The Wall" — or anything he wants — in a Las Vegas destination show, akin to country icon George Strait's periodic dates at T-Mobile Arena.
"I think that anything like that, he would take it as a challenge and do it, whether it's Vegas or London or New York or whatever," Evans says.
"But for him, he's 73 and he still has these huge projects, so it's (a matter of) putting them in order," he adds. "He is very prolific and loves to work. So if he tackled something like that, it wouldn't be a surprise at all."
Contact Mike Weatherford at mweatherford@reviewjournal. com or 702-383-0288. Follow @Mikeweatherford on Twitter.