Rolling Stones sing the blues, chase them away at T-Mobile Arena
October 23, 2016 - 3:14 pm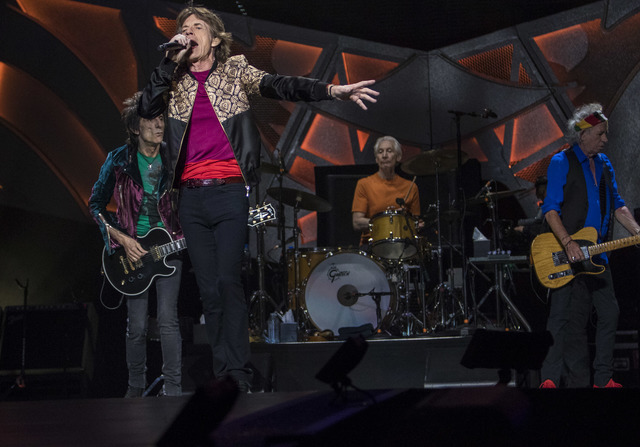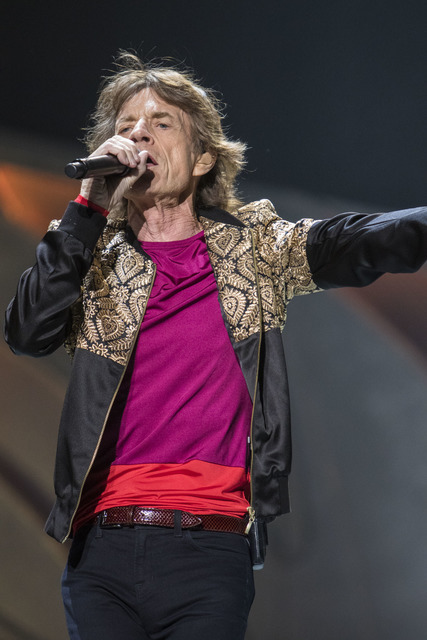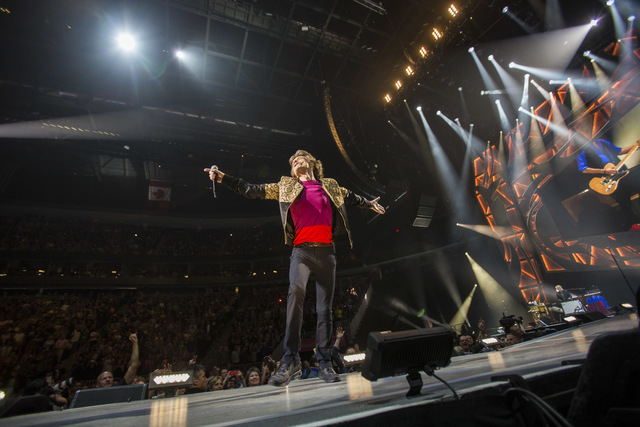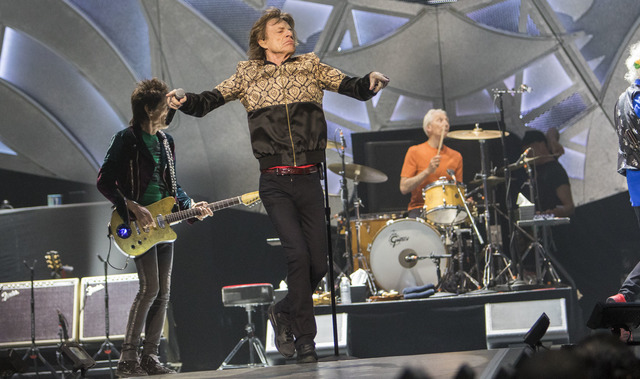 As he huffed and puffed into his harmonica, each breath seemed to blow a few more clods of dirt off the roots he was unearthing, digging into the song and his past at once, blues harp and larynx his instruments of excavation.
"I got to stop dealin', baby, " Mick Jagger sang, his voice a cocktail of regret and defiance as he belted out a tune by a man who enjoyed cocktails a bit too much, blues great Jimmy Reed, who was both an alcoholic and a pole star of the genre.
The song was "Ride 'Em on Down," and as the Rolling Stones tore into the thing Saturday night at T-Mobile Arena, it proved notable on a couple of levels.
Foremost, it was an early turning point in the band's 18-song, two-hour set. Delivered five tunes into the show, "Ride" was akin to a dash of kerosene that turns a smoldering fire into a full-on blaze.
Though all but one of the Stones are in their 70s (guitarist Ronnie Wood is a spry 69), they show few signs of creakiness — with his Gumby hips sashaying to the beat with metronomic timing, Jagger still moves like Jagger, while his primary musical foil, guitarist Keith Richards, still hunkers down low over his instrument like a wolf guarding the spoils of a raided henhouse.
The one notable exception to this enviable ability to defy their age is that it does take the band a little more time to get loose and work up a lather. On Saturday, they opened with a stiff-legged "Jumpin' Jack Flash," which could have used some gas, gas, gas, followed by a leisurely take on "Let's Spend the Night Together," both of which barely hinted at the vigor to come.
But, hey, it takes a minute to bring a kettle to a boil, and likewise, Stones performances tend to get better and better as the show progresses.
And so while "Ride 'Em on Down" was a highlight for kicking things up a notch, it was also significant for another reason: This was the Stones coming full circle on their six-decade-spanning career.
On their first, self-titled record, released 52 years ago, the Stones covered another Reed tune, "Honest I Do." Their forthcoming new covers album "Blue & Lonesome," due out Dec. 2, revisits Reed via "Ride 'Em on Down," alongside standards by Willie Dixon, Howlin Wolf, Magic Sam and others.
It's a timely record, a look back on a past that still very much informs the present: the Stones are at their best nowadays when summoning the bare-knuckle blues that was their reason for being in the first place.
You heard it in what was perhaps this show's centerpiece, a tempestuous, unabridged "Midnight Rambler," which didn't ramble so much as seduce and destroy.
Richards has referred to the song in the past as a blues opera, and it takes on that scope live, played nearly twice as long as its original, seven-minute recorded version, gradually accelerating from a down-and-dirty shuffle to a climactic rush, with Jagger swinging his jacket in the air like a human helicopter turret while Woods ripped a surging, song-closing lead with mouth agape, eyes as wild as a couple of feral cats.
If that was one of Wood's finest moments, Richards had plenty of his own, taking the mic for a three-song suite midway through the show, giving wizened, yet sweet voice to "Slipping Away, "T&A" and "Happy."
Though the mood inside the arena was a festive one, there was some grumbling on the periphery after the band canceled a show scheduled for the same venue Wednesday, when Jagger was said to be battling laryngitis.
Jagger apologized for the aborted concert, while alluding to the presidential debate that also took place here on the night in question a couple of miles down the road at the Thomas & Mack Center.
"On Wednesday there was another show somewhere in Las Vegas," he quipped. "Was it a comedy or was it a tragedy?"
Jagger showed no signs of any throat ailments on this night, singing with command on "Miss You" — "the one disco song that didn't suck," as a fan in the stands noted during the tune — while managing to hold his own with guitars that rang out like a 21-gun salute during "Start Me Up."
He played well with others, too, dueting forcefully with backup vocalist Sasha Allen on "Gimme Shelter." Allen, a former finalist on reality-TV singing competition "The Voice," replaced longtime Stones singer Lisa Fischer, who toured with the Stones for a decade and a half before departing the band earlier this year.
Together, Jagger and Allen stood at the end of the runway that jutted into the crowd, Allen's voice rising from her like a jetliner soaring to cruising altitude.
As was the case the last time the Stones played Vegas in May 2013 at the MGM Grand Garden, they were joined by the Green Valley High School Madrigal Singers on "You Can't Always Get What You Want," which opened the band's encore. From there came "(I Can't Get No) Satisfaction," with Jagger punching the air and swatting at Richards' guitar as if he was fanning the flames conjured by Richards' fiery playing.
Yeah, this bunch has gone back to singing the blues, but they're just as skilled at chasing them away.
Read more from Jason Bracelin at reviewjournal.com. Contact him at jbracelin@reviewjournal.com and follow @JasonBracelin on Twitter.
REVIEW
What: Rolling Stones
When: Saturday
Where: T-Mobile Arena
Grade: A
RELATED
Rolling Stones clear the path for rock to shine on the Strip — PHOTOS
Photos: The Rolling Stones — a magical, memorable night at T-Mobile Arena
Rolling Stones keep on truckin' with multimillion-dollar gig at Bellagio
Mick Jagger's laryngitis wipes out Rolling Stones' show at T-Mobile