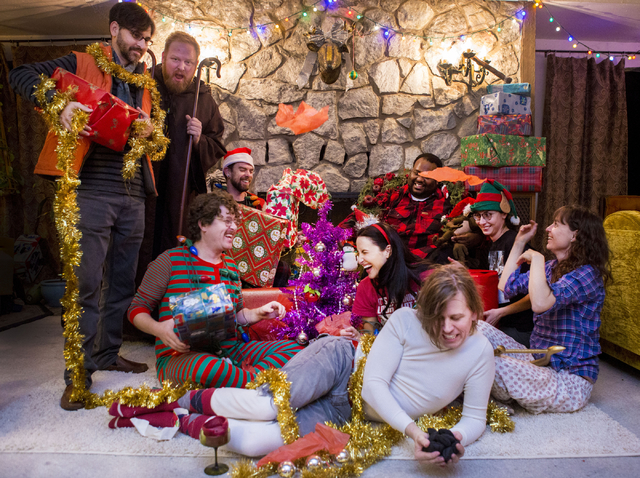 There's no Christmas tree at the Coffee Cup.
No tinsel, even.
And there's nothing to pass for presents in the bustling Boulder City diner, though the bacon-infused Bloody Marys that've just arrived feel like a gift, in a way.
Despite the lack of seasonal flourishes here to get this late-lunch crowd in a festive mood on a recent weekday afternoon, the pair of musicians tucked into a table in the center of the room speak of the looming holiday with enough enthusiasm to occasionally make heads turn in their direction.
James Adams and Tsvetelina Stefanova, singer-guitarist and singer-organist for resourceful, high-reaching indie rockers Same Sex Mary, are describing "A Very Merry Same Sex Mary Christmas Spectacular," their new holiday show, which overtakes The Bunkhouse Saloon on Friday.
The two don't just finish each other's sentences, they continually freight-hop shared trains of thought.
"It's a big undertaking," Adams begins.
"There was just so many ideas," Stefanova continues.
The idea that started it all is a straightforward one: to put on a seasonal production show that enlivens a rock concert with theatrical flourishes.
From this simple concept, things got real elaborate, real quickly: The "Spectacular" cast has grown to include over 50 Vegas musicians, actors, writers, directors, artists and other performers.
With drummer Aaron Guidry, a Cirque du Soleil veteran who's also performed on Broadway, serving as production manager and enlisting fellow Cirque contributors Michael Duffy (director) and Anna-Bel Jean (general stage manger), the group has assembled a large, artistically diverse cast that includes members of Vegas bands Thee Swank Bastards, A Big Friendly Corporation, Dusty Sunshine, Candy Warpop, Rusty Maples, rapper Hassan Hamilton and more.
The show will feature performances of Same Sex Mary originals intermingled with holiday tunes and interspersed in a running narrative that the band, which is rounded out by bassist Jason Aragon and guitarist Brian Cantrell, began conceptualizing in September.
The storyline revolves around a female CEO — named Mary, naturally — who's just purchased the rights to Christmas.
"She's like our Scrooge character, only instead of hating Christmas, she loves Christmas," Adams explains. "That concept, 'Christmas is going to be even better this time. The war on Christmas is over. It's gonna be the best,' I think people can really attach to this person who doesn't get Christmas.
"They say they love it, but they don't get it. It's them just pushing their vision of Christmas. It's this corporate ownership of things, taking things and rebranding them, rebooting them."
While this story will unfold on stage, the production isn't confined to the Bunkhouse doors.
The patio area outside the venue will be transformed into a wintry landscape and incorporated into the festivities, with the roasting of s'mores, an artist creating drawings and/or paintings on the spot and plenty more.
"The show really starts as soon as you walk in the gates," Adams says. "You're immersed in the experience. We're going all out, as much as we can build. We're literally going over the top. I couldn't even name all the people we have working with us."
This isn't the first time Same Sex Mary has aimed big at one of their gigs: the band's well-received, July 2015 release show for their sophomore album, "The Second Coming," incorporated theatrics into their performance at the Fremont Country Club.
"We've always wanted to make our live show more, keep doing more," Stefanova says. "With that show, we had two actors, a director, a writer, a choir — and that was it. It was still a big production, but we wanted to go even bigger, bring it to the next level. What does it take to manifest that? It's bringing all these people together."
And this, more than anything else, is the whole point of the "Spectacular," to unite the various elements of the local arts community, especially those centered downtown, for one night, at least. (It's all for a good cause, too, with the band partnering with Three Square food bank, which will benefit from the event.)
And so while the production doesn't have a big message to impart upon its conclusion, it doesn't need one, really: The spectacle of so many different artists coming together is the message.
"It's not like you're going to have this profound moment at the end, where you go, 'Oh, wow,' " Adams says. "It's just going to be a big party, and it's going to get wilder and wilder as the night goes on. At the end, everybody's going to have a big smile on their face."
Read more from Jason Bracelin at reviewjournal.com. Contact him at jbracelin@reviewjournal.com and follow @JasonBracelin on Twitter.
Preview
What: "A Very Merry Same Sex Mary Christmas Spectacular"
When: 8 p.m. Friday
Where: The Bunkhouse Saloon, 124 S. 11th St.
Tickets: $10 (702-982-1764)