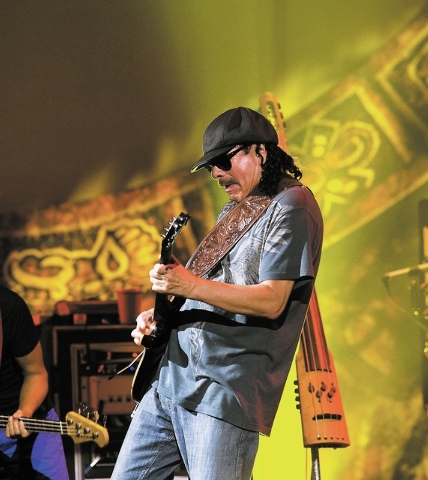 Carlos Santana often speaks with us here at the Las Vegas Review-Journal, and we have talked before about his move to Las Vegas.
But reading about it in a book just seems so, well, authoritative.
Santana's autobiography "The Universal Tone — Bringing My Story to Light" came out in November. It takes more than 500 pages for the 67-year-old guitar legend to tell his story, from his parents eloping on horseback to his move to Las Vegas three years ago.
He once thought of Las Vegas as a place "for square people hanging in lounges." And when he first played in 1969 with the Grateful Dead, "they weren't letting hippies get anywhere near the casinos back then. It was a place to do a one-nighter and get the hell out."
Now that he is a Las Vegas homeowner and moved his management office here, Santana writes of "a feeling of possibility in that desert atmosphere." He speaks well of the House of Blues at Mandalay Bay, where he does another batch of shows Wednesday through Jan. 31.
Santana and his wife, Cindy, "have learned to love Las Vegas … watching the sunrise and sunset together, so beautiful in the desert, meditating, exercising, playing guitar; listening to my favorite music, then eating with her at a really great restaurant, where I've gotten to know the chef and the people working there."
And no complaints about traffic or his homeowners association fees.
Contact reporter Mike Weatherford at mweatherford@reviewjournal.com or 702-383-0288.
Preview
Santana
8 p.m. Jan. 21 and select dates through Jan. 31
House of Blues at Mandalay Bay, 3950 Las Vegas Blvd. South
$89.50-$350 (702-632-7600)