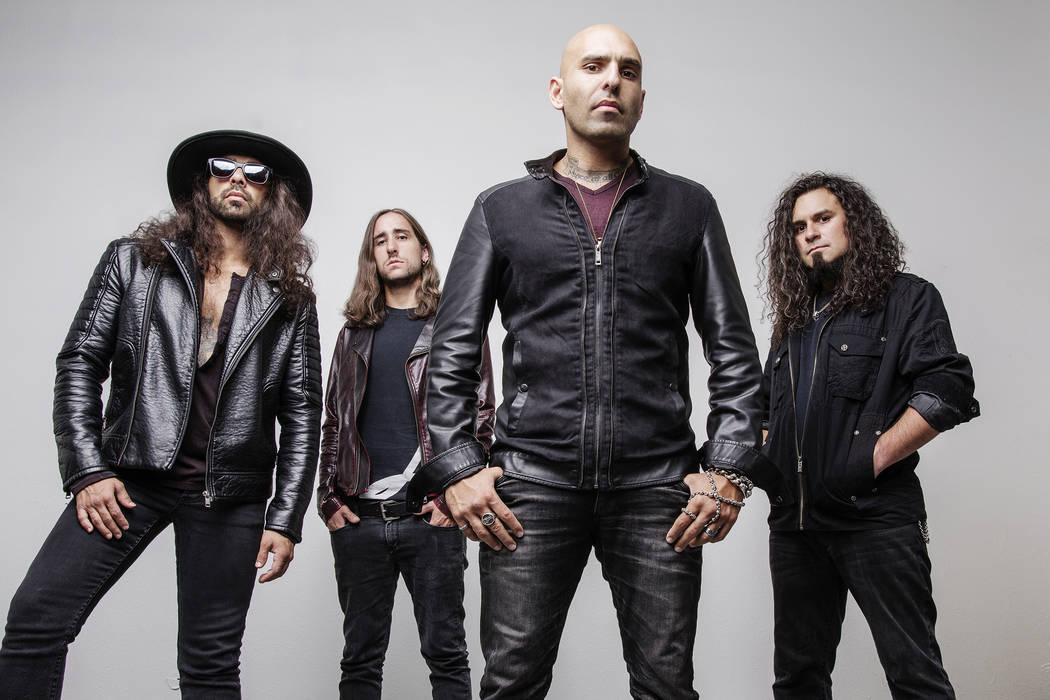 They were looking for a break, and starting to feel a little broken.
Flashback to the beginning of the decade: Vegas rockers Otherwise were a popular draw locally, a band perpetually on the verge it seemed, gigging constantly to bigger and bigger crowds, but their hard work continually begat even harder luck.
"We had been showcasing for many years, we were the biggest unsigned band in Las Vegas and nothing was seeming to pop off," recalls guitarist Ryan Patrick, who started Otherwise with his brother, singer Adrian Patrick. "My brother and I were at the highest level of frustration, just confusion, 'Do we give up? What do we do?' "
Around this time, Ryan Patrick revisited a riff that he had first come up with years ago, inspired by — of all things — the movie "The Last of the Mohicans," a film about survival and perseverance, something that the brothers were wrangling with on a daily basis.
Said guitar line eventually became the basis for "Soldiers," a song that used a soldier's tenacity as a metaphor for pressing through life's hardships. It became Otherwise's first breakout hit.
"We actually used the camaraderie of our military as the subject matter," Patrick says. "We are the soldiers, we have to fight for what we believe in because they fight for us to have a chance to dream, for us to do this. It was like, 'We can't give up.' "
Originally put out by the band itself on the 10th anniversary of the 9/11 attacks, "Soldiers" became the first song from an unsigned act to hit No. 1 on Sirius/XM's hard-rock channel Octane. After Otherwise landed a deal with Century Media Records, it was released as the first single from the group's label debut, "True Love Never Dies," becoming a top 20 hit on the mainstream rock radio chart.
"Soldiers" also quickly became a popular anthem for those enlisted in the armed forces.
"We get messages from soldiers or families that say, 'My son was in the Army, and at his graduation ceremony, they played 'Soldiers' and all the new recruits walked through,' Patrick says. "That's just crazy to me. I'm so shocked that a song that we wrote in my parents' garage is being played everywhere, in other countries."
And so when Otherwise learned of a military-themed music festival being developed, they jumped right in, joining the production team and helping to bring it to Vegas after promoters had been shopping for the right venue for nearly eight months.
Now comes the debut of Scars and Stripes on Saturday at the Downtown Las Vegas Events Center.
In addition to a 16-band bill loaded with military-friendly acts such as 3 Doors Down (who were once sponsored by the National Guard), Hellyeah, Asking Alexandria, Pop Evil and others, the all-day show will feature charities such as Pets for Vets and the Veterans Transition Resource Center. Fest organizers will donate some of the proceeds from the gate to military causes and arrange meet-and-greets between some of the bands and service members from Nellis Air Force Base.
Members of the military can also buy tickets at a discount.
Scars and Stripes was conceived and developed by the Atlanta-based Filthy Nasty Productions, which chose Vegas, with the help of Otherwise and local business partners, over cities such as New Orleans and Nashville.
"We just had this grand vision for a rock show that was going to be able to cater to the military, give charities an opportunity to represent themselves at the festival and also have bands who have such a big military presence," says Preston Bonner, a managing partner with Filthy Nasty Productions. "I think we just wanted to do something that hadn't been done before."
The idea is for Scars and Stripes to become an annual event, with the Downtown Las Vegas Events Center increasingly becoming a festival destination spot (Las Rageous debuted there in April and Punk Rock Bowling moved to the venue last weekend).
Though Scars and Stripes is intended to draw an audience of all stripes, the main thrust of the fest is to serve those who serve.
"To play a show like Scars and Stripes and do it for the veterans, I don't think there's a better festival that we could be involved with," Patrick says. "Hopefully, we can make it a really fun rock and roll day for our troops."
Contact Jason Bracelin at jbracelin@reviewjournal.com or 702-383-0476. Follow @JasonBracelin on Twitter.