Show gives Boyz II Men chance to consider longer run
December 23, 2010 - 12:00 am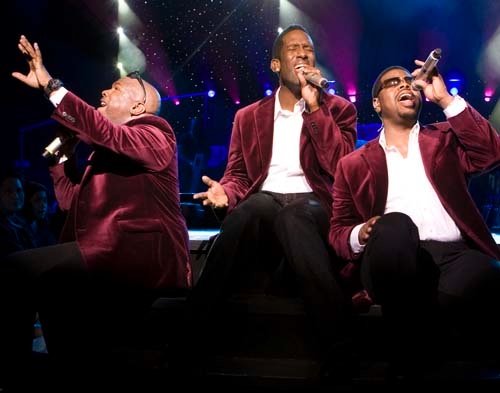 Grammy-winning R&B group Boyz II Men opened a four-week run at the Flamingo Las Vegas last week, using a Christmas show as a practice run for a much longer Strip residency.
"This is something we've always wanted to do but it hasn't panned out yet," says group co-founder Nathan Morris. "We've been a touring group for so many years, running around the world, and it kind of gets tiring. We understand the music landscape has changed but one thing that is a constant is shows. We're trying to see if any casino is open to having us stay."
The trio of Morris, Shawn Stockman and Wanya Morris is known for its smooth harmonies and a cappella-style performances. The group has sold more than 60 million records, making it one of the top-selling R&B groups ever.
The Christmas show runs about 80 minutes and is full of fan favorites such as "End of the Road" and "A Song for Mama," as well as traditional Christmas music performed in the trio's distinctive style.
The singers gave a small sample of what audiences may hear during NBC's annual "Christmas in Rockefeller Center" tree-lighting special earlier this month, a performance that caused a minor controversy.
After performing the song "This Christmas" and ceding the stage to the next artist, the Boyz II Men track started playing again.
People took to Twitter to accuse the group of lip syncing, something that they deny.
"Throughout history, every artist has backing tracks," Morris says. "It just makes it sound better on the air. We sing 100 percent live. We've been doing a lot of positive things … but that is the biggest thing that has gotten press for us in the last three or four years. Unfortunately, that's the way of the world now."
Though they were offered a 40-week stay, group members opted for a month to feel out the market, Morris says.
Las Vegas is a unique place to play, he adds, cycling through new audiences every few days; a new Strip performer has to build name recognition. But Boyz II Men has cultivated a worldwide following during the past 20 years, so a long-running Las Vegas show makes sense, Morris says.
Contact reporter Sonya Padgett at spadgett@reviewjournal.com or 702-380-4564.
Preview
What: Boyz II Men
When: 7:30 p.m. today, Friday, Sunday, Tuesday, Wednesday and Dec. 30, and Jan. 1-2 and 5-9
Where: Flamingo Las Vegas, 3555 Las Vegas Blvd. South
Tickets: $64.90-$86.90; $137.50 includes VIP meet-and-greet (733-3333)