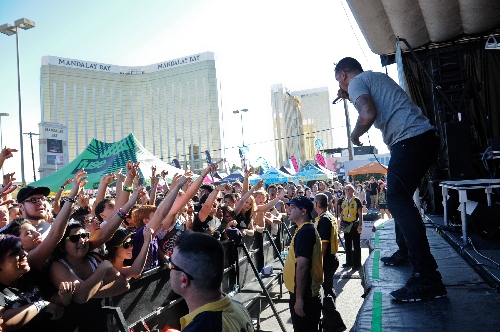 "If you can survive Warped Tour in Vegas, you can survive anything."
So wrote one female fan on the Facebook page for the show's Vegas date before Wednesday's sweltering gig at the Luxor Festival Grounds, where showgoers learned to empathize with bacon strips sizzling on a griddle.
It was the first day of summer, not that anyone needed to be reminded while standing on asphalt in 100 degree heat for nine hours.
But this is part of Warped's appeal: It's an endurance test, equal parts punk rock boot and summer camps.
And the performers took no pity on the crowd – or themselves.
"Yeah, there's a sun. It's Las Vegas. We get it," chided Chris #2, guitarist for protest punks Anti-Flag. "You chose to live here."
Warped veterans who've played the tour a number of times over the past decade, Anti-Flag represented the punk old guard, all unwavering idealism and curled-lip invocations for change.
"We're here to stand in solidarity with those of you who fight racism, sexism and homophobia," frontman Justin Sane announced at the outset of the band's fierce, fat-free set, which approximated the sensation of standing too close to the tracks while a locomotive roars by.
At the same time on another, smaller stage across the way, electro popsters Stepdad strove to achieve a much simpler aim: to get the 30 or so people in front of them to move their hips a little.
"You have to let go," burly, bearded frontman Ultramark enjoined in a falsetto lilt over '80s synth zaps and robust bass lines.
Those differing aesthetics might clash in another context, but the Warped tour is posited on seemingly unlikely juxtapositions.
It began in 1994 as a punk rock tour, at least nominally, but has come to encompass much more since then.
This year, there was heavily reverbed reggae (The Green), femme disco fireworks (Neo Geo), stoned, bohemian hip-hop voiced by a dude who compared himself to a black Bart Simpson (Champagne Champagne), blustery soul bombast delivered with gospel revival fervor (The Constellations), lots of by-the-numbers, angst-on-a-stick metalcore (Memphis May Fire, Of Mice and Men) and even some Christian death metal (Impending Doom), delivered by a frontman, Brook Reeves, who divided his time between offering messages of hope and grunting like a warlock straining to pass a brick through his colon.
On past Warped outings, future pop and hip-hop stars such as Eminem, Katy Perry and the Black Eyed Peas played the tour before hitting it big, and this year's best candidate for mainstream breakout status may have been Breathe Carolina, who energized the afternoon with raw-throated dance pop powered by zigzagging beats, spasmodic bass lines and some righteous keytar action.
Louisiana quintet Iwrestledabearonce came with a completely different kind of electronically enhanced music, sounding kind of like early Napalm Death fronted by Grace Slick.
Their frontwoman, Krysta Cameron, alternately sang and shrieked as if she was attempting to spit her tonsils out onto the pavement.
The band's tunes were intensely restive, a manic, metallic blur of angular, topsy turvy guitar riffs and double bass drum rumble.
They even dropped a country hoedown interlude into one of their tunes before getting back to the grind.
Similarly impactful was Buffalo, N.Y.'s Every Time I Die, whose convulsive jams came right at you, inflamed and combative, with nostrils flared. Their songs were abrupt and tense, yet nuanced, continually pinwheeling in new directions, with slashing guitars and sardonic, self-aware lyrics.
Frontman Keith Buckley shared a barbecue sandwich with crowd surfers, whipping the meat at their faces before inviting them onstage.
"It is possible for you to get up here," he told the audience before a set-ending "We'rewolf," and the crowd did just that, invading the band's space until they were barely visible among the throng of fans.
Throughout the day, there was little separation between the artists and the audience.
At the Bring It Back Tour stage, which wasn't a stage at all, just a large square of linoleum taped to the ground, rappers literally rubbed elbows with the crowd, and there were plenty of band members wandering about the Warped grounds, which was a maze of vendors and information booths, where a temporary tattoo could be purchased next to a breast cancer awareness tent.
Perhaps Warped's greatest achievement is that the tour has remained ageless, continuing to resonate among young concertgoers nearly two decades after its debut.
As such, a youthful exuberance dominated the day, be it Falling In Reverse frontman Ronnie Radke doing back handsprings across the stage during his band's show-ending set or the many water gun fights that occurred among the merch tents.
Leave it to an old guy, then, to put it all in perspective.
"A lot of people say this generation doesn't stand for anything," Anti-Flag's Sane said during his band's performance. "But in 105 degree heat in Las Vegas, you've shown that we can all come together."
And with that, unity in sweat was achieved.
Contact reporter Jason Bracelin at jbracelin@review journal.com or 702-383-0476.
Review
Who: Warped Tour
When: Wednesday
Where: Luxor Festival Grounds, 3901 Las Vegas Blvd. South
Attendance: 9,000 (est.)
Grade: B+