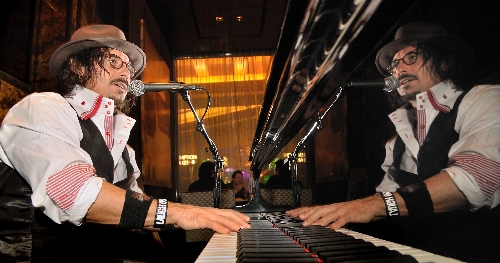 Soap fans know Peter Love as an actor whose credits include stints on "Ryan's Hope" and "Santa Barbara."
Now, soap fans, and anybody else who enjoys hearing good music in nice surroundings, can get to know Love as a musician and singer who plays several nights weekly at Hank's Fine Steaks at Green Valley Ranch Resort, 2300 Paseo Verde Parkway, Henderson.
Love's dad was a musician, and his mom was a flamenco artist. Not surprisingly, music was a key aspect of Love's childhood.
"My father was always buying a musical instrument of some sort or another, going to auctions and buying them," Love says. "I just gravitated toward learning guitar and piano, mostly, but whatever instrument he'd bring home, in my spare time I'd learn to play."
Love eventually would move to California to pursue a career in acting and music. Actually, he admits, "I was really interested in music but, somehow or another, by accident, I ended up a leading man on a soap opera. But my main focus, my main interest, was always on singing and performing."
Love moved to Las Vegas in 2004 and began playing lounges along the Strip. Then, shortly after returning to L.A. in 2008, he received a call to return here to play Hank's, a venue that Love says he "had always wanted to play."
There, Love plays music from the late '60s to today by artists ranging from Bob Dylan and the Rolling Stones to Nirvana, Maroon 5 and the Red Hot Chili Peppers. Whatever the era or the genre, "I love music that makes you sad or happy or that makes you laugh or cry," Love says. "I just love music, so I don't really gravitate toward any one particular type of music."
Love also enjoys playing music in a way that spans generations.
"I want to reach as many people as I can, and I like to see a 21-year-old enjoy what I play, and I love to see an older person … sit down and hear what I play," he says.
"I can't say how many times I've had someone who's older say, 'What is that song?' and it might be 'Smells Like Teen Spirit' by Nirvana."
Love plays Hank's from 6:30 to 10:30 p.m. Tuesdays and Thursdays, from 6:30 to 11:30 p.m. Fridays and from 6:30 to 11:30 p.m. Saturdays. In addition, Love hosts a late-night jam session at Hank's on Friday nights. That session usually kicks off at 11:30 p.m. or midnight, he says, and it could include just about anyone playing around town who might happen to stop by.
"If you want to have some fun, stop in and watch musicians play and jam when they're not being paid," Love says. "It's like an old-style Las Vegas show. You get off of your show, meet up with friends, find someplace that has a piano and a guitar and just jam all night."
— By JOHN PRZYBYS