Some shine, others falter as iHeartRadio festival ends
September 25, 2011 - 3:03 pm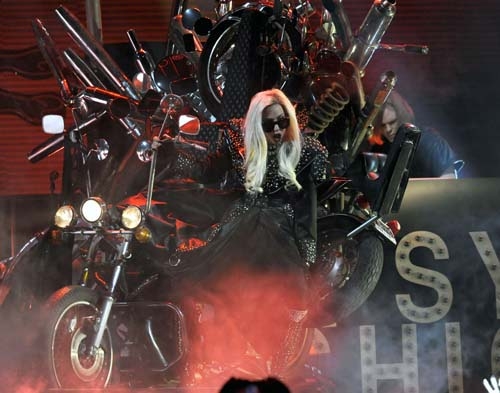 It was a night of perfection vs. imperfection — except when they were one in the same.
OK, time to take sides.
In this corner, we have the precision-made country lite of Rascall Flatts, so exquisitely crafted and executed it was as if it was made by pious androids. Call these dudes the Stepford Wives of Nashville.
On the opposite side of the ring, there stands Sublime with Rome, a trio of lumpy, tattooed and pierced fellas who look as if they subsist on convenience store eats, but whose equally sunny and scalding ska punk possesses the sculpted muscle tone that their physiques lack.
There were more battle lines to be drawn: the potty-mouthed, crazy-is-as-crazy-does verbal dysentery of Nicki Minaj vs. the perfectly manicured pop of Jennifer Lopez; the impeccable, machine-made beats of David Guetta vs. the ragged, raw-throated yowl of Steven Tyler.
Occupying the vast middle ground was country kingpin Kenny Chesney, who dressed like a construction worker in denim and scuffed boots, and who brought the same kind of calloused-hand work ethic to his tunes, favoring craftsmanship over fireworks, and Lady Gaga, who came armed with a gallon drum of fake blood and some Police backup.
In the end, though, there were no real losers during the second night of the iHeartRadio Music Festival at the MGM Grand Garden (except for perhaps the venue's staff, who had to stay late as the show went longer than scheduled, eventually hitting the five-hour mark).
But the evening did offer a CliffsNotes version of the contrasts that characterize modern pop radio.
Rascall Flatts are ace songwriters who — as evidenced by their performance of the heart-in-their-throat ballad "Easy," where they were joined by Brit singer Natasha Beddingfield — could teach a master's course in hit making at Middle-of-the-Road University.
They felt distinctly by-the-numbers, a study in form over content.
Same for Lopez, whose performance was distant, cold and overly calculated. All flying elbows and knee thrusts, Lopez's lip-synced set was less a musical performance than a Tae Bo session set to a beat. She literally did jumping jacks at one point.
Lopez performed a medley of her past hip-hop-leaning hits, recalling the days when she was a go-to-girl for rappers such as LL Cool J, Ja Rule, Fabolous and, more recently, Pitbull.
Lopez was and is the ideal complementary player: when you have no real persona of your own, you can fit in with anyone.
Just as studious as the aforementioned acts was French DJ David Guetta, one of the leading figures in taking dance music to the mainstream in America by collaborating with the likes of Akon, will.i.am, Snoop Dogg and others.
Guetta peppered radio-friendly hip-hop and R&B with zigzagging bass lines, bright blasts of synth that sounded like futuristic weapon fire and beats that approximated the sensation of getting one's head slammed in a car door.
"I'm so emotional that dance music has become a hit in America," he told the crowd at one point, his smile almost as big as the massive DJ booth he occupied. "I've been waiting for the last 20 years."
Guetta began his set with "Where Dem Girls At," a collaboration with one of contemporary hip-hop's leading loose cannons, Minaj, who performed earlier in the evening and also played said song.
Minaj was as off-kilter as Guetta was on point, albeit in a good way: rapping in a squeaky pin-prick-of-a-voice and scrunching up her face like she had just gotten wind of a foul scent, she was the leering, occasionally lecherous embodiment of the female id.
Similarly off-the-cuff was Sublime with Rome, who fired off a litany of stoner friendly, reggae-inflected jams and just seemed happy to be there.
"This is a dream come true for me," said singer/guitarist Rome Ramirez, who has replaced original Sublime singer Bradley Nowell, who died of a heroin overdose in 1996. "I'm just a 23-year-old kid playing with legends."
Aerosmith frontman Steven Tyler also played with some legends on this night, jamming with Sting on bass and Jeff Beck on guitar on "Sweet Emotion" and members of Sly and The Family Stone's horn section on that band's "Thank You."
Their performance was rough and uneven, however, similar to the way many all-star squads perform: each member may me be great on his or her own, but that doesn't mean they can play together as a team.
Sting later re-emerged to join the night's top-billed act, Lady Gaga, dueting with her on an a cappella "Stand By Me" before strapping on his bass for an unsteady version of The Police's "Queen of Pain," where he and Gaga traded vocal lines.
With her long-winded between song banter, simulated masturbation and endless exhortations, Gaga's set initially felt a little been there, done that.
When a performance is heavily posited on spectacle, as Gaga's have been from the get go, there's a need for constant one-upmanship, no matter how good your tunes are, which is both impossible (just ask Marilyn Manson) and tedious.
And so even though she charged through hit after hit ("Bad Romance," "Poker Face," "Paparazzi"), it all felt a little pre-fab and stiff, until Gaga performed an emotional version of her torch song "Hair," which she dedicated to recently deceased 14-year-old Jamey Rodemeyer, who committed suicide after relentless bullying.
Gaga seemed genuinely choked up while playing the song, seated behind a keyboard built into the façade of a motorcycle.
"I just want to be free, I want to be free," she sang. "And I want lots of friends who invite me to their parties."
For a moment, this party stopped.
And when it soon started up again, it felt like a celebration of something more than just the airwaves.
Contact reporter Jason Bracelin at jbracelin@reviewjournal.com or 702-383-0476.
REVIEW
WHO: iHeartRadio Music Festival
WHEN: Saturday
WHERE: MGM Grand Garden Arena
ATTENDANCE: 12,500 (sold out)
GRADE: B