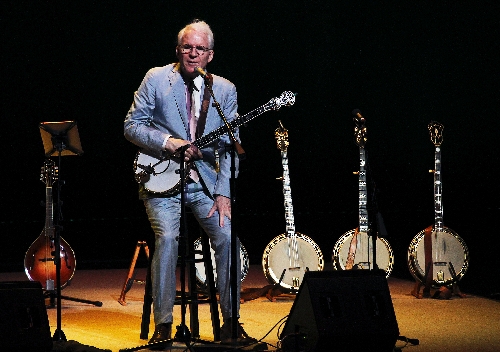 That Steve Martin sure can play. In more ways than one.
The same holds true for the Steep Canyon Rangers, who joined Martin on Wednesday night at The Smith Center for a brisk, frisky romp through the bluegrass.
Music, that is.
Make no mistake, Martin's comic persona – the deadpan devil hiding behind that bespectacled, respectably white-haired presence – remains fully in force decades after our introduction to that outwardly staid, inwardly wild-and-crazy guy.
During Wednesday's 90-minute concert before a sold-out house at Reynolds Hall, Martin put that comic persona on display often throughout the evening.
Sample joke: At one point, Martin likened the initial reaction to his Grammy-winning bluegrass foray to "Jerry Seinfeld doing an evening of original tunes he wrote for the bassoon. Sounds like a must-see!"
But every time the music – spotlighting Martin's own compositions – started, Martin's jokes stopped.
Unless, of course, the number came complete with built-in comedy. Case in point: the satirical "Atheists Don't Have No Songs," during which Martin and the Rangers applied old-fashioned, a capella gospel harmonies to lyrics that rhymed "Gregorian chants" (sung on Sundays by nonatheists, of course) with atheists who "watch football in their underpants."
In the vocal department, Martin and the Rangers also served up everything from a sly twist on the venerable murder ballad ("Pretty Little One") to a whimsical salute to Paul Revere's ride in "Paul Revere and Me" – sung from the perspective of Revere's horse.
Alas, Reynolds Hall's spotty, unbalanced amplified acoustics made an unwelcome return; at times, you could tell there was singing going on, but you couldn't quite decipher the words being sung.
But, happily, that didn't matter a whit during the instrumental portions of the evening, when Martin and the Rangers got down to business.
From the bright, sprightly sparkle of the opener, "Pitkin County Turnaround," to the chugging, picking-up-steam charge of the encore, "Auden's Train" (inspired by a W.H. Auden poem), Martin and the Rangers displayed a beguiling mix of exemplary musicianship and relaxed, engaging showmanship.
Sometimes, the showmanship got pretty showy – especially during the finale, when high-stepping fiddler Nicky Sanders quoted everything from the Beatles' "Norwegian Wood" and the "Simpsons" theme song to Khachaturian's fiery "Sabre Dance" during an extended solo that would qualify as a cadenza at a classical concert.
Surprisingly, Martin often seemed like the least relaxed person onstage – at least during the musical portions of the show. His fingers flying over the five strings of his banjo (or, more precisely, banjos; he had several at the ready, just like a rock-god guitarist), Martin took a stand – literally, concentrating as his rapid-fire picking provided almost all of his movement.
Little wonder, then, that the audience's eyes often strayed to the livelier, North Carolina-based Rangers: Sanders; mandolin player Mike Guggino ; guitarist Woody Pratt; banjo player Graham Sharp ("Graham, like the cracker," Martin cracked, instantly alluding to his "unfortunate choice of words"); and bassist Charles Humphrey, the bass player being "the unsung hero of bluegrass," Martin said.
Good thing Humphrey's "bass also doubles as a refrigerator," Martin quipped- proving the point by retrieving a bottle of beer when he took a break, leaving the stage to his band mates.
"How lucky am I?" Martin said on his return to the stage, leading a round of cheers for the Rangers. "Jerry Seinfeld's bassoon orchestra is not that good."
But seriously, folks, after hearing Martin and the Steep Canyon Rangers, it's impossible to come to any other conclusion but one:
Finger-pickin' good.
Contact reporter Carol Cling at ccling@reviewjournal.com or 702-383-0272.
Review
Who: Steve Martin and the Steep Canyon Rangers
When: Wednesday
Where: Reynolds Hall, The Smith Center for the Performing Arts
Grade: B+