Surgery gave Jon Anderson new lease on life with old bandmates
November 18, 2016 - 5:58 am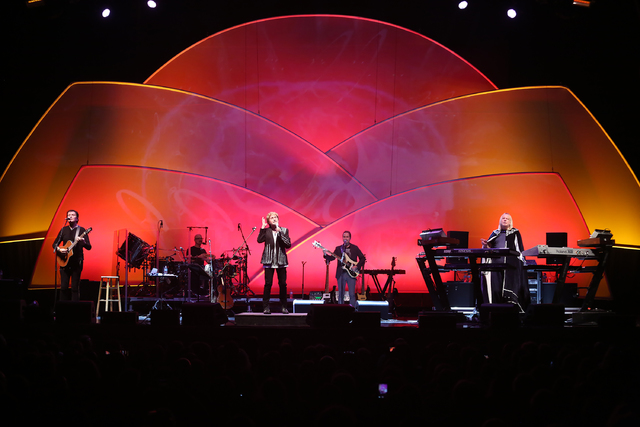 Hard question, easy answer.
Did his own health problems, and the death of longtime Yes bandmate Chris Squire, remind Jon Anderson that he can't afford to waste a day?
"Damn right," declares the eternally upbeat British rocker, best known as the lead singer of Yes.
Anderson hasn't been part of the official Yes since a serious illness sidelined him in 2008. The reasons why the official band still tours without him are complicated, and maybe irrelevant now that he is back on the road with two Yes alumni: Rick Wakeman, the best known of the band's many keyboardists, and Trevor Rabin, the singer-guitarist who helped reinvent a poppier Yes for its "Owner of a Lonely Heart" run in the early MTV '80s.
Squire's 2015 death "sort of propelled us to get this thing going," the singer says of forming Anderson, Rabin & Wakeman — or ARW — who visit the Palms on Saturday.
"As soon as Chris passed away, there was this energy. 'Well, let's get up there. You've got to do it now. Better late than never,' " he says.
The 72-year-old Anderson had stayed busy outside of the official Yes, including two solo acoustic shows at Green Valley Ranch and a guest weekend with the now-bygone "Raiding the Rock Vault." "So bizarre. Lovely, funny, but bizarre," he says of that one.
But a third solo date was twice canceled at Boulder Station, in late 2014 and early 2015. Health problems also delayed a project with jazz-rock violinist Jon Luc Ponty, causing a stink with fans who had crowdfunded an album.
Now Anderson is happy to report a sinus operation last year "really changed everything. I can breathe better and sing a lot clearer in my head. I think I have more stamina. My doctor at UCLA said I was going to have a different life from now on. … I think it's just the time in my life when I'm empowered to get up there and sing with the guys."
The new band with Rabin and Wakeman had long been discussed, "but getting Rick and Trevor in the same place at the same time was the operative energy," Anderson says.
Rabin had moved into film scoring which jump-started with the '90s hits "Con Air" and "Armageddon." Wakeman had, like Anderson, toured with a solo evening of music and recollections, and is a British TV personality beyond his keyboard career.
"It was always, When will Trevor have a break from doing movies? And when will Rick have a break from his stand-up comedic shtick?" Anderson says. "But eventually it all came together … there's something about performing Yes music that's sort of unique."
But as ARW was coming into place, Anderson also found time to record last summer's "Invention of Knowledge," a very Yes-like collaboration with Roine Stolt of the Yes-influenced Swedish prog band The Flower Kings.
Before he met Stolt on a prog-themed cruise, "the last thing I expected was to do the next — what I would say is a Yes album in my heart, which is what it is," he says.
As Anderson often says, "I never left Yes. That's why it's all over the Anderson-Stolt album, the Yes energy. It's just natural for me to want to perform long-form journey music that really takes you somewhere. Its not just a song here or a song there. It just works for me."
Anderson says the new band also has written songs but wanted to get on the road and play the classics first. Bassist Lee Pomeroy and drummer Louis Molino are full-fledged participants, not sidemen, "so it seems more logical to see (new songs) through in the studio together."
Whatever ARW ends up recording is "not going to be long-form music, but then again it might be," Anderson says with a laugh.
"We have enough music for an album. But these days, we're not quite sure. Do we make an album? Or do we just make an EP and take that on the road — put in one or two (new) songs for the next (tour) leg — and make another one (later)? So that over the course of a couple of years you've actually put together four or five EPs."
So one of the guys who helped push the LP to the extremes of its format has now seen the music industry return to a song-dominated era.
"It's been quite an incredible journey over the past 50 or 60 years now," Anderson says.
It was late 1969 when King Crimson's "Court of the Crimson King" convinced a young Anderson and Squire to step up their game.
"The neat thing is hearing the original BBC (radio) recordings of Yes," he says of music collected as "Something's Coming." "The first time we recorded anywhere was the BBC, and we were damn good.
"But then me and Chris went a week later to see King Crimson do their first show. We'd heard about them, we'd heard their 'Court of the Crimson King' album, and I just came to Chris and said, 'Man, we've got to rehearse better. Because that's amazing.' "
Read more from Mike Weatherford at reviewjournal.com. Contact him at mweatherford@reviewjournal.com and follow @Mikeweatherford on Twitter.
Preview
Who: Anderson, Rabin & Wakeman
When: 8 p.m. Saturday
Where: The Palms, 4321 W. Flamingo Road
Tickets: $50-$130 (702-944-3200)