System of a Down hits Las Vegas on rare run of US shows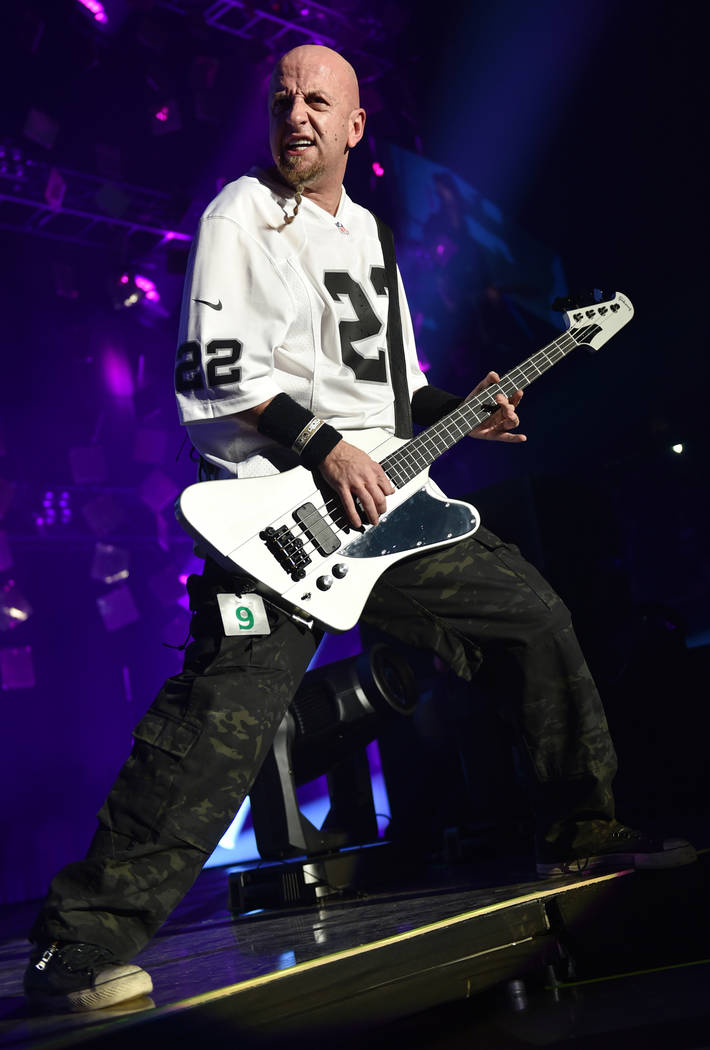 Dodging airborne seasonal vegetables.
This is how Shavo Odadjian spent his first time onstage in Las Vegas.
The System of a Down bassist remembers it with a chuckle.
In the fall of 1997, the then-unsigned metallers were opening for Machine Head and Snot at the Huntridge Theater.
It didn't go well.
Cue the projectiles.
"We got booed," Odadjian recalls. "They were trying to boo us off the stage. They were throwing pumpkins at us. But we didn't leave. That was the first time we ventured out of L.A. as a unit. It was so crazy."
'There's just more chefs'
Odadjian can laugh about it all now: System of a Down would eventually become of one the world's biggest metal bands, selling more than 10 million copies of its five albums in the U.S. alone.
The band no longer tours or records regularly, but it reconvened last weekend for a run of five U.S. shows — its first in three years — culminating with a stop at T-Mobile Arena.
The concert will be a special one for Odadjian: The father of three (7- and 5-year-old boys and a 6-month-old daughter) is bringing his family to the gig.
"The kids haven't seen me play yet," he says. "This is the first time they get to see me."
Despite the band's sporadic fits of activity, System of a Down remains one of the top draws in all of metal. Its sound is among the most inimitable in the genre's history, a smorgasbord of adjectives — manic, heartfelt, pummeling, chaotic, grandiose, insurrectionist, mischievous, tongue-spraining — compressed into an indivisible whole.
There's frontman Serj Tankian, who sounds like an opera singer battling a vocal tic, giving Harvey Keitel-in-"Bad Lieutenant"-crazy voice to songs that hopscotch from the sobering to the absurd. System's discography veers from screeds about Armenian genocide (all four band members are of Armenian heritage), the prison-industrial complex and cocaine-addled groupies in Tankian's limericklike, Seussian wordplay.
His bandmates ape his vocal eccentricities musically with a rhythmically schizophrenic sound that's equally metallic and malleable.
The band hasn't put out a new record in 13 years — and doesn't appear likely to do so anytime soon — though Odadjian says there's no shortage of ideas.
"We are actively writing," he notes. "I actively write. (Guitarist) Daron (Malakian) writes a lot. Serj is getting more into the writing. That's why we're having certain issues, you know? There's just more chefs, if you get my drift, so it's different."
'I manifest things'
Everyone in System has their roles, with Odadjian serving as a band visionary of sorts, directing most of its videos, overseeing lighting and stage design, contributing his own paintings for album artwork.
He was also the band's original manager, landing System's first gig at the Roxy in its native Los Angeles, dreaming big all the while.
"I manifest things," Odadjian says. "The first time Daron brought in a song back in the day, it was called 'Flake.' It was a song that most people haven't heard, because we never released it. That was the first song we ever completed as a group.
"I had this energy," Odadjian continues, "I whispered in his ear, '(Superproducer) Rick Rubin would love this.' Daron was like, 'What?' I'm like, 'Since Rick has done such crazy, diverse genres, I just feel we'll be up his alley if we're going to write like this.' Three years later, Rick shows up at the Viper Room, signs us, bam! It's been like that. I said at 22, 'I'm going to do something at 44.' I'm 44. So I'm doing something."
Odadjian is referring to the recent launch of his cannabis and clothing line, 22Red.
"This is something that I'm a connoisseur of," Odadjian says. "I love quality, and I think there's a lot of crap out there."
The day before System's Vegas show, Odadjian has a full day of meetings with local growers and laboratories to tap into the Vegas market.
And 21 years after their first Vegas gig, the band will be playing its biggest one yet this weekend — just hold the pumpkins this time, people.
"It just goes to show that we did something right. People are sticking around," Odadjian says. "I wish we could give them more, but it takes four to tango with us. We'd love to give more material when the time is right, because this is something that's real. It's bigger than each one of us and all of us."
Contact Jason Bracelin at jbracelin@reviewjournal.com or 702-383-0476. Follow @JasonBracelin on Twitter.