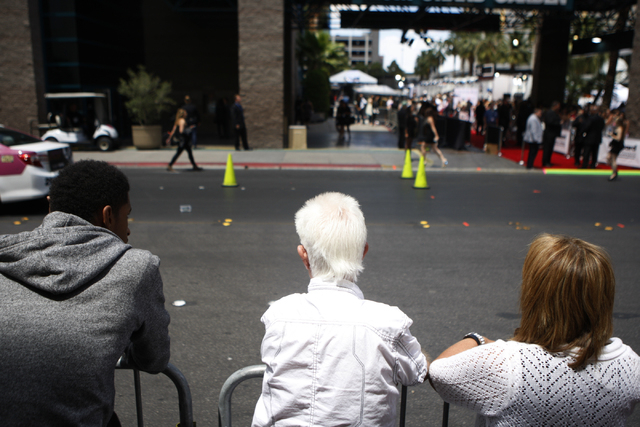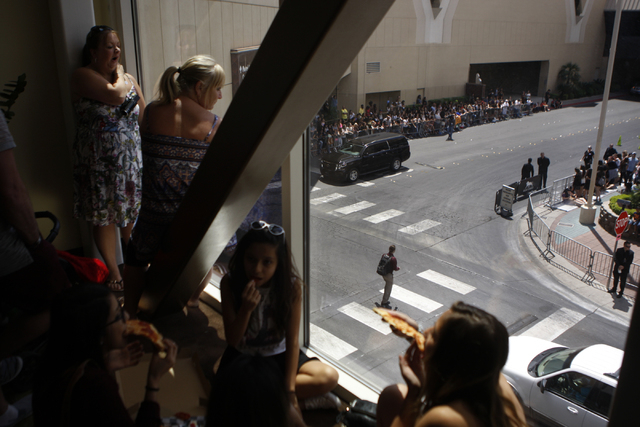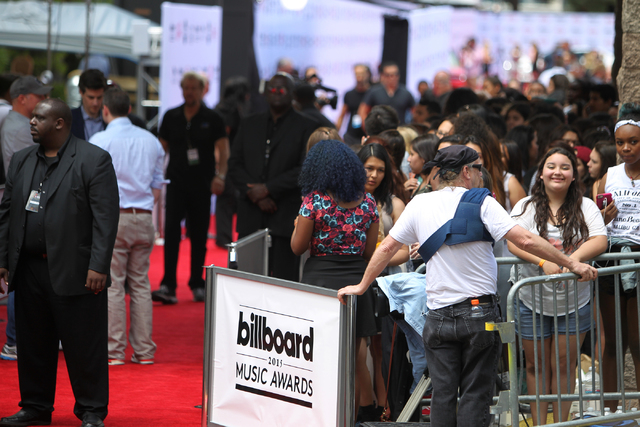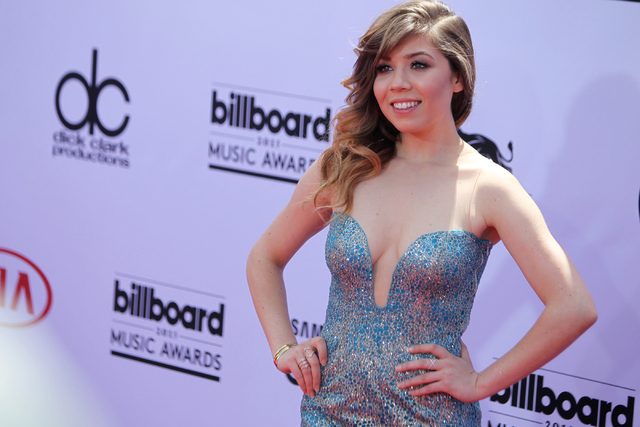 FROM THE SHOW:
7:57 p.m. — Florida Georgia Line takes the award for Top Country Artist, beating out Jason Aldean, Luke Bryan and Blake Shelton.
Taylor Swift gets her fourth award of the night, winning Top Artist.
First boos of the night come when Kylie and Kendall Jenner step on stage to introduce Kanye West. To be clear, the boos were for the Jenner girls, not Kanye.
Check that. West's performance of "All Day" drew just as many boos.
A funny ending for an otherwise spectacular evening for Billboard Awards. Minimal controversy as far as awards shows go. Red and white confetti rains down in the Garden Arena and most of the 16,000 plus people in the arena are already filing out of the exits.
That'll do it for our coverage, too. Thanks for reading and we'll see you next time.
7:34 p.m. — Two of the best performances of the night in the past 20 minutes. Nicki Minaj and David Guetta rocked the crowd with "Hey Mama," then Simple Minds brought back the 80s with "Don't you forget about me." Odd sequence of songs but equally spectacular.
Kelly Clarkson on stage now, Imagine Dragons coming up next. Kanye West and a couple more awards all slated for the last part of the show.
7:03 p.m. — A choked-up Meghan Trainor wins the Top Hot 100 Song award for "All About that Bass." The 21-year-old from Massachusetts was the most emotional of award recipients so far tonight.
Taylor Swift picks up her third award of the night with the Billboard Chart Achievement Award.
6:53 p.m. — Taylor Swift wins Top Female Artist over Iggy Azalea, Ariana Grande, Katy Perry and Meghan Trainor. No surprise here.
One Direction wins Top Touring Artist, setting off the highest-pitched crowds shrieks of the night. They beat out Katy Perry, Justin Timberlake and Lady Gaga for the award.
Full house here in the Garden Arena, about half of the folks on the floor level are standing for the awards and songs in-between.
Pitbull and Chris Brown just performed their 2014 hit, "Fun," of which we're looking forward to much more here at the Awards show.
Ed Sheeran on stage now, more awards to come soon.
6:07 p.m. — Sam Smith scores possibly the biggest upset of the night so far, beating out Drake, Justin Timberlake and Ed Sheeran for Top Male Vocal Artist.
Smith is in New York after having "vocal surgery" according to show hosts.
6:00 p.m. — The first hour of the awards are in the books, and there haven't been many surprises so far.
One Direction took top group, and Taylor Swift won Top Billboard Album, while Iggy Azalea's "Fancy" won the the award for top rap song.
Wiz Khalifa kicks off the 6 o'clock hour with a moving performance of "See You Again"
FROM THE RED CARPET:
5:05 p.m. — Movement on the red carpet has pretty much stopped as everybody heads into the Garden Arena. Chris Brown is the last of the big names to enter, holding his daughter, Royalty.
That's all for our red-carpet coverage. We'll see you inside.
4:55 p.m. — Taylor Swift is on officially on the red carpet, or at least she was a minute ago. A favorite for several awards tonight, Swift stopped for a couple photos at the red carpet entrance, turned around, and headed inside.
Iggy Azalea and boyfriend Nick Young stopped by to chat for a second.
"I love when fans come together on a night like tonight," Azalea told the Review-Journal. "Because it can get pretty harsh at other times."
4:43 p.m. — Movement on the red carpet has slowed down, but the screams from the primarily teenaged crowd have started to grow louder. Still waiting for one final push of big names before the show starts at 5.
4:15 p.m. — A rush of stars included Las Vegas-based Imagine Dragons, Kendall Jenner and Awards show host Ludacris.
"Just out here to have some fun tonight," Ludacris said.
The red-carpet flow is slowing down, but we're expecting a final push through the carpet as we get closer to showtime. Stay tuned.
4:00 p.m. — Florida Georgia Line and Pentatonix are among the big names to take the red carpet in the last 15 minutes. The fellas from FGL didn't have much to say, but Pentatonix discussed their rapid rise from YouTube to winning The Sing-Off, to national stardom.
"(YouTube) is the platform, singer Scott Hoying said. "It's amazing what it can do."
3:05 p.m. — Up-and-coming artists are starting to trickle by on the red carpet, while New Kids on the Block perform from inside the ropes. But even directors from celebrity sites and magazines standing nearby haven't recognized anybody yet.
"The big names won't be here till closer to showtime," an MGM staffer says.
2:25 p.m. — About 500 fans are waiting at all corners of the MGM Grand Garden Arena for the first arrivals to the red carpet. No arrivals yet, but anticipation is building. We're stationed at the far end of the carpet, so will probably catch most celebs toward the end of their red carpet entrances.
This is a developing story. Check back for updates.
Contact Chris Kudialis at ckudialis@reviewjournal.com or 702-383-0283. Find him on Twitter: @kudialisrj.