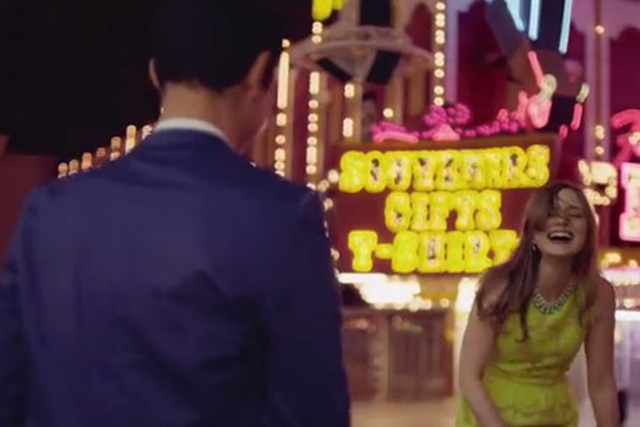 Since the dawn of time, roughly 6 million or so music videos have been shot in Las Vegas. It's not hard, really, to see why this has become a thing. For starters, Vegas has a built-in beauty that can make even the derpiest of individuals, like us, for instance, look like rock stars.
What's more, lit up at night (notice there aren't too many clips captured here during the day), the Strip, in particular, provides an enticing backdrop that's better than anything that can be evoked on a green screen. Thus, the myriad musicians who've logged time being filmed in Las Vegas.
Most of the clips, however, rely on the same tropes — opening sequence with obligatory aerial footage, followed by subject parading down the Strip, either on foot or in a car, invariably in front of scrolling neon signs, interspersed with cameos inside the casino, with cash being tossed around indiscriminately.
And while admittedly, you'll see that formula repeated here in a few of the videos, these are the clips that stand out to us for various reasons — be it the vintage footage, the aesthetics, the inherent fun factor or the storyline. Keep reading for our picks for the 10 best videos filmed in Vegas.
10. PANIC! AT THE DISCO — 'VEGAS LIGHTS'
So we're cheating on this one a bit (or at least taking a bit of liberty here), as technically this clip wasn't released as a video for the song, but rather it was posted to Panic! At the Disco's YouTube page as visual accompaniment to an audio stream — which, when you think about it, is precisely what a music video is, right? But we digress. The thing that separates this clip is that it's not marked by glossy production and wasn't directed by some high-profile director. In fact, the footage is grainy and even a bit pixalated. But that only adds to its appeal. What you have here is an optical time capsule to a version of Vegas that simply no longer exists.
9. SADE — 'TURN MY BACK ON YOU'
This video is from the late '80s, but it kind of looks like it could've been shot a decade or two prior to that even. Calling the cinematography shaky would be generous, as the camera swivels indisciminately like its being filmed by a toddler set loose with a shoulder-resting camcorder from that era. Just the same, this one earns points simply for the fleeting footage of such bygone institutions as the Stardust and the Rivera in its heyday.
8. MARC ALMOND & GENE PITNEY — 'SOMETHING'S GOTTEN HOLD OF MY HEART'
Here's another clip from the tail end of the 1980s filled with some truly vintage footage. While the Stardust marquee once again has a brief cameo at the very end, what sets this one apart — besides the much steadier camera work — is footage from the original neon boneyard before it moved downtown and became officially known as the Neon Museum.
7. SAM SMITH — 'MONEY ON MY MIND'
OK, so this clip is admittedly rife with the requisite cliches, but it gets props, nonetheless, for straying a bit from the usual locales to Las Vegas landmarks like Dino's.
6. FLO RIDA — 'HOW I FEEL'
This song is just a few years old and its accompanying clip was obviously filmed in the modern era. Nonetheless, the video has a vintage air to it that matches the Nina Simone-sampled chorus. That, coupled with the blue-crushed velvet sport coat the rapper's wearing over his crisp white tuxedo shirt with bow tie, makes this feels more like its conjuring the classic spirit of old Vegas and less like your typical overly opulent bottles-and-models video.
5. STEVE AOKI & AFROJACK — 'NO BEEF'
The video for "No Beef" opens with a shot of Afrojack and Steve Aoki passed out in the back of a car, the former semiconscious with one of those giant, fruity, novelty drink containers (empty, natch) in his lap, seated next to the latter, who's out cold, in his underwear and wearing an oversized yellow, foam, cowboy hat with a Welcome to Las Vegas placard in his lap. Yeah, so that's how it starts. The rest of the clip is devoted to documenting how the two got that way, namely by running around Vegas, going totally hard, lighting fireworks, rocking crowds and downing shots with each other — and Chuck Liddell.
4. IMAGINE DRAGONS — 'SHOT' (BROILER REMIX)
Perhaps it's just because it's the freshest in our minds right now, since it was just released last week, but the new Imagine Dragons video merits rating this high mostly for being super-duper fun. Not only does it sport some striking atypical aerial footage, but it stands apart even more for its efforts to depict the dudes looking like a bunch of dorks having fun rather than resorting to your usual rote rock-star pageantry.
3. 3OH!3 — 'YOU'RE GONNA LOVE THIS'
Speaking of fun, nobody is having more fun than the 3OH!3 dudes. Witness this video for "You're Gonna Love This," which features the pair engaged in a game of constant one-upmanship, in various makeshift competitions, from chucking coins into each other's drinks to sending a soccer ball down an escalator into a goal at the bottom to chipping a golf ball into a trash can from the grass in front of Planet Hollywood. As advertised, you're gonna love this.
2. THE KILLERS — 'SHOT AT THE NIGHT'
No self-respecting Las Vegas-themed list would be complete without the Killers, one of this town's most celebrated exports. Opening up with the prototypical aerial, time-lapse shot, this one isn't exactly carving out new ground aesthetically. Just the same, there's some noteworthy cinematic moments, such as opting to shoot a reflection of Brandon Flowers inside a room overlooking the Strip, making him appear ghostlike, as opposed to filming him straight on. Nice touch. Add to that a simple yet satisfying storyline that pivots on a young couple meeting by happenstance. The guy then convinces the gal, who's working as a maid, to skip out on her shift for a night of romance. Bonus points for having the couple sing "Shot at the Night" at karaoke. (Postscript: We could've easily included "All the Things I've Done" to this list, as well, but this is the better of the two.)
1. U2 — 'STILL HAVEN'T FOUND WHAT I'M LOOKING FOR'
This is probably an obvious pick, perhaps even cliched, but fact is, nearly three decades later this one still strikes a chord. There's a inherent sense of romanticism attached to this clip. It's the reason why, to this very day, every time we find ourselves on Fremont we think of this clip and feel a little like a rock star.
Honorable mention: Although not exactly a music video, the "Confessions" clip from Steely Dan's bonus DVD for "Everything Must Go" is quite entertaining. Clocking in at just over 20 minutes, the footage finds the two men of Steely Dan riding around Vegas in the back of a cab, chatting up random strangers, "Taxicab Confessions" style. If you've got time to kill, have at it.
Read more of Dave Herrera at bestoflasvegas.com. Contact him dherrera@reviewjournal.com.