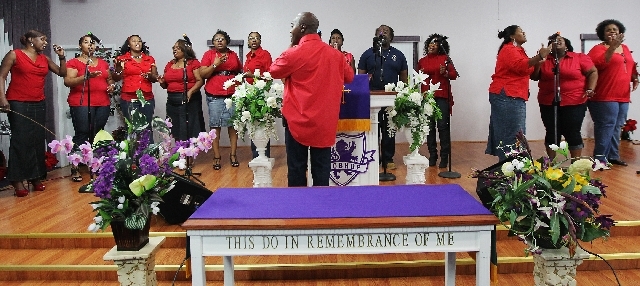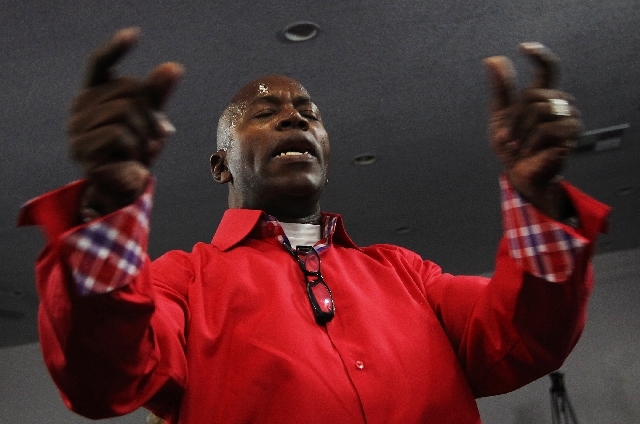 They know their history; it's gospel to them.
They drop names like Thomas Dorsey, the father of black gospel, or Sister Rosetta Tharpe, the first to combine church hymns with rock 'n' roll — long before Elvis Presley swiveled on scene.
They can sing "Amazing Grace" with the best of 'em, but that sort of stuff — the "Free Bird" of gospel, as it were — is best left to the churches.
Instead, their modus operandi is busting out with contemporary gospel tunes before an unsuspecting audience — music and lyrics that are as amazing as they are graceful.
They're called Friends of Gospel.
Formed three years ago, the result of different members from community churches coming together, they've become the talk of the town. They're the must-see group, 15 singers strong on a good day, if they're not too tired from their day jobs.
They've appeared at all sorts of events in Las Vegas, both big and small — from Mandalay Bay's highly publicized Gospel Brunch to Feburary's outdoor concert venue at Springs Preserve to honor Black History Month.
And now, this Sunday night, free of charge — yes, free! — they will perform at the Dream Center, 911 G St. in historic West Las Vegas.
Doors open at 5 p.m.
Look for the gospel group in the lime green.
This is a group whose talents are so immense they could easily fill in for the gospel crew that serves as the backup to the Rolling Stones.
"Who are we? What are we? How could we best be described? Hmmmmm," muses Curita Hall Blakely, the choir's manager. "You know what? I'm gonna go with contemporary gospel music … a form of 'hip-hop pop.' But we can sing the traditional music with the best of them.
"That's no problem."
It's no problem because, "hello" — sing it — they've got the sorts of vocal chords that come with countless years of use — from the time they could virtually crawl.
And they're locals, the real deal, from places like North Las Vegas, or the historic west side, long before it became the Historic West Side.
Nearly all of them went to grade school, middle school and high school here. There's Sheridan Wallace, Ray Chelle Williams, Melissa Bolden, all bold sopranos. And there's Rochanda Batts, Crystal Hill and LaVashia Johnson, the altos. There's Cleo Bias and Chanel White.
And virtually all of them have some sort personal connection to somebody who has succeeded in gospel professionally or whose work influenced them personally — Gladys Knight, Celine Dion, Natalie Cole, Aretha Fanklin.
The choir's drummer, for example, DeMiyon Hall, is the musical director for Knight; his father, David Blakely, is the choir's pianist but is the musical director for Knight's other choir, the Mormon Choir, which a few years ago won a Grammy for best album. The talent runs in the family.
Then there is the choir's chief songwriter, Sharon Perkins, who was once married to "Kid Akeem" Anifowoshe, a professional boxer. His eventual death from a brain clot in 1994 — the result of a beating he took from Robert Quiroga three years earlier in a quest for the super flyweight belt — inspired Perkins to start keeping a diary and try her hand at writing.
Her grief served as the genesis for some of the lyrics in the songs the choir now sings — like "Free," "I Believe," "Nobody but God," "Nothing Too Hard" and "You Are."
"Some of these songs are old, but they're a part of me. They're stories about my faith and what helped me get through the tough times," says Perkins, who today is married to the choir's director, Harold Burney Jr., one of the more spirited directors to ever hit the circuit.
He's originally from Oklahoma City, somewhat of a twister incarnate in his own right, always demanding the best from his choir, at times reprimanding some of its members mid-tune, which can be somewhat humorous to witness, provided you're watching from the safety of your seat.
When he's not directing the choir, he's a warehouse manager, and Perkins a hairstylist at Genesis, located in the city's West Side.
"Someday," Perkins says, "I'd like to minister my songs all over the world, but for right now the reality is I'm cutting hair."
Says Burney: "We've got to take this thing one day at a time. We've got to reach that perfection — that 'Promised Land,' as they say."
In the meantime, the entire group is on-board, working nine to five as bankers, teachers, head custodians, nurses — daydreaming of their next rehearsal, where they can brush off the dreams and clear the vocal chords.
Then on Sundays, they beat it back to their respective churches and perform in the choirs of the River of Life Word Ministry, Greater Commission Interdenominational Church, Greater Faith Baptist Church, Greater St. Paul Church of God in Christ and the Victory Baptist Church, among others.
Over the years, all have come to depend on their faith, and they admit their voices are the mere messengers of something great: God.
"Let's not forget what we're really singing about and who we're singing about," says Lois Craig, whose nickname is "Flower Power" for the flowers she occasionally wears in her hair.
When Craig was a teenager, her grandmother point-blank told her she didn't have to go to church anymore, remembers Craig, now an elementary school teacher.
"That's when I decided to go on my own," says Craig, a soprano in the choir. "I knew I had a voice, a gift, and that it would be wrong for me not to sing."
Peggy Johnson broke down during a recent choir rehearsal, later explaining that every time she sings "I Believe," she loses it.
"It's just so true," she says. "You have to believe in order to get you through the day, through the night, through life."
She ticks off a litany of problems, starting with a relative stricken with stage four cancer, then pointing to her heel, which is still recovering from a torn tendon.
"Only through his grace will it truly heal itself," she says.
Cleo Bias, another member, put it this way: "It's like you're singing for the greatest love of your life: God."
Contact reporter Tom Ragan at tragan@reviewjournal.com or 702-224-5512.