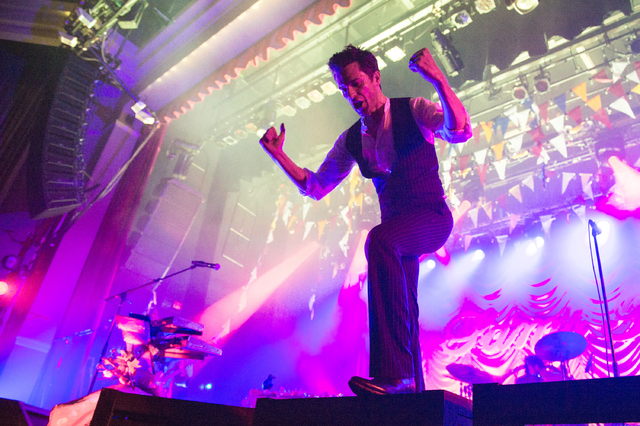 Thanks to some local rock stars, Twitter beef has turned into orange chicken for underprivileged kids.
It all began when Vegas' The Killers discovered that a fortune cookie from a Panda Express restaurant contained an unauthorized lyric from their song "Smile Like You Mean It," the fourth single from the band's triple-platinum 2004 debut "Hot Fuss."
The band sent a tweet with a picture of the potentially copyright-infringing treat to the Panda Express Twitter account, suggesting free food for life as compensation for using the lyric without permission.
I'm thinkin' orange chicken for life and we'll let you off the hook for using our stuff. pic.twitter.com/3gJ9FebZVD

— The Killers (@thekillers) January 8, 2017
After a playful back-and-forth between the two parties, The Killers eventually asked Panda Express to instead make a donation to local children's charity Serving Our Kids Foundation, which helps feed homeless and at-risk youth in Clark County.
To the delight of the band and Serving Our Kids alike, Panda Express obliged, calling the organization yesterday to confirm the forthcoming donation, the specifics of which have yet to be determined.
@PandaExpress Glad to know good things can come from twittersphere. Donate here: @servingourkids

— The Killers (@thekillers) January 12, 2017
"We're just appreciative of it and grateful that it happened," says Dale Darcas, the charity's executive director. "It means that we'll be able to serve more children in the Valley. We'll be able to grow and not have to worry as much about where we're going to get our food and how we're going to be able to take care of the kids."
.@thekillers @servingourkids We're in! Amazing how one tweet can make a difference

— Panda Express (@PandaExpress) January 12, 2017
Aside from the donation, an ancillary benefit for Serving Our Kids is all the attention the nonprofit has gotten, with its Twitter handle (@servingourkids) gaining substantial exposure.
A BIG thank you to @thekillers for recognizing a need for young children in the Vegas Valley! We are grateful for the support! @pandaexpress

— Serving Our Kids (@servingourkids) January 12, 2017
"We're just a small, all-volunteer, nonprofit organization that tries to do good," Darcas says. "To get this kind of publicity, this kind of help from these kinds of people is just amazing."
As for the band, they're happy they could help.
"I loved the way it worked out," drummer Ronnie Vannucci says. "Now fervently working on a tweet deal with McDonald's for that house in Tahoe."
Read more from Jason Bracelin at reviewjournal.com. Contact him at jbracelin@reviewjournal.com and follow @JasonBracelin on Twitter.