The Who gives fiery, fantastic performance at Caesars Palace
Updated August 7, 2017 - 3:42 am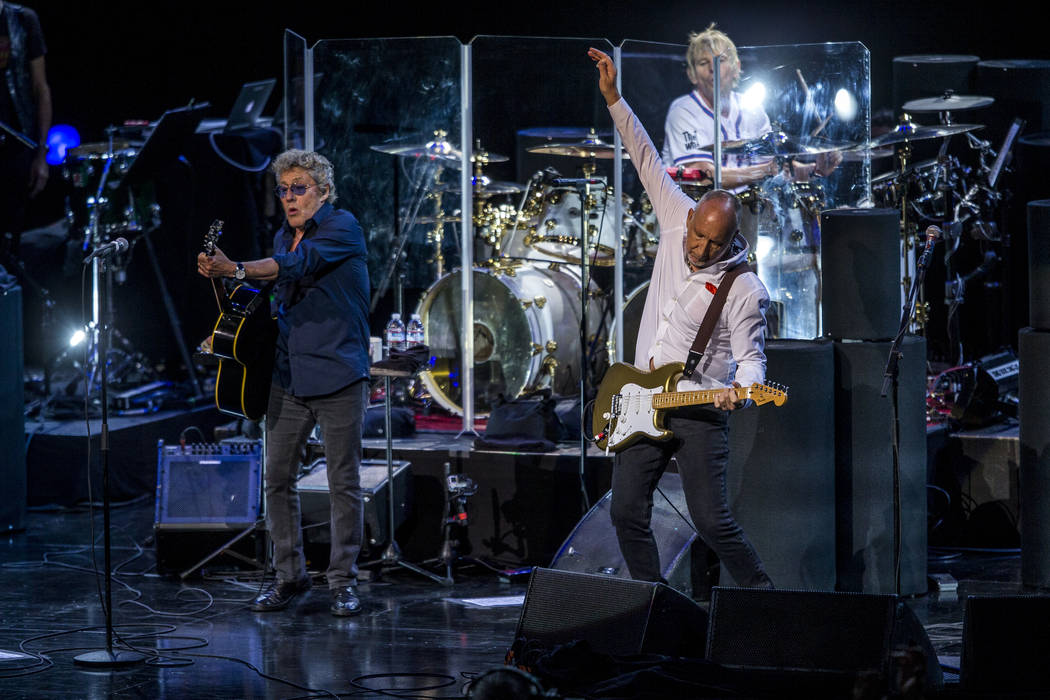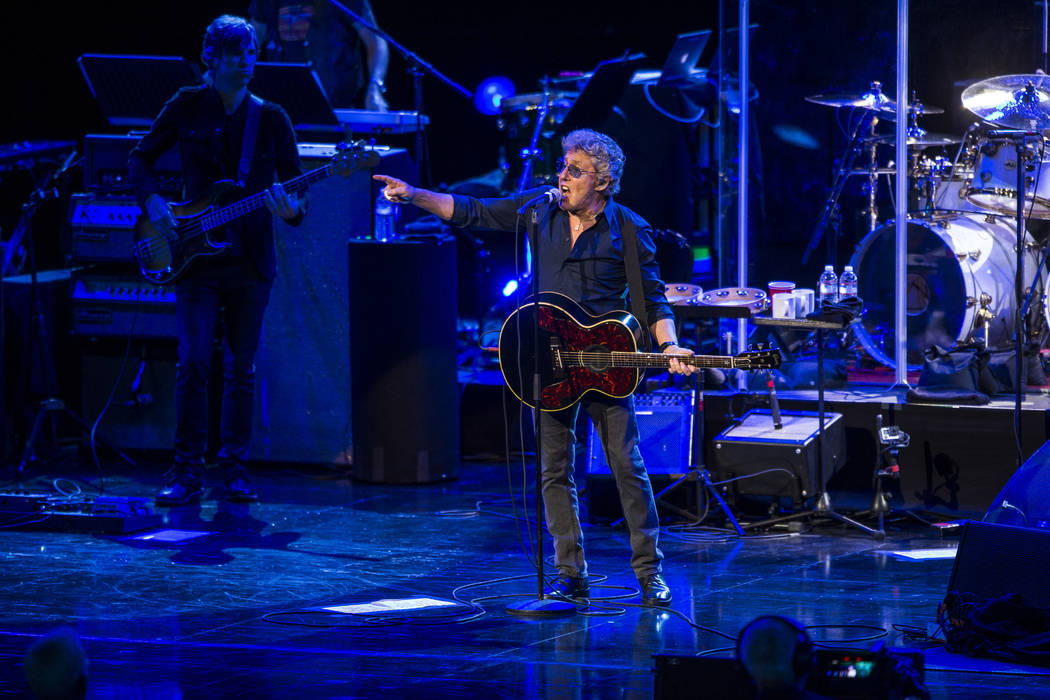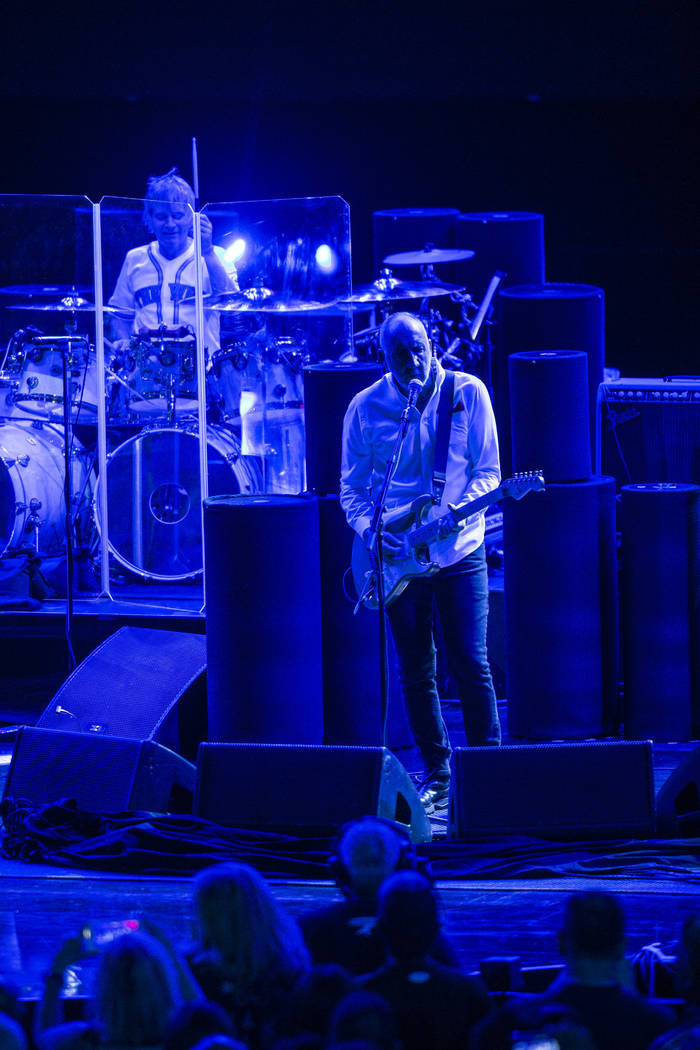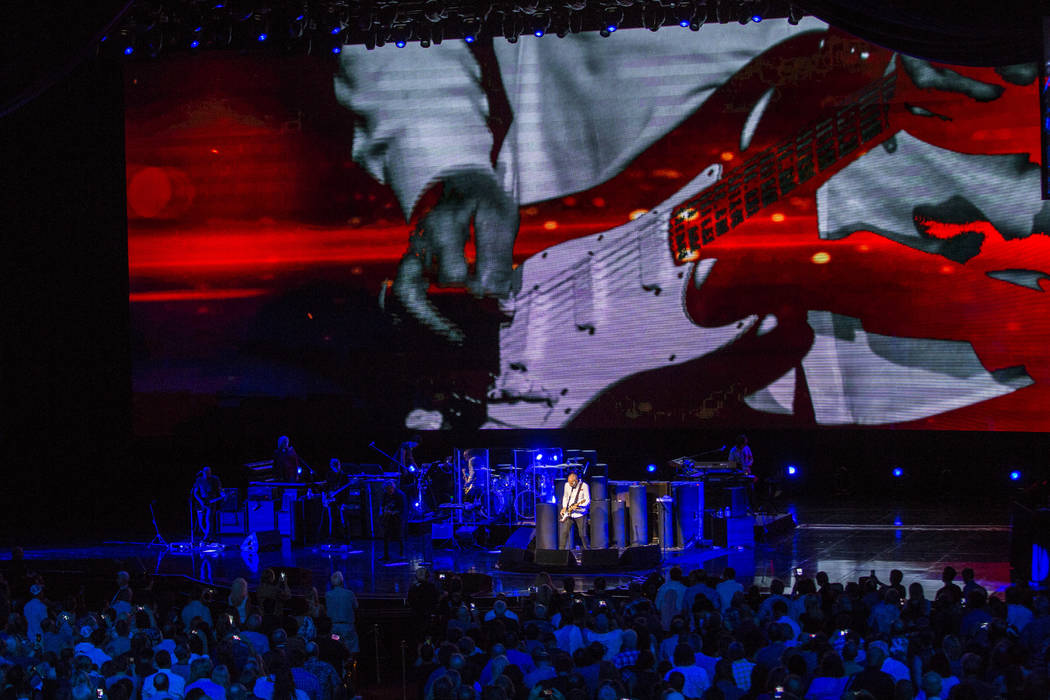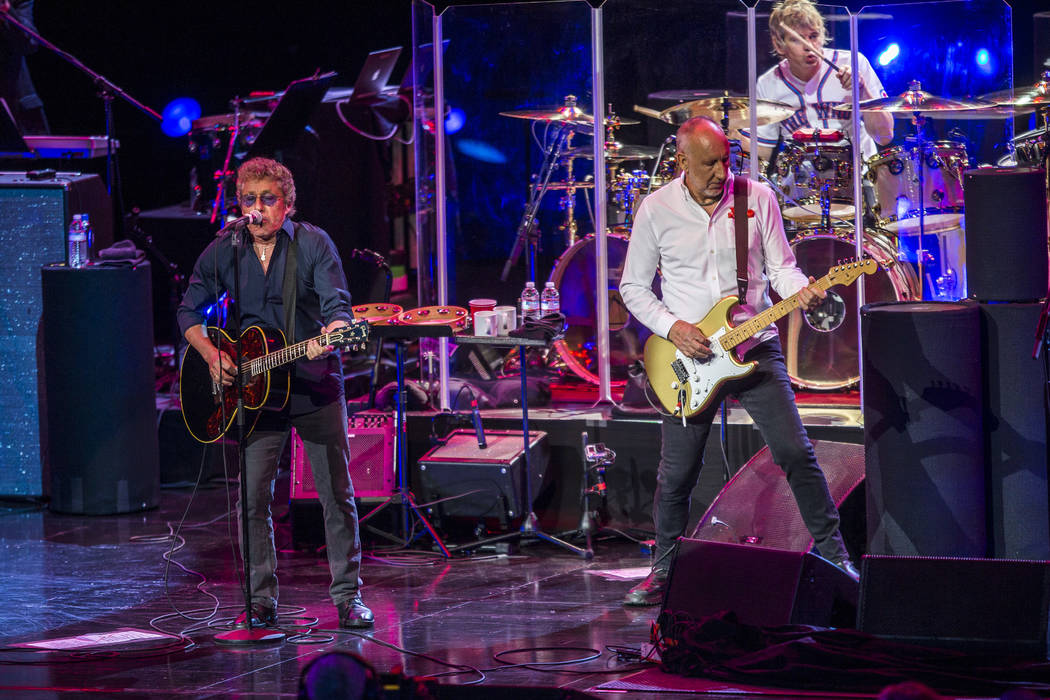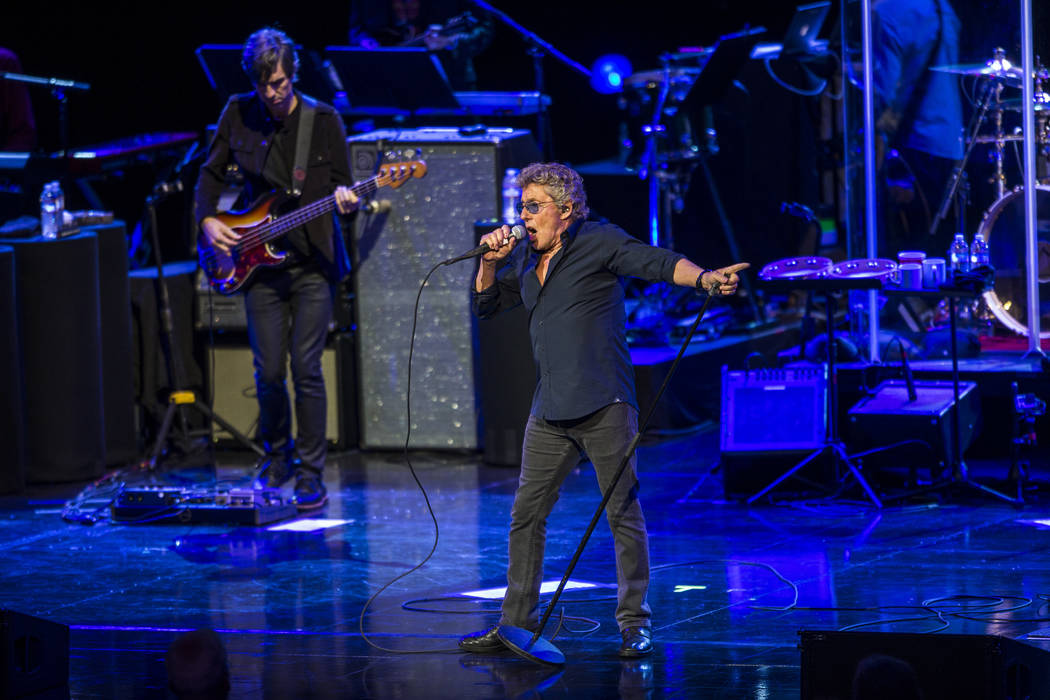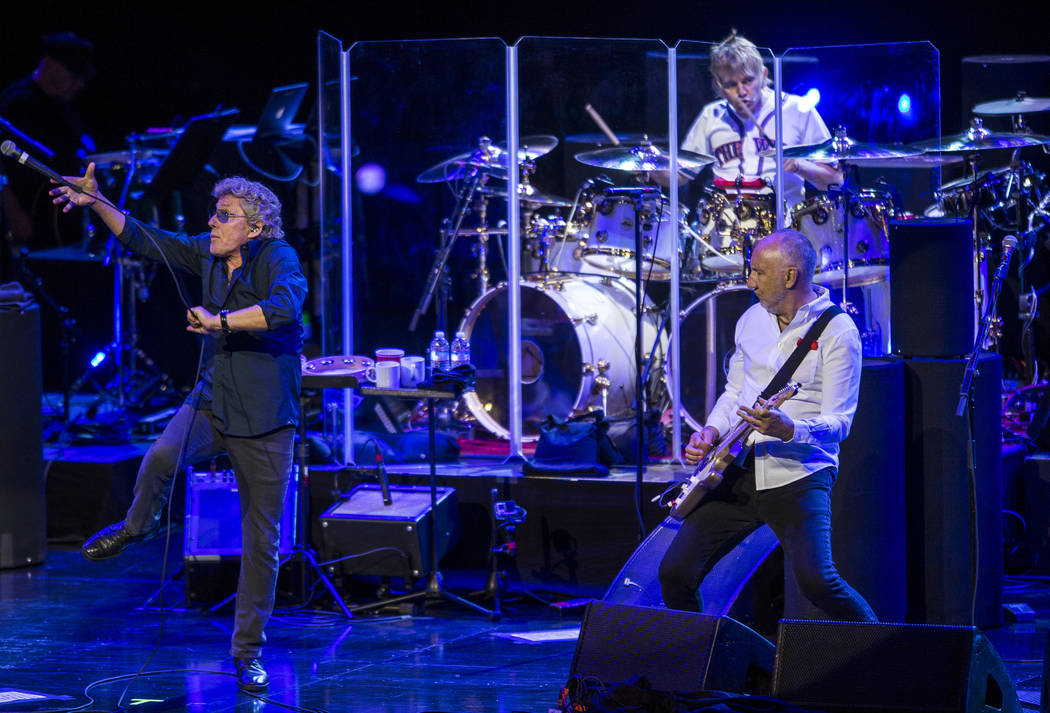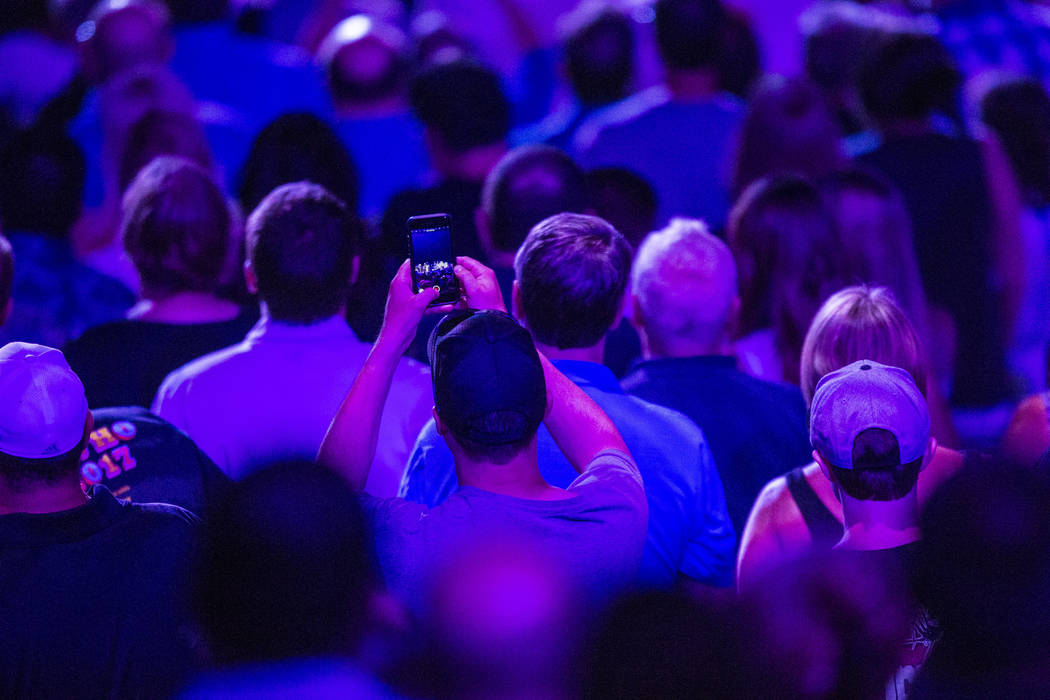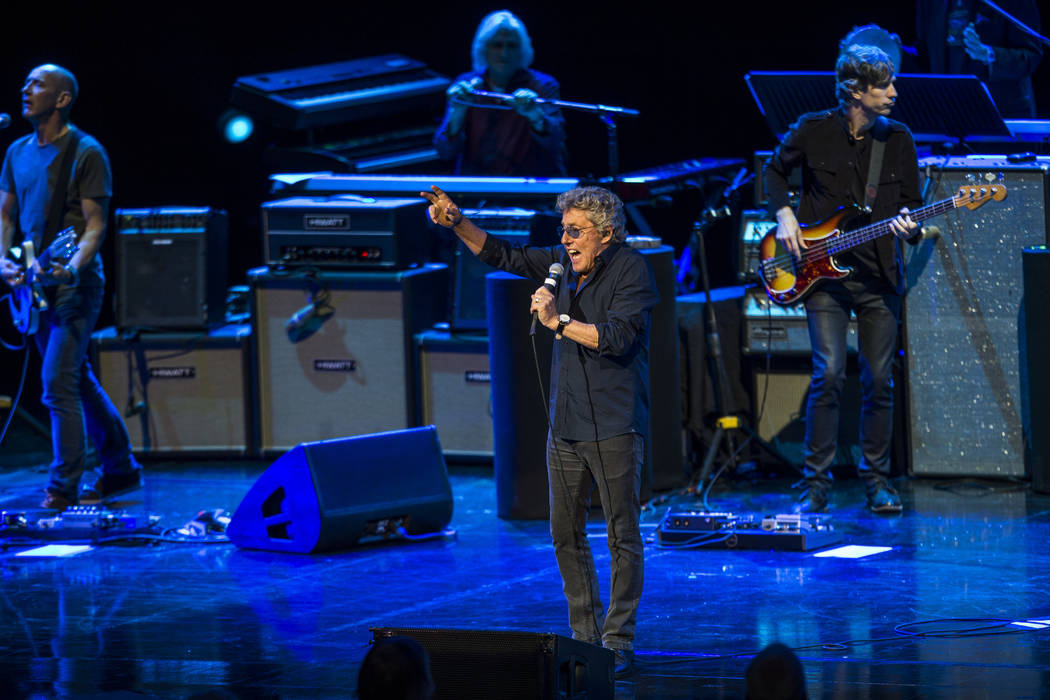 It all began with a taunt and a wink from the human incarnation of both, a man who knows sarcasm like the contours of his fretboard.
"You lost all your savings and you expect us to make you feel better," Who guitarist Pete Townshend quipped upon taking the stage at the Colosseum at Caesars Palace on Tuesday. "You don't have homes to go to."
For the next two hours, he'd offer no shelter.
First came "I Can't Explain," a song that doubled as a starter pistol, fired suddenly.
The tune kicked in, singer Roger Daltrey started swinging his mic cord like a cowboy lassoing the wind, Townshend leaned into his instrument as if bracing himself against an oncoming storm and The Who were off.
It's been 50 years since the band notched their first — and biggest — U.S. hit, "I Can See for Miles," their only song ever to reach the top 10 here.
"I feel younger now than I did then," the 72-year-old Townshend said by way introducing the number, which came five tunes into a 22-song set.
Now touring as an eight-piece band with Townshend and Daltrey the group's only original members, they buffered the song with six-part harmonies, conjuring a hard, vengeful jangle.
This was the second show in The Who's six-gig stand at the Colosseum and the setlist varied slightly from the band's first concert here Saturday (Out: "Bargain," "Relay," "The Punk and the Godfather"; in: "Cry If You Want," "5:15," "Pictures of Lily.")
What stayed constant: a bass and drums interplay suggestive of tectonic plates colliding, a wry, desert-dry sense of humor and Daltrey's howl, which remains a thing of sensual thunder, shot through with streaks of vulnerability among broadstrokes of grit and bombast.
His voice was a yo-yo of emotion on "Love Reign O'er Me," high then l-o-o-o-o-w, high then l-o-o-o-o-w, and a kettle set to boil on "Behind Blue Eyes," escalating from sigh to shout.
The Who is a band of outsize gestures — Townshend's signature windmill guitar moves and knees, Daltrey's from-the-gut-to-the-heavens vocals, drummer Zak Starkey's cannonballing behind his kit — but it's the details that define them.
This is a band skilled at turning small moments into big sounds.
To wit, at one point during "Who Are You," Townshend began sawing his guitar strings with his pick near the base of his instrument, unleashing a squall of noise from little more than a flick of the wrist. But the chaos was controlled, purposeful. Amid chattering cymbals and a probing bass line, this din that Townshend conjured congealed into an explosive coda that served as an exclamation point on one of the band's most well-known tunes.
A pair of instrumental numbers, "The Rock" and "Sparks," progressed much the same way. The former was accompanied by dramatic footage of conflict from the past to the present, from the ravages of Vietnam to the Occupy Wall Street movement, but it's a triumphant sounding song, suggestive of something that might be played to stir passions before marching off to battle. "Sparks" too was a powerhouse, Starkey living up to his designation as "Keith Moon's disciple," which Townshend introduced him as at show's end.
There were some left turns, like "Pictures of Lily," which the band has played only sporadically since it was released as a non-album single in 1967. Townshend coined the term "power pop" when describing the song in an interview 50 years ago thanks to its chiming, yet concussive bounce.
Still, he seemed thoroughly nonplussed by the audience's reaction afterward.
"See? That brought the house down," he noted sardonically at song's end. "They just love the old rarities, the Las Vegas audience."
Townshend's voice brightened a bit later when speaking about the rewards of "Who Are You" being chosen as the theme song for "CSI: Crime Scene Investigation," the television procedural set in Vegas.
"Every time you see that on TV, I make about $650," he said. "So I don't need to be here. I'm here because I want to be."
You could see that he meant it — it was written all over his face — earlier during "I'm One," with Townshend delivering the song's first lines with eyes closed, his features twisted into a visible knot of emotions.
The song's about feeling lonely, like a loser, but holding steadfast to one's dreams regardless.
Eventually, comeuppance will be earned.
Maybe on a stage in Las Vegas, even.
Contact Jason Bracelin at jbracelin@reviewjournal.com or 702-383-0476. Follow @JasonBracelin on Twitter.
Review
Who: The Who
When: Tuesday
Where: Colosseum at Caesars Palace (continues Friday, Monday, Wednesday and Aug. 11)
Grade: A