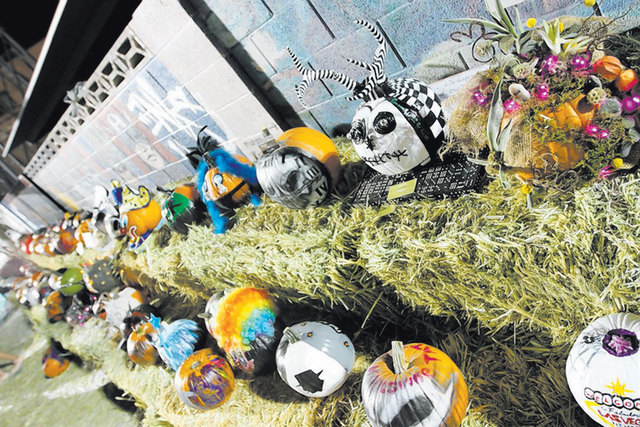 There are countless ways to spend a Friday night in Las Vegas, so getting your event noticed can present a challenge.
The phrase "world's largest pumpkin organ" should do the trick.
First Friday is celebrating its 11th anniversary with several attractions, including the aforementioned record-breaker, a three-octave organ made from pumpkins that attendees can play throughout the evening.
To celebrate the season, Newcastle is sponsoring an Oktoberfest beer garden, local businesses will compete in a pumpkin decorating contest and children can paint pumpkins.
That's in addition to the usual mix of art, music, food trucks and other entertainment and dining options.
First Friday runs from 5 p.m. to midnight in the Arts District, on Casino Center Boulevard between Colorado Street and California Street, on Third Street and Colorado Street and the Fremont East district.
For more information, see www.firstfridaylasvegas.com.
Spirit of Joe Williams
Jazz great Joe Williams may be gone, but his music — and his good works — live on through the Joe Williams Music Scholarship Fund, which has helped more than 400 College of Southern Nevada students since it was established in 1989. CSN music students return the favor with a benefit concert at 7:30 p.m. Tuesday at the Nicholas J. Horn Theatre, 3200 E. Cheyenne Ave., North Las Vegas. For tickets ($8 adults, $5 students/seniors), call 702-651-5483; for more details, visit www.csn.edu/pac.
Grape &Hops
There are wine lovers and there are beer lovers and sometimes the twain do meet, as they will Saturday at the Grapes &Hops Festival at the Springs Preserve, 333 S. Valley View Blvd. A benefit for Par for the Cure, a nonprofit group that raises funds for breast-cancer research, the event, which runs from 5 to 9 p.m., will include tastings of wine, beer and food, live music and a silent auction. Advance tickets are $40 for one, $70 for two or $100 for VIP; they're $50 each at the gate. Preserve members get $5 off. It is open only to those 21 and older. For tickets and more information, go to www.SpringsPreserve.org.
Iconic Images
Locals get a $6 price break this month at the "50 Greatest Photographs of National Geographic" exhibition at The Venetian. If you show your Nevada ID and mention "Imagine Exhibitions loves locals," you'll pay $14 admission. The gallery is open from 9:30 a.m. to 7 p.m. Sunday through Thursday and until 9 p.m. Friday and Saturday.
Hearing Voices
While working "Legends in Concert" as Elton John, Stephen Sorrentino put together "Voices in My Head," a showcase for his full range of impressions and talent. He reprises it Saturday as a fundraiser for the Gateway Arts Foundation Scholarship fun. Tickets are $15 for the 7 p.m. show at the Starbrite Theater, 2215 Thomas Ryan Boulevard. Call 702-255-0695.
Vital Remains
Vital Remains just may turn you into human remains when the long-running death metal battering ram roars into town at 8 p.m. Saturday at The Cheyenne Saloon, 3103 N. Rancho Drive. Tickets are $10 in advance, $13 day of show; call 645-4139.