This week's 5 best bets for concerts in Las Vegas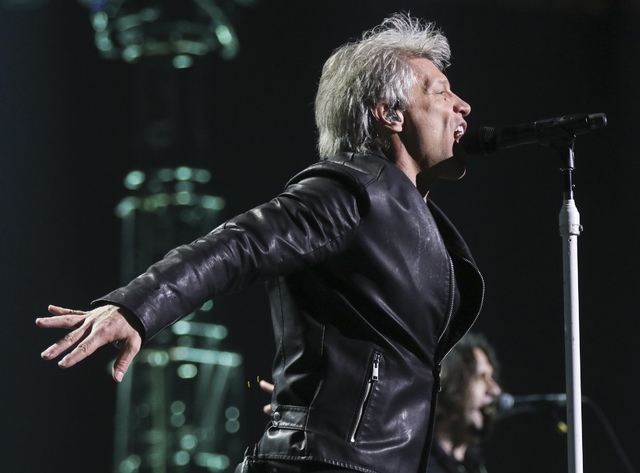 Bon Jovi
Forty-three million dollars and counting: That's how much Bon Jovi's "This House Is Not for Sale Tour" has earned. That total includes $2.2 million from the band's February 2017 show at T-Mobile Arena, which drew a sellout crowd of more than 17,000. Bon Jovi will add to that impressive tally at 7:30 p.m. Saturday at T-Mobile Arena. Tickets are $37.25 to $552.75; call 702-692-1600.
Royal Thunder
Things that don't really exist: the Loch Ness Monster, the creature under your bed, a more emotive, makes-the-hair-on-the-back-of-your neck-stand-up singer in all of hard rock than Mlny Parsons. OK, so we lied about that second one, but we didn't want to scare you away from getting the skinny on the frontwoman for bluesy rockers Royal Thunder, who truly has to be heard to be believed. Check out Royal Thunder at 8 p.m. Monday at Beauty Bar. Tickets are $12; call; 702-598-3757.
Jyrki 69
The "Hellsinki Vampire" plunges his fangs into downtown when Jyrki 69, frontman for Finnish goth 'n' rollers The 69 Eyes, makes a rare stateside solo appearance. For fans of: deeper-than-thou singing voices, wearing black year-round, avoiding sunlight, etc. See him at 8 p.m. Sunday at Beauty Bar. Tickets are $15; call; 702-598-3757.
Psychedelic Furs
"The Ghost in You" is haunting souls again, as the tune from these venerable British New Wavers was featured in the second season of throwback sci-fi series "Stranger Things," as well as on the show's soundtrack. See them at 8 p.m. Saturday at the House of Blues at Mandalay Bay. Tickets are $27; call 702-632-7600.
Holy Grove
We all know that Bigfoot lives in the forests of Oregon. It's fitting then that Holy Grove hails from that state, as these '70s-leaning riff rockers stomp forth like a sci-fi-lovin' Yeti. See them at 8 p.m. Tuesday at the Dive Bar. Tickets are $7; call 702-586-3483.