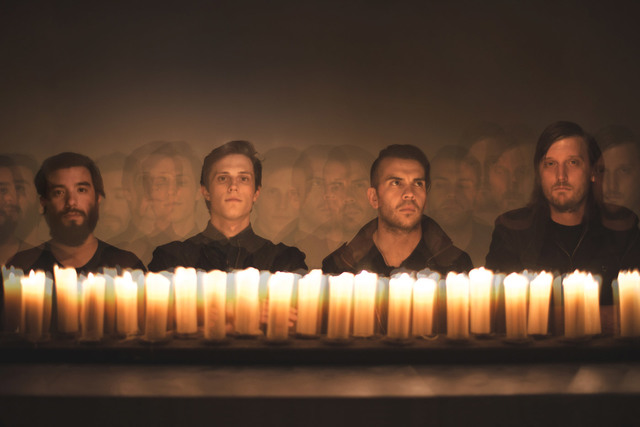 Silver Snakes
Silver Snakes frontman Alex Estrada has cited Nine Inch Nails' "The Downward Spiral" and Sleep's "Dopesmoker" as two of the primary influences on his band's latest record, "Saboteur," a mix of misanthropy and marijuana, hard electronics and hard-to-deny riffing. The L.A. rockers have taken those seminal source materials and done their own thing with them on "Saboteur," an album of high-tech stoner rock. See them at 8 p.m. Wednesday at Dive Bar. Tickets are $10; call 702-586-3483.
RVLTN anniversary bash
Canadian DJ-producer Excision has a tune called "Neckbrace," presumably because you'll require said implement after taking in his vertebrae-dislodging dubstep for prolonged periods of time. What will you need after experiencing the dude perform through a 150,000-watt sound system, which he'll do during the two-day, three-year anniversary bash by Vegas promotions company RVLTN Events? A body bag. See Excision, with Oliver Heldens, The Paradox, Ghastly, Protohype and others at 7 p.m. Friday and Saturday at The Joint at the Hard Rock Hotel. Tickets are $45 on Friday, $41 on Saturday and $80 for a two-day pass; call 702-693-5222.
Rooney
From the way they borrow the phrasing from the Beach Boys' "Kokomo" on "Don't Be A Hero" to the palm trees and golden bears that adorn the cover of their latest record, "Washed Away," Rooney is a California band through and through. Excuse the alliteration, but "Hero" is power pop perfection, its buoyant melodies and chiming guitars evocative of the sunniest days of the state they call home. See them at 8:30 p.m. at The Bunkhouse Saloon. Tickets are $12 in advance, $15 day of show; call 702-384-4536.
The Aggrolites
With songs like "Heavier Than Lead" and "Sound by the Pound," L.A.'s The Aggrolites clearly spell out their approach to reggae: The weightier the grooves, the better. See them at 8 p.m. Saturday at Backstage Bar & Billiards. Tickets are $15 in advance, $20 day of show; call 702-382-2227.
Zoology
It's pretty much always a zoo downtown, at least judging by the party animals who flock to the Fremont Street Experience. All this takes on a new dimension with the return of the "Zoology" pop-up EDM series, whose third installment is headlined by Vancouver's trap-leaning Ekali, who's known for his hip-hop remixes. He'll be joined by Sleep Tom, LZF, TSiMZ at 8 p.m. Friday at the Downtown Las Vegas Events Center. General-admission tickets are $20; call 702-388-2100.