This week's 5 best bets for music in Las Vegas
September 16, 2016 - 8:00 am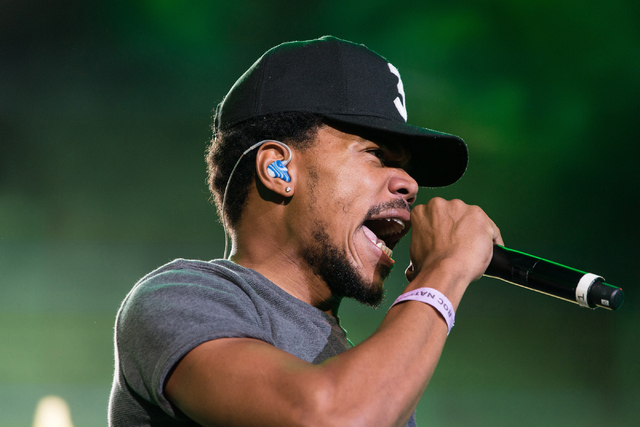 Chance the Rapper
Satan gets a swirlie on "Coloring Book," the latest mixtape from hip-hop white hat Chance the Rapper. "Man, I swear my life is perfect," the Chicago-born MC beams on the album's opening cut, backed by a children's choir as he sermonizes with a smile. His aim: to be the bounce in hip-hop's step, the breeze that blows any clouds away. See him at 8 p.m. Sunday at Brooklyn Bowl at The Linq. Tickets are $45 (702-862-2695), but the show is sold out.
The Avett Brothers
Why would you open an album called "True Sadness" with jubilant hand claps, gospel-worthy choral singing and Stuart Smalley-levels of optimism? Well, because you're The Avett Brothers, that's why, and this is what you do: slyly subvert things, be it contemporary Americana or even your own album titles. See them at 9 p.m. Tuesday at Brooklyn Bowl at The Linq. Tickets are $47; call 702-862-2695.
Amon Amarth
No, you won't be able to swill your Bud Light from a ram's horn when Amon Amarth raids The Joint, a clear oversight on behalf of the venue. Vikings don't guzzle brews from plastic cups, and neither do these Norse-mythology-obsessed Swedish death metallers. What would Odin do on a Thursday night in Vegas? Definitely go see these dudes when they team up with Megadeth, Suicidal Tendencies and Metal Church at 6 p.m. Thursday at The Joint at the Hard Rock Hotel. Tickets start at $49.50; call 702-693-5222.
Garbage
Love is cruel and doomed beneath the storm clouds constantly huddled above Garbage frontwoman Shirley Manson. "I'm getting desperate," she whispers on her band's latest record, "Strange Little Birds," where whirring guitars and percolating electronic beats provide welcome company to Manson's misery. See them at 8 p.m. Thursday at The Foundry at SLS Las Vegas. Tickets are $45; call 702-761-7617.
St. Paul and the Broken Bones
How do you get sweat stains out of your finest suit? Seeing as how we favor jean shorts and mesh tank tops, we have no idea. But nattily-dressed Alabama soul revisionists St. Paul and the Broken Bones can surely offer up some practical advice, as their horn-heavy funk conjures up plenty of fabric-dampening perspiration. See them at 8 p.m. Saturday at Brooklyn Bowl at The Linq. Tickets are $25; call 702-862-2695.