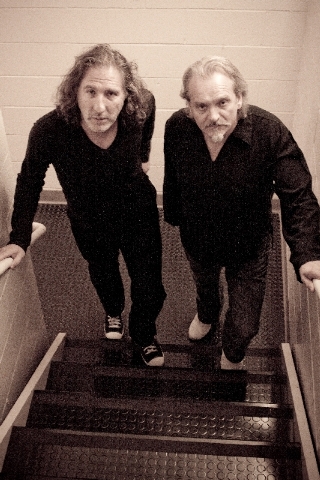 Some really important stuff happened in the '80s — the wacky wall walker was invented, Pam Ewing awoke from a dream, Alf ate a cat, etc.
But none of this was nearly as significant as the staggering advancements in a little thing we like to call "music."
Sure, the '50s gave us Chuck Berry, the '60s gave us the Beatles and the '70s gave us the Starland Vocal Band, but the '80s were like little Mario in Donkey Kong hurdling over all the barrels that were the previous decades' greatest musical achievements.
In honor of this most glorious age, there's a whole freaking tour dedicated to it, Lost '80s Live, loaded with pioneering artists synonymous with the emergence of the MTV era.
With the show coming to Mandalay Bay Beach on Saturday, let's pay tribute to this illustrious lineup via the best means possible, by looking back at some of their most famous videos:
Band: Bow Wow Wow
Video: "I Want Candy"
Never been to a beach that featured a big ass candy cane planted in the sand, but here one is, with Bow Wow Wow babe Annabella Lwin flinging herself around it like St. Nick's stripper pole. When Lwin licks an ice cream in slow motion, it's suggestive of, err, uh … a lady with a serious sweet tooth. That shot rivaled Phoebe Cates' swimming pool scene in "Fast Times at Ridgemont High" in terms of exploding millions of teen boys' libidos like a Ballpark frank left in the microwave too long.
Band: Animotion
Video: "Obsession"
So, how does one visually represent the urge to be anyone or do anything to get that special someone into the sack willingly? For starters, you dress as Cleopatra while a Roman soldier brandishes a broad sword around a pool in Hollywood before eventually moving indoors to the kind of seedy hotel room that comes scented with the perfume of a thousand hookers where a guitarist in a soldier's helmet rips a tasty lead in the same bed that a dude in a spacesuit will later writhe. Simple, really.
Band: Naked Eyes
Video: "Always Something There to Remind Me"
This video picks up at that most familiar wedding activity: the postnuptial press conference, where the bride and groom field questions from jilted ex-lovers who now front British New Wave bands. With its newspaper motif, this clip makes journalism seem kind of sexy.
You know, kind of like us.
Band: The Flirts
Video: "Jukebox (Don't Put Another Dime)"
A word of caution to any two-timers out there, you do not want to screw over one of the members of The Flirts, who were the Neapolitan ice cream of '80s girl groups. (There was a redhead, a blonde and a brunette. Get it?) In this clip, they stalk some unlucky schlub who did them wrong, eventually giving him his comeuppance in the end: a big pizza pie right to the face. Ooooh snap! Better not screw up again, dude, or you just may get savaged with a side of breadsticks, perhaps some cheese dippers.
Band: Wang Chung
Video: "Everybody Have Fun Tonight"
This twitchy, vertigo-inducing performance art clip features editing as fast as this band's rise and fall on the charts. This was their signature moment, the soundtrack to many a wild mid-'80s night, when your bar tab at the end of the evening was almost as big as your date's shoulder pads.
Band: Flock of Seagulls
Video: "I Ran (So Far Away)"
We'd run too if confronted by the two sinister looking chicks here, whose gnarly red and black eye makeup is suggestive of a cross between a "Stay Hungry"-era Dee Snider and the Mandingo Warrior. Problem is, the band is performing here in a room full of mirrors. There is no escape! The same could be said of this song, even after all these years.
Band: Trans-X
Video: "Living on Video"
This is the music video equivalent of Gordon Gecko's toaster-sized cellphone, technology's cutting edge since blunted. "It's a computer fantasy. It's waiting for you and me!" frontman Pascal Languirand sings a bit too enthusiastically, eyes popping out of his head like prisoners on a jailbreak, while surrounded by computer monitors as dudes around him do some very, very serious work on said machines, which mainly consists of turning their screens green. The point here is that technology's rapid advancement is no laughing matter, although we can't say the same for the video in question
Band: Gary Myrick
Video: "She Talks in Stereo"
What makes this video so awesome is that it reminds us of one of the best things about '80s rock: You didn't have to look anything like a rock star to actually be one.
Seriously, Myrick looks more like the dude who doles out the cheeseburger logs during the midnight shift at the local 7-Eleven than he does the frontman for a rock 'n' roll band. He boasts all the expressiveness of a pet rock, and seems to recognize as much, sweat nervously pouring down his face in this bare-bones performance video, as if he knew his time in the spotlight would soon be up.
It would be, but decades later, we still dig what the dude represented. After all, the world would be a better place with more homely rock stars — Kid Rock excepted, of course.
Contact reporter Jason Bracelin at jbracelin@
reviewjournal.com or 702-383-0476.
Preview
Lost '80s Live, with Flock of Seagulls, Wang Chung, Bow Wow Wow and others
9 p.m. Saturday
Mandalay Bay Beach, 3950 Las Vegas Blvd. South
$35 (702-632-7580)