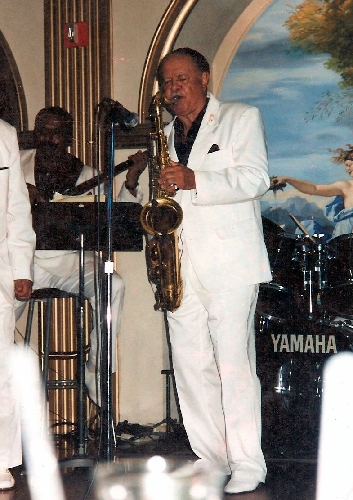 Don Hill grew up with a speech impediment, so he let his horns do the talking.
Hill learned to play the saxophone, trumpet, trombone and just about every other wind instrument when he toured with jazz legend Louis Armstrong from 1943-1946. He received a 5 percent pay bonus for each instrument he could play.
Hill, who spent more than 50 years as saxophonist for The Treniers, celebrates his 90th birthday 7-10 p.m. Thursday at the Italian American Club, 2333 E. Sahara Ave. He'll perform with the Speakeasy Swingers, a band he founded with jazz singer Jeanne Brei in 2007.
Cover charge is $10 and includes a free cocktail and birthday cake.
Born in Texas and raised in New Orleans, Hill got his first professional gig at age 14 playing on a Mardi Gras parade float for $15. He went on to play in big bands with Gerald Wilson, Tiny Bradshaw and Armstrong before joining The Treniers, early pioneers of rock 'n' roll, in 1948.
The Treniers released "Say Hey (The Willie Mays Song)" in 1955, and the song was used in Ken Burns' 1994 documentary, "Baseball."
A tribute to Hill, hosted by Pete Barbutti, is scheduled for 7-10 p.m. Nov. 8 in the Ovation Lounge at Green Valley Ranch Resort. Cover is $15.
— By HUBBLE SMITH