Two decades after landmark albums, Soundgarden, Nine Inch Nails tour jointly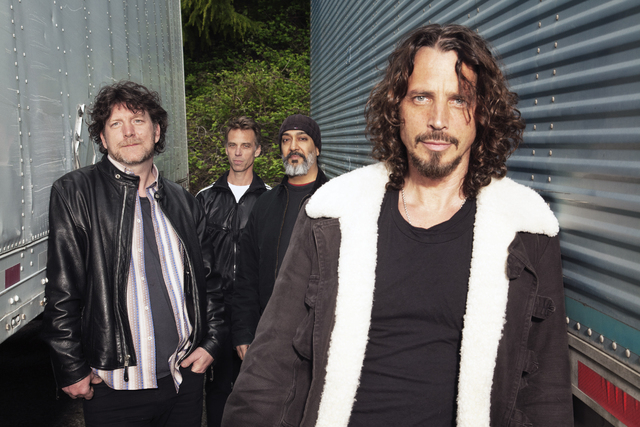 March 8, 1994.
Present Bill Clinton is knee-deep in the Whitewater scandal. Women get the OK to serve on Navy combat vessels.
The movies offer the tonal contrasts of "Schindler's List" and "Ace Ventura: Pet Detective."
And in the record stores? (Yes, they were big then) Nine Inch Nails' "The Downward Spiral" and Soundgarden's "Superunknown" are released on the very same day.
Together they sold more than 9 million albums (those record stores moved a lot of units) and helped give the '90s its own musical memory.
"Black Hole Sun" and the eyebrow-raising "Closer" didn't bump future Las Vegas headliners Boyz II Men's "I'll Make Love to You" and Celine Dion's "The Power of Love" from the top of the year's singles charts, but they are maybe even more enduring as standards of a sort.
("I don't know what Paul Anka thinks it means, but he sings the (stuff) out of it," Cornell noted to comedian-podcaster Marc Maron of the crooner's "Sun" cover.)
Now the bands are on tour together in a joint celebration of aging gracefully, playing The Axis at Planet Hollywood Resort on Saturday.
If the '90s are starting to be marketed nostalgia the way "The Wedding Singer" and the like cashed in on the '80s, then shorthand reductions of Soundgarden as "grunge" and Nine Inch Nails as the "industrial" sound of the decade already have a head start.
But neither band was a stranger to Las Vegas when those landmark albums were released. Earlier dates for both groups remind us no band just bursts out of nowhere, and no new sound isn't influenced by what came before it.
"What was magic about 'Superunknown' is that we had been a band since 1984," Soundgarden frontman Chris Cornell told podcaster Maron recently. "It was 1994, but people only just heard of us last year. … Outside of this little indie world, it's like we're a new thing.
"We were pushing the boundaries of what we did," he added. "At that time we were reinventing ourselves, people were just discovering us, and for some reason that seemed to work commercially."
Soundgarden had already played to the biggest concert crowd in the history of the Thomas &Mack Center (to that point, anyway) in January of 1992, assuming all 16,000 people were in their seats. That's because they were the opening act for Guns N' Roses, which had already united older classic-rock fans and present-day teens.
Soundgarden had released "Badmotorfinger" just four months prior, crossing from the indie-rock world to the commercial mainstream. "Most of (Guns') audience isn't going to be familiar with our music, but I think most of their audience is going to understand what we do," Cornell told The Associated Press then.
Just a few years earlier, "The guys still listening to Zeppelin and Sabbath records would have no way of knowing a band like Soundgarden existed," Cornell noted to Maron recently. "They didn't go to indie record stores or listen to college radio."
The college crowd did go to Calamity Jayne's Nashville Nevada club on Boulder Highway when the Jesus and Mary Chain played there in February 1990. Opening act Nine Inch Nails was barely out of the gate then, though "Head Like a Hole" and "Terrible Lie" from the freshly minted "Pretty Hate Machine" had already given Trent Reznor and company a place on college radio.
"Playing a place like Calamity Jayne's, I never would have guessed five years later we'd be playing an arena tour," then-drummer and keyboardist Chris Vrenna said in October 1994, as Nine Inch Nails prepared to do just that at the Thomas &Mack Center.
If Soundgarden unified generations, that NIN show with Marilyn Manson fell one night after the Rolling Stones first played the MGM Grand Garden. Safe to say, minimal overlap.
Reznor already had self-booked the Huntridge Theater that March to tune up for bigger touring of "The Downward Spiral." The album was as dark as its title, and recorded in the same house where the Manson family committed the infamous "Helter Skelter" murders.
And yet, as Vrenna noted at the time, Reznor was "very into song structure and well-crafted pop songs. … We're not big classic rock-heads to any degree," but recognizing rock tradition "just makes for more memorable songs."
In October 1995, NIN's let its classic-rock tendencies far enough out of the closet to meet the forward-thinking David Bowie on middle ground, with a joint tour that visited the Thomas &Mack Center.
"Reznor didn't add much to 'Scary Monsters' and Bowie didn't help much on 'Reptile,' but it was still nice to see them together," the Las Vegas Review-Journal's concert review noted.
Now Reznor is an Oscar-winning soundtrack composer (for "The Social Network") and last year's "Hesitation Marks" was a fine blend of mature subtlety and youthful fury — even if the current NIN lineup probably doesn't fear on-the-job injury as much as Vrenna and other sidemen did back in the day.
"He's put me in the hospital," Vrenna said then of the "energy thing that happens kind of like a hockey match up there … a giant release kind of thing."
And of course, with both bands on Saturday, it won't be David Bowie fans who are yelling for the oldies.
Contact reporter Mike Weatherford at mweatherford@reviewjournal.com or 702-383-0288.
Preview
Nine Inch Nails, Soundgarden
8 p.m. Saturday
Planet Hollywood Resort, 3667 Las Vegas Blvd. South
$93-$145 (800-745-3000)