Vegas' Franks and Deans put a punk rock spin on the Rat Pack
November 2, 2017 - 2:56 pm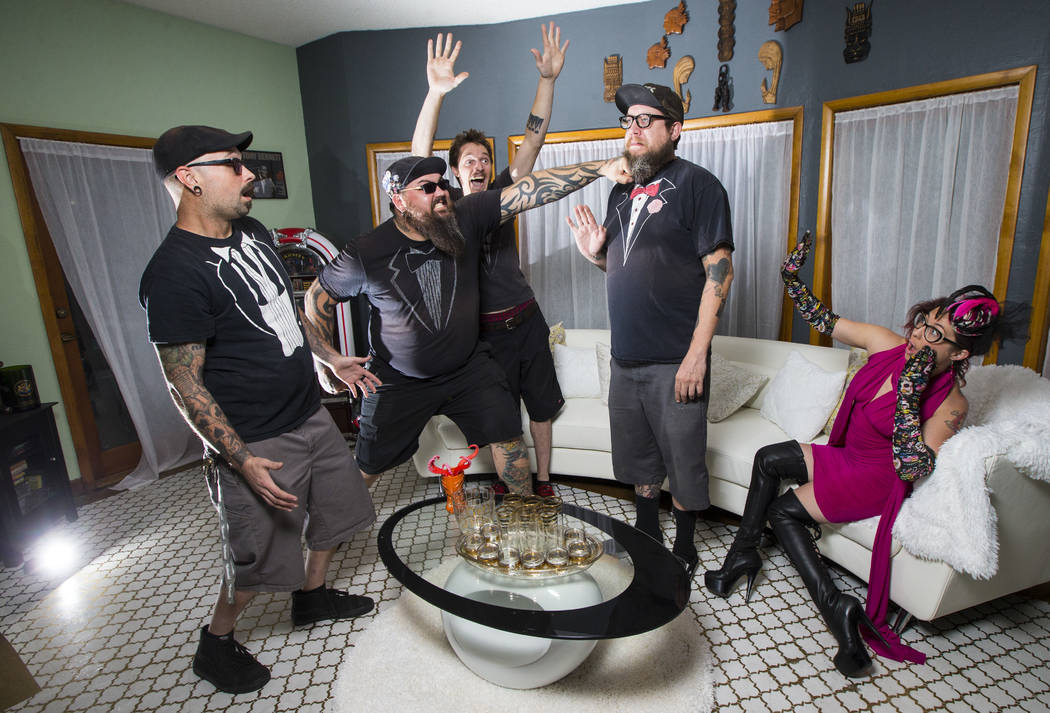 Their success is inked into another man's shin.
A few years back, Allan Carter, founder of Vegas' SquidHat Records, told signees Frank & Deans that he'd honor the first act to sell 1,000 copies on his label by getting a tattoo of their band logo.
"I keep my promises," Carter says as he pulls up a pants leg, the glow of illuminated blowfish above him on his tiki-themed back patio, revealing the tat in question.
Two years ago, Frank & Deans dropped their debut, "How Did You All Get In My Room?," an album full of punked-up takes on Rat Pack tunes, old-school Vegas with new velocity levels.
It would become SquidHat's biggest seller — for now.
Squidhat's distributor has already ordered three times as many copies of the band's new record, the aptly titled "The Best You're Gonna Feel All Day," than they did the last go-round.
'We give them fair warning'
How did Franks & Deans get here?
By playing here, there, everywhere.
They've performed in 7,000-seat amphitheaters in Milwaukee, sandwiched between Foghat and Toto. They've done car shows, weddings and senior dance parties, played basements and theaters alike, opened for Bad Religion and gotten loose with Otis Day.
Here's how it goes down: "We have a spot in every show where we introduce the band and (guitarist-singer Ryan "Arpee") Sampson says, 'Hi, we're Franks & Deans from Las Vegas, Nevada, and we're here to (mess) up your grandma's music,' " grins singer-guitarist Jordan Hoss, a big dude with an equally outsize crooner's voice.
"We give them fair warning," adds the group's dancer, Miss Nicole Muse ("She keeps the guys looking and the girls dancing," bassist Robert DeTie explains.)
'Freedom to explore'
While Franks & Deans' sound was pretty specific on their debut (Frank, Sammy and Dean with amps to 11 and Pabst tallboys in place of martini glasses), they branch out significantly on their new one, which would be hard to classify as a punk record, really.
"I think on the first record, you had to validate the concept: We're a punk band that plays Rat Pack songs," Carter explains. "On the second record you get the freedom to explore the musicianship of it a little more, and the range."
"All Day" luxuriates in said range.
At times, they play things relatively straight: Franks & Deans don't tinker too much with The Coasters' "Down to Mexico," an album standout with radiant harmonies, one of the band's clear strengths.
Elsewhere, they tweak a tune into a new genre, nudging Sam Cooke's "Chain Gang" into ska.
And then there are the mashups, DeTie's specialty, where they'll merge a punk favorite with a standard from a different era.
On "Day," they successfully crash Nina Simone's "Feeling Good" into Green Day's "Brain Stew," Sinatra's "Luck Be A Lady" into The Specials' "Ghost Town," Rancid's "Roots Radicals" into Bobby Darin's "Splish Splash."
"That happened as an accident," DeTie says of the latter number. "Those two songs came on Pandora back to back. I was just like 'Holy (crap), they go together.' There's times when I'll put Rat Pack in one ear and punk rock in the other and sit there for a minute and go, 'These songs go together.' "
'Bring the party'
On paper, this could all read like a clunky novelty, a forced gimmick that would grow old as rapidly as these songs are played.
But Franks & Deans pull it off by a). possessing serious musical chops, with exceptional vocal interplay b). coming at the source material from multiple entry points as opposed to a singular approach c). hangover-the-next-day-level live shows that could sometimes pass for stand-up comedy routines, frequently spanning three hours.
"When the main thing is to bring the party, it doesn't matter what music you're into," Hoss says, explaining how the Deans have been able to go over with such diverse crowds, from metalheads to kids, seniors citizens to punks, gray-hairs to dyed-orange-hairs.
Though the band now consumes more and more of their lives, with the group spending a good portion of the year on the road, touring months at a time, they still keep everything in-house. Hoss does the booking, Sampson oversees the finances, Muse does the merch at live gigs, DeTie handles transportation, drummer Michael "Pip" Ullemeyer puts together the fliers and helps with artwork.
It's working: This bunch is getting almost as big as their crocodile grins, which are as much a part of their show-day uniform as their tuxedo T-shirts.
"Consider me the Huey Lewis of the tribute band world," Sampson quips, joking about being an "old man rocker." "I love it. It's gotten us to play places that I never thought I'd see myself play at all.
"I'm 38 years old," he adds. "I've been waiting my whole life to get to this point."
Contact Jason Bracelin at jbracelin@reviewjournal.com or 702-383-0476. Follow @JasonBracelin on Twitter.