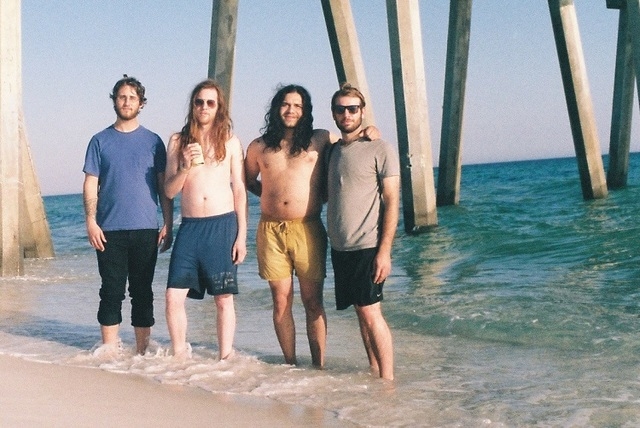 It's the end of an era, and assorted beers, on a cold Friday night.
In the living room of guitarist Dillon Shines' home, the members of Vegas post-hardcore greats Caravels are talking about their decision to go on an indefinite hiatus after a farewell show Friday at The Bunkhouse and an ensuing European tour.
They share memories and brews as an assertive poodle warms the lap of strangers, all under the watchful eye of Carl Sagan, whose portrait is affixed to a nearby mirror.
Caravels started as most bands do: a bunch of friends with similar tastes in music getting together to jam. But they're ending — at least for now — as most bands don't: at a creative peak when their future has never seemed brighter.
Last year, Caravels went on their biggest tour yet, opening for scene favorites Mewithoutyou. The year before that, they released their full-length debut, the fierce, fantastic "Lacuna," an album in which emotional and musical intensity came intertwined like strands of DNA.
In theory, at least, now is the time that they should be taking the band to the next level, benefiting from all their years of D.I.Y. touring and enjoying the ever-growing name recognition that they gradually, arduously built for themselves.
Instead, they're going their separate ways for those very reasons, because they want to be in control of the demands of Caravels instead of those demands being in control of them.
"I guess if we wanted to, we could continue to do well," guitarist Matt Frantom says, "but it's also the time when the band starts to dictate our lives rather than the other way around."
It's been a memorable nine-year run for Caravels. They've been on the road since they were teenagers, crisscrossing the country on self-booked tours, playing to a smattering of theater students in Casper, Wyo., packing basements in Montreal, performing everywhere from living room floors to renowned clubs like New York's (Le) Poisson Rouge. They've added countless miles to van odometers and piled up even more life experiences, discovering who they are as musicians and friends.
"Years ago, who ever thought we'd be where we are?" singer Mike Roeslein says. "We can't possibly be sad."
And they're not. The mood on this evening is light, playful. They're all still buddies, and they acknowledge that they'll probably play together as Caravels again someday.
At one point, someone suggests that maybe Caravels will get back together for an annual holiday show.
"Only if we cover Christmas songs," drummer George Foskaris suggests.
"No, I hate Christmas music. We're not doing that," bassist Cory Van Cleef counters.
"You can't do it? Then we're breaking up!" Roeslein, feigning anger, shouts to a round of guffaws.
Caravels may be ending, but the laughs continue.
Contact reporter Jason Bracelin at jbracelin@reviewjournal.com or 702-383-0476. Follow on Twitter @JasonBracelin.