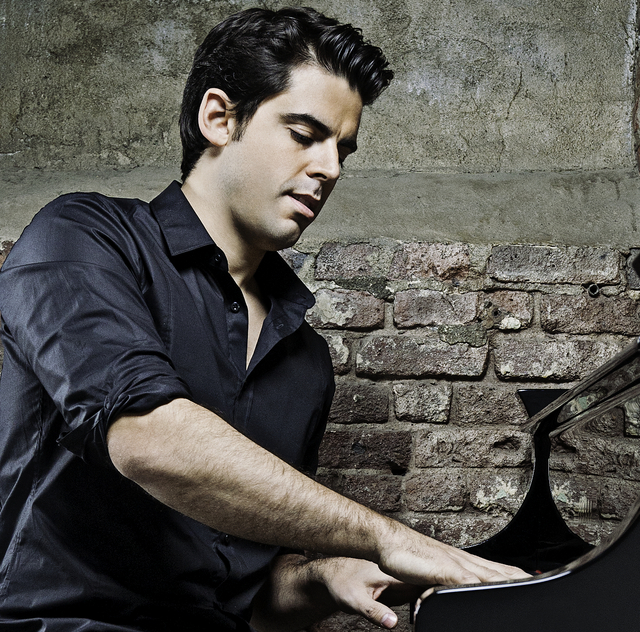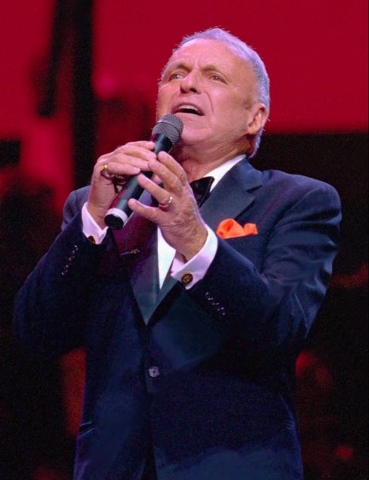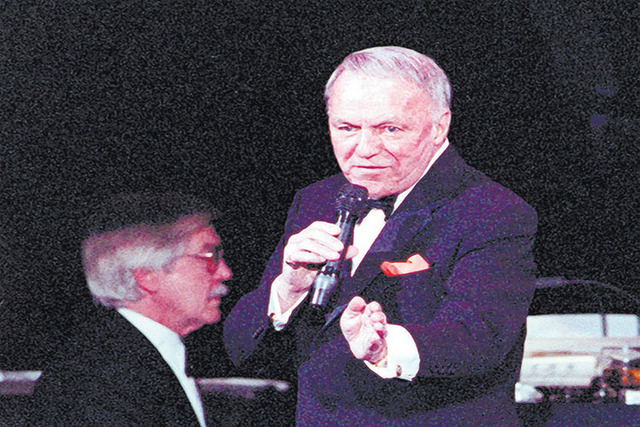 Ol' Blue Eyes (as a 1973 album put it) isn't back.
He never left, and he's as relevant — to music, to Las Vegas, to all-around cool — as ever.
The 100th anniversary of Frank Sinatra's birth will arrive just more than a year from now. But even though the coolest crooner of them all passed on to that gig at the saloon in the sky in 1998, Southern Nevadans will relive a bit of Sinatra's Las Vegas heyday Saturday through "An Evening at the Copa: A Century of Sinatra."
The performance begins at 7:30 p.m. at the Historic Fifth Street School with Carnegie Hall headliner Tony DeSare performing Sinatra's songs and stories about Sinatra told by Tom Santopietro, author of "Sinatra in Hollywood." Before the performance, guests, who will be encouraged to dress in their finest vintage '60s cocktail duds, can dance to period tunes by the Las Vegas Downbeats and participate in other activities.
Then, after the show, guests will enjoy a nightcap at the Morelli House, the former home of Antonio Morelli, musical director and orchestra leader of the Sands Hotel's Copa Room from 1954 to 1972.
The program is funded by a grant from the Las Vegas centennial commission, and it's the third presentation of the Junior League of Las Vegas' Copa Connection program, a public history series associated with the League's restoration of the historic Morelli House.
Consider it a sign of Sinatra's still-undimmed popularity and the high regard in which Southern Nevadans still hold the Rat Pack era that all of the free tickets for the event were spoken for within just a few hours of becoming available, said Dedee Nave, project director of the Sands Copa Connection program series.
(Note, however, that people who still want to try to get in may come to the event and sign in on a standby list, just in case ticket holders don't show. No-show tickets will not be released until the start of the show. For more information, call 702-822-6536.)
Even today, Nave says, Sinatra represents the cool sophistication and the high level of entertainment that was offered by the Sands and other casinos at the time.
Nave caught touches of the Rat Pack-era vibe herself as a kid, during family vacations to Las Vegas.
"We would drive out every summer from Indianapolis, and this was before air conditioning in cars," she recalls. "We would come out and stay in Las Vegas for about a week or 10 days while (Dad) gambled, and they dangled Disneyland at the end of the stick."
Nave remembers the music, the glamour, the finery with which her parents dressed to catch shows by such performers as Dean Martin, while Nave, herself, became familiar with Frank Sinatra via the radio.
"His music is so etched in my mind," she says. "His music was like the top of the charts."
And, Nave adds, Sinatra's music has stood the test of time.
Dick Feeney, producer of "The Rat Pack is Back" at the Rio, agrees that one reason Sinatra remains relevant is that his "massive" body of work still is available via the records he made during a long career. Consequently, even younger listeners who weren't around while Sinatra was alive know, to a degree greater than for some of Sinatra's contemporaries, about Sinatra.
His songs are "part of people's lives," Feeney says, and still "are played constantly."
And it's no slight on Dean Martin or Elvis Presley or Liberace or anybody else to note that Sinatra during his prime was, simply, red-hot cool. In describing the Sinatra vibe, Feeney uses a word young listeners today also use to describe the epitome of self-confident cool.
Sinatra had "a swagger-type thing," Feeney says.
"There isn't an Italian guy on the planet — or a non-Italian guy — that didn't want to be Sinatra.
"Elvis put on a white jumpsuit. Frank Sinatra wore tuxedos and suits. It's like (the cinematic) James Bond. The real James Bond, to aficionados, is Sean Connery. He had the swagger."
He still does. Consider that when the makers of Jack Daniel's Tennessee whiskey were looking for a bit of iconic cool for a recent TV ad campaign, they chose Sinatra. (The company even has a brand called "Jack Daniel's Sinatra Select" that, its web page notes, "pays tribute to Jack's biggest fan: Mr. Frank Sinatra.")
Michael Green, associate history professor at the University of Nevada, Las Vegas thought Sinatra was an interesting choice for the pitch.
"To somebody they're trying to get started in drinking whiskey, that's not exactly a generational appeal," Green says. "So, clearly, there is a feeling that he speaks to us today, somehow."
While Sinatra's career spanned several media including records, radio, TV, nightclub performances and movies (he won a best supporting actor Academy Award for "From Here to Eternity"), it's in Las Vegas that he made his most indelible entertainment/pop culture mark.
"My byline for the show is: 'What happens in Vegas all started with the Rat Pack,' " Feeney says.
Plenty of entertainers have performed in Las Vegas over the years, he adds, "but I think Frank, he was just a natural tie-in with the city and what the city stands for and what the city is built around."
From a historical standpoint, "we can certainly associate Frank Sinatra with so much that's important in Las Vegas' past and how it flows into the present," Green says.
"Sinatra in his time, to a lot of people, he was the guy men wanted to be," Green says, and what Sinatra was perceived to be — hip, cool, slightly naughty — meshes nicely with "how does Las Vegas want to see itself and how much does image matter to Las Vegas?"
For Las Vegans who "are nostalgic for what they perceive as the good old days," Green adds, "(Sinatra) is a symbol of that in a way that Elvis at the International or Liberace or Siegfried and Roy certainly are not. He symbolized the era."
Sinatra's heyday in Las Vegas came at a time when the city itself was young and growing, and when the Las Vegas News Bureau and hotel publicists "were fashioning an image for Las Vegas that combined corny and cool," Green says, and Sinatra and Las Vegas "just seemed to be made for each other."
"Las Vegas is becoming a national playground," Green says.
And, he adds with a laugh, Sinatra "wanted to play."
Contact reporter John Przybys at jprzybys@review journal.com or 702-383-0280.