Vince Neil turns back time for new year at Eastside Cannery
January 2, 2017 - 7:24 pm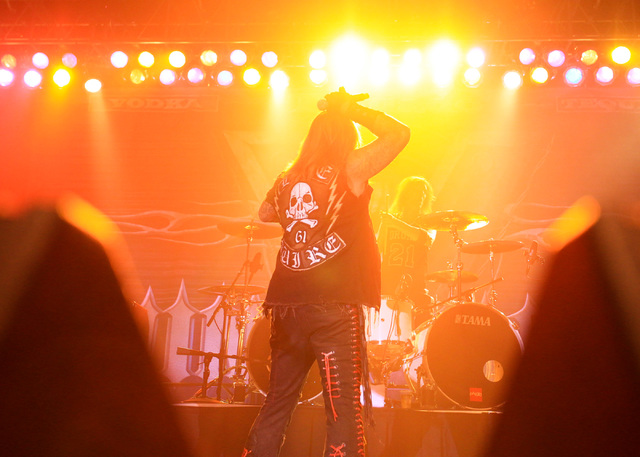 The mounds of long blond hair flew through the air like a squadron of fighter jets on a serious mission: to combat the passing of time.
The rockers bounding across the stage, golden locks flowing in the breeze of their movements, were here to celebrate the new year, at least in theory.
But instead of turning the calendar forward, they flipped the thing in the opposite direction.
"Take 'em back," Vince Neil commanded his backing band early in their set Saturday night at the Eastside Cannery.
And with that, they broke into "Piece of Your Action," a randy, Reagan-era hard rock come-on by now-retired metallers Motley Crue, who Neil fronted for nearly three-and-half decades until the band called it quits a year ago to the day of this show.
For the mostly older crowd, this was the sound of their youth.
"It's the music I grew up with," said Eric Tucker, a local paralegal and writer for Vegas Rocks magazine.
It was likely the same for the tattooed rocker chick pumping fists wrapped in finger-less leather gloves, the dude in the sparky silver top hat that looked as if it was sculpted from a disco ball and the lady in the glowing AC/DC devil horns, though probably much less for the trio of elderly women seated up front, who lasted but one song.
As revellers on the casino floor played slot machines in shiny gold party hats, this bunch played air guitar until their wrists were weary.
One such rager on the invisible six-string was Robert Anderson, a sales consultant at a Henderson car dealership who lives nearby and was here for both the tunes and the convenience of a largely tourist-free New Year's Eve.
"I used to go to that amateur hour downtown and that real amateur hour down on The Strip. Who needs that?" he said. "I'd rather do something like this than waste time sitting out in the cold, dealing with hundreds of thousands of people."
If this was an alternative to the tidal wave of humanity that drenched other parts of the city, it was a departure in another way as well.
"This is one of the only rock 'n' roll shows going on tonight," Neil observed early in the show, sporting a black Batman T-shirt, matching denim vest and wide grin. He rattled off some of the other concerts going on that night, mentioning the likes of Bruno Mars, Elton John and Maroon 5, naming the latter with particular distaste, like he'd just swallowed a bug or something.
Neil relished his moment, jogging in place and pistoning his arms in the air during a particularly adrenalized "Kickstart My Heart," playing the role of tireless rock 'n' roll cheerleader.
"Get your arms in the air, lady!" he ordered at one point, his good cheer bordering on irritation when a female audience member up front was slow to join in on the fun prior to "Looks That Kill."
His band was just as animated: bassist Dana Strum could teach a master's class on bitchin' rock face; guitarist Jeff Blando shredded with robotic stamina and took the mic for powerhouse versions of Led Zeppelin's "Whole Lotta Love" and Black Sabbath's "Heaven or Hell," which bled into Zeppelin's "Stairway to Heaven"; gonzo drummer Zoltan Chaney was the heavy metal equivalent of a flair bartender, balancing drumsticks on his head as he played, keeping time with his legs hoisted over his kit, picking up his cymbal stand and wielding it like a sledgehammer.
The band's 80-minute set ended with the crowd on its feet, beers and voices elevated alike as they shouted along to "Wild Side."
As the crowd filed out of the venue and headed downstairs after the show, another '80s-mining hard rock band played at the casino lounge, ripping through Ozzy Osbourne's "Crazy Train."
The new year would be here in less than an hour — as measured by calendars, if not spirit.
Read more from Jason Bracelin at reviewjournal.com. Contact him at jbracelin@reviewjournal.com and follow @JasonBracelin on Twitter.