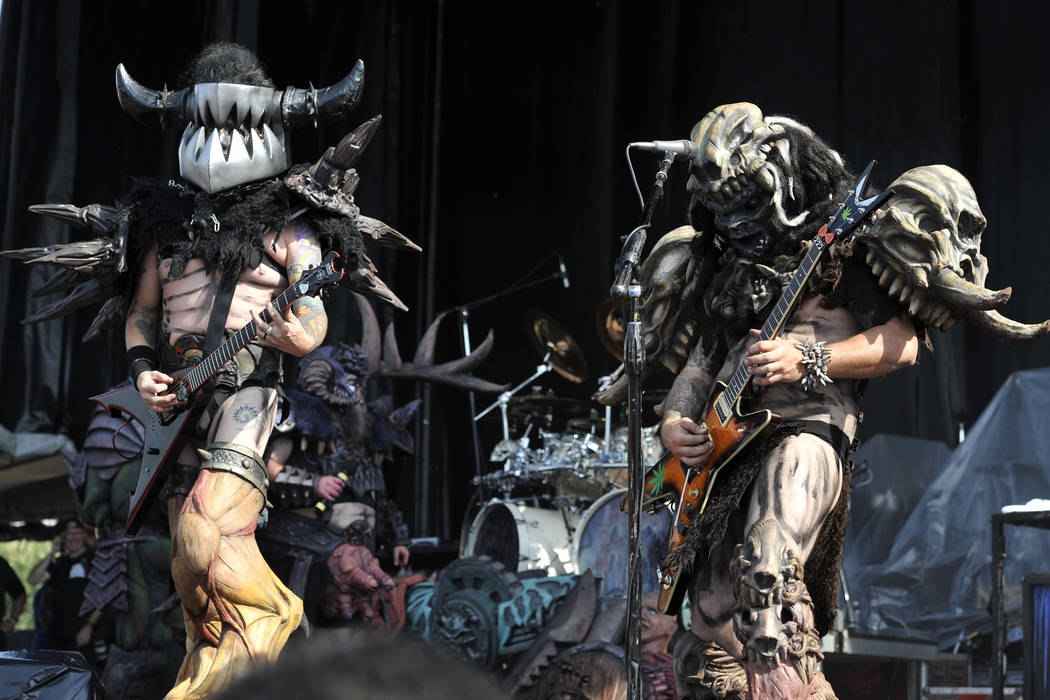 Twenty-two years in, the Warped Tour has come full circle, and the dude in the elephant-skull shoulder pads would be happy if being happy was his thing.
"Older fans die," notes comically dour Gwar guitarist Pustulus Maximus, speaking about being a veteran act playing the youth-skewing tour this year. "You need younger people to spend more money on you so that you can continue living like a jerk."
The average age of Warped Tour attendees is far less than the 29 years that these grosser-than-thou metallers have been putting out records. Gwar will bring a wizened presence — along with lots of fake blood and prosthetic naughty parts — to a tour defined by its rare ability to resonate with generation after generation of younger concertgoers.
The longest-running touring festival, Warped came of age alongside numerous other genre-specific, multiband bills, like the metal-heavy Ozzfest, the jam-band-oriented H.O.R.D.E. Festival, the hip-hop- and R&B-leaning Smokin' Grooves and the female-centric Lilith Fair.
All those tours had their day, but none of them lasted nearly as long as Warped has.
Why?
For starters, Warped cast a broader net, musically speaking. While Warped has always been rooted in punk rock, it's never been exclusively so, serving as a launching pad for future pop and hip-hop stars (Katy Perry, Eminem, Black Eyed Peas), showcasing soon-to-be-popular rockers (Sugar Ray, Limp Bizkit, Incubus) even recruiting death metallers from time to time (The Black Dahlia Murder, Six Feet Under, Carnifex).
Mostly, though, Warped has persevered and prospered by refusing to show its age. Warped initially became a big summer draw with popular punk headliners like NOFX, Blink-182, Dropkick Murphys, Pennywise and Rancid. But as those bands' audiences aged along with the bands themselves, Warped moved on and booked younger acts that appealed to a younger audience. In doing so, Warped gambled that it would gain more fans than it lost.
It worked: Warped remains one of the biggest summer tours annually.
This year, though, Warped is doing something different, revisiting it roots by pairing contemporary favorites like Falling in Reverse (fronted by Las Vegas native Ronnie Radke), Black Veil Brides singer Andi Black, metalcore troupe Memphis May Fire and others with acts that established themselves in the aughts, the '90s, or earlier, like hardcore stalwarts Hatebreed, emo survivors Hawthorne Heights, coed ska group Save Ferris, venerable punks The Dickies and the self-anointed "Scumdogs of the Universe," Gwar, who will be making their first appearance on the tour.
How will the latter adjust to Warped's abbreviated, 30-minute set times?
"We're just going to do like maybe two, 2½ songs," Maximus says. "We did a bunch of shows with Green Day over in Australia a couple of years ago, and we learned from them that you can just play one song and then just extend all the choruses by stomping and clapping. We've got about 20-25 solid minutes of group clapping and stomping and vamping and going 'Hey! Hey ! Hey!' It really just writes itself."
What about performing outdoors in full regalia in the merciless summer heat?
"We like to live dangerously and stack the odds against ourselves," Maximus says. "We've made it a strict rule that nobody's allowed to exercise or do any cardio before we go on this tour. Me, I've been drinking heavily. Really, I'm just trying to get into a blackout so that I can coast through this thing on autopilot."
Here are another 10 Warped acts you don't want to sleep on:
■ Sick of It All: Expect blood, sweat and no tears when these New York City hardcore lifers set clocks to clobberin' time for their first Warped appearance since '97.
■ Candiria: These long-running prog/metal/jazz/hip-hop hybridists call their inimitable sound "urban fusion." We call it one-of-a-kind.
■ Alestorm: Sail a sea of Budweiser when these hard-drinkin' Scottish pirate metallers engage in "Surf Squid Warfare."
■ War on Women: These femme punk firebrands take no guff and give no quarter.
■ William Control: Former Aiden frontman William Francis brings dark-hued dance music in the vein of Front 242.
■ The Fantastic Plastics: This Brooklyn duo favors '80s-inspired synth pop as bright as the sun they'll be performing under.
■ Acacia Strain: "We're the dark cloud above the Warped Tour," Acacia Strain frontman Vincent Bennett announced from the stage during the tour's 2011 Vegas stop, his band's oppressively heavy deathcore like a solar eclipse in song form.
■ The Adolescents: These SoCal surf punks have been at it since 1980, making them approximately 179 in Warped years.
■ Futuristic: This motor-mouthed MC has a big-block V8 for a tongue.
■ Municipal Waste: Slaying countless brews in the debilitating summer heat is a bad idea. Let these crossover thrash ragers do it for you.
Contact Jason Bracelin at jbracelin@reviewjournal.com or 702-383-0476. Follow @JasonBracelin on Twitter.