Weezer invigorates Hard Rock's Joint, no doubt about it
January 23, 2011 - 12:00 am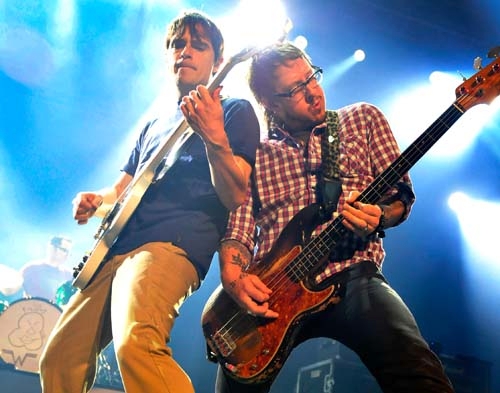 Rivers Cuomo's dream girls are the most literal of pursuits: They seem to exist only in his dreams.
He's a sensitive guy, a nerve ending with a guitar.
"I should have no feeling, 'cause feeling is pain," the Weezer frontman sang at a sold-out Joint at the Hard Rock on Friday, his heart hemorrhaging, his six-string buzzing like a wasps' nest that had just been whacked with a stick.
In another song, he mused about a prospective lover, fancying the end of their relationship before there was ever a beginning.
"Maybe you could break my heart next summer," he imagined telling her, before catching himself.
"Why bother? It's gonna hurt me. It's gonna kill when you desert me."
The tune in question, "Why Bother?", was a two-minute blast of high-velocity self-doubt.
It was culled from Weezer's second album, 1996's moody, unflinchingly candid "Pinkerton," which the band played in its entirety as part of its current "Memories" tour.
Upon its release, fans and critics alike famously shunned "Pinkerton," resulting in weak sales and punishing reviews.
To wit, during a slide show between sets that featured pictures and memorabilia associated with Weezer's early years, a year-end critics poll taken from an issue of "Rolling Stone" magazine was shown, ranking "Pinkerton" the second worst album of 1996.
But though the album lacked the broad appeal of its predecessor, Weezer's multiplatinum self-titled debut, which the band also played in full on this night, "Pinkerton" had its cult following, which has only grown in the ensuing years.
These days, "Pinkerton" is viewed in an entirely different light, as an album highly influential among the current crop of heart-on-the-sleeve emo rockers, beloved for its frank, plain-spoken reflections of a dude trying to find himself (and a good woman, along the way), whose lyrics are forthright as pages torn from a diary.
"Why can't I be making love come true?" Cuomo sang during the album's opening cut, "Tired of Sex," a slow-building knot of guitar rumble.
The main thrust of "Pinkerton" is how success — becoming a star, getting what you think you want — doesn't necessarily fill the emotional chasms Cuomo has struggled to climb out of at times.
It's a hard-edged album, with Cuomo peppering songs with near-metal guitar solos that squealed and barked like imperiled sea lions at the Joint.
The album's overall tone and its emotional bearing occasionally seemed at odds with one another in a live setting: it felt a little counterintuitive to be in a crowded room full of people pumping their fists and pogoing along to tunes about loneliness and uncertainty.
But then again, Cuomo has long harnessed rock bombast and bluster not as a means to mask insecurity with power and pomp, but to turn such easily identifiable feelings into a cathartic release.
And so no matter how lovelorn songs like "The World Has Turned And Left Me Here," "No One Else" and "Say It Ain't So" may be, they still felt invigorating live, with Cuomo, a slight man with a Rick Moranis physique, occasionally biting his lower lip and shifting his weight to the back of his heels as he played, the understated frontman's version of an arch rock 'n' roll gesture.
The show culminated with Cuomo ceding the mic to Rachel Hayden, formerly of '90s alt-pop troupe That Dog, to join the band on the seldom played "Pinkerton" B-side "I Just Threw Out The Love of My Dreams," the only Weezer song to feature a lead female vocal.
"My righteousness is crumbling," she sang on the punchy power pop confection. "I see him every day, even though my love is a world away."
It took all night, but finally, it seemed, Cuomo had found his girl.
Contact Jason Bracelin at 702-383-0476 or e-mail him at jbracelin@reviewjournal.com.
REVIEW
Who: Weezer
When: Friday
Where: The Joint at the Hard Rock
Attendance: 4,000 (sold out)
Grade: A-