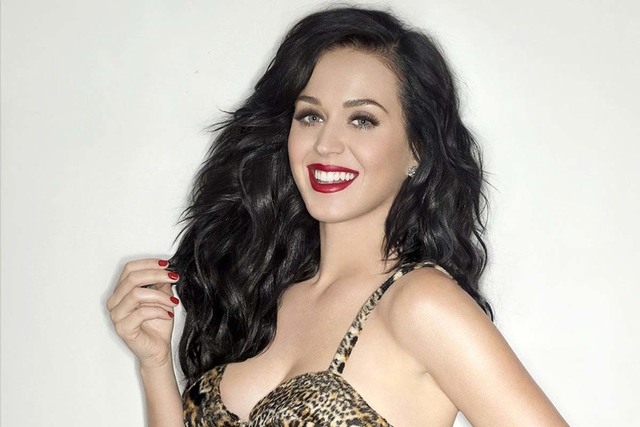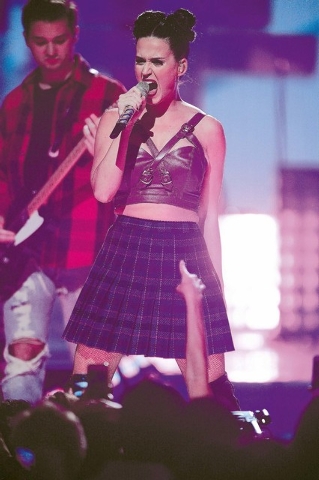 Parrotheads. Deadheads. Phish Phans. The Kiss Army. The Vanilla Ice Pirates.
You know you've made it as a musician when your fans become so legion that they have their own name — yeah, we made that last one up, but only because it should be so.
Joining this esteemed list, in recent years, is popster Katy Perry.
How popular is she?
She set the 2015 Guinness World Record for most Twitter followers, with more than 50 million, has sold more than 81 million singles and made just under $40 million last year alone.
An even bigger testament to her fame, though, are the KatyCats, her massive throng of devotees.
They are a formidable bunch, young and female-heavy.
With Perry playing Las Vegas on Friday, let's look at how her following compares with the fan bases of some other contemporary acts:
Artist: Katy Perry
Fan base: KatyCats
Who are they?: Anyone with a canopy above her bed, training bra vendors, Smurfs.
Hobbies: Dotting their i's with little hearts, ending every sentence with an exclamation point, sleepovers!
How die-hard are they?: Plenty. Every date on Perry's arena tour has been selling out. Even those on school nights!
Artist: Josh Groban
Fan base: Grobanites
Who are they?: Grandma, anyone who hums along to the music during elevator rides, bingo enthusiasts.
Hobbies: Crocheting tail warmers for their ever-growing collection of stray cats, sending you a check for $5 on your birthday, writing angry letters to music critics who goof on Josh Groban.
How die-hard are they?: You'd be better off coating yourself in Lucky Charms and Jell-O wrestling a malnourished badger than cheesing off a Grobanite. Seriously, this bunch is not to be trifled with. They are a fiercely dedicated lot. Need proof? Check my inbox after this story runs.
Artist: Slipknot
Fan base: Maggots
Who are they?: Jumpsuit aficionados, every teenage boy who totally hates his stupid stepdad, Hot Topic cashiers.
Hobbies: Looking down on Korn fans, frowning, getting mad at Mom when she asks, "Can't you just smile this one time?" for the family Christmas portrait.
How die-hard are they?: Intense. Ever been to a Slipknot concert? Their fans are Cujo-rabid. And the band earns their ardor. They're one of the few acts who can follow Slayer and not get pelted by empty beer cups the whole time.
Artist: Lady Gaga
Fan base: Little Monsters
Who are they?: Anyone who's ever TiVo'd an episode of "Ru-Paul's Drag Race," someone who can totally give you directions to the nearest wig shop, the person you turn to when you need advice on how to safely apply tape to your nipples.
Hobbies: Making catty comments during "Project Runway," defending Lady Gaga's weight gain on Twitter, looking confused when someone mentions a singer named Madonna.
How die-hard are they?: The Little Monsters are a proud bunch. They even have their own website, www.littlemonsters.com, although judging from the content, we're pretty sure the webmaster is Lady Gaga's butt.
Artist: Justin Bieber
Fan base: Beliebers
Who are they?: Modestly rebellious 12-year-olds, the "cool" mom in the glee club carpool, dudes who go shirtless as soon as temperatures rise above 60 degrees.
Hobbies: Taking off shirts, mocking those who wear shirts, settling for the Taco Bell drive-thru because they won't let you inside without a shirt.
How die-hard are they?: They have as much love for the Biebs as the rest of the world does blind, seething hatred. Critique Bieber, and expect a swift, vicious beatdown. And by "beatdown," we mean lots of heated tweets — "ur just jealous!" — where the rules of grammar are treated with almost as much disdain as chest-covering fabrics.
Artist: Insane Clown Posse
Fan base: Juggalos/Juggalettes
Who are they?: Quantum physicists, brain surgeons, Peter Pan.
Hobbies: Continuing to work diligently to patent Faygo-resistant greasepaint, carving the ICP "hatchet man" logo onto desk tops during detention, thinking of words that rhyme with "gay."
How die-hard are they?: Dude, the FBI has classified the Juggalos as a gang. That's pretty hard-core.
What's more, recently, two Insane Clown Posse fans were charged with attempted murder after savagely beating a dude and then trying to slice off an ICP tattoo from his arm because they felt he had disrespected the group. And you thought sitting through an ICP record was painful.
Contact reporter Jason Bracelin at jbracelin@reviewjournal.com or 702-383-0476. Follow on Twitter @JasonBracelin.
Preview
Katy Perry
7:30 p.m. Friday
MGM Grand Garden arena, 3799 Las Vegas Blvd. South
$36.05-$170.20 (800-745-3000)