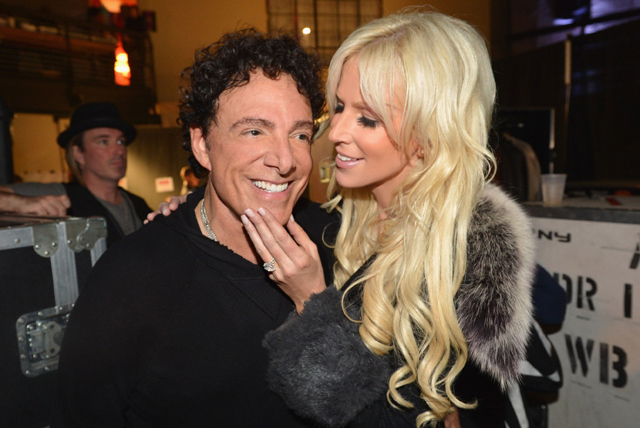 Journey's guitarist Neal Schon is getting married soon, and his wedding band will be — you guessed it — Journey. Will Journey play "Celebration" at Journey's wedding?
"I don't know about 'Celebration,' " Schon says and laughs. "But we have plenty of stuff in our repertoire we could pull up."
Journey will perform hits from that repertoire on Wednesday and Thursday at the Palms' Pearl.
At his wedding, Schon will play a few songs, and his son Miles may play the rest. Schon and fiancee Michaele Salahi will not give me more details.
"It's sometime this year," and the wedding will not take place in Vegas, he says.
Schon and Salahi were best friends for 15 years before she put her feelings on the line two years ago. His response?
"I just went, 'Wow, I can't believe this. I love you too.' "
Does that mean Salahi was moping around in unrequited love for all those years of friendship?
"Yes, I was!" she tells me.
"I would say to people: 'Follow your heart,' " Salahi says.
"I love him. He's not only a rock legend who makes people happy with his soul through music, but he's fulfilled my life. It's a dream come true."
During some of her mopey years, Salahi was married to Tareq Salahi. They were on "Real Housewives of D.C." And they were the "White House gate-crashers" of 2009. But that's behind them.
"She's basically been with me every day on tour for the last two years — which the other wives can't even believe," Schon says. "We're very, very happy."
On another personal front, Schon has been reaching out to former Journey singer Steve Perry lately, as both men have been to too many funerals recently.
Last year, Perry gave an hour interview to Denver radio host Dan Mandis, answering all of our Steve Perry mysteries of the past three decades.
Perry told the DJ he left Journey because he couldn't handle touring nonstop and the loss of a personal life.
Schon says that's "the real truth."
"There were so many rumors that have flown around for years — that I was Lucifer in disguise and kicked him out, or we didn't wait for him. You know what? We waited and waited and waited. And he was just not interested in coming back.
"But I'm was reaching out as a friend. I accomplished so much with him and cherished the work we did together."
And Journey's singer of the past five years, Arnel Pineda, is a powerhouse, Schon says.
"Arnel is an amazing human being with amazing pipes," he says. "When I met him, I was flabbergasted."
Journey is still touring constantly. They're booked for the next two years.
In Vegas this week, Schon is meeting with Santana. Maybe you don't know, but Schon joined Santana at age 15, turning down an offer from Eric Clapton's Derek and the Dominos.
"We are planning on doing a reunion record and tour. In 2015, we're talking about touring together — Journey and Santana — in which I would take up double duties. I would love that."
Also, a personal note from me: My mom loved the Beatles, the Rolling Stones and Guns N' Roses. But her heart belonged to Journey. Two songs played at her funeral in January: "Don't Stop Believin' " and "Open Arms." We forgot her favorite, "Lights."
Schon and I talked about this.
"You're here once in life, and that's why you should enjoy it to the max, every day."
I heard Mom say something similar to that my whole life.
Doug Elfman's column appears on Page 3A in the main section on Mondays, Tuesdays, Thursdays and Saturdays. He also writes for Neon on Fridays. Email him at delfman@reviewjournal.com. He blogs at reviewjournal.com/elfman.