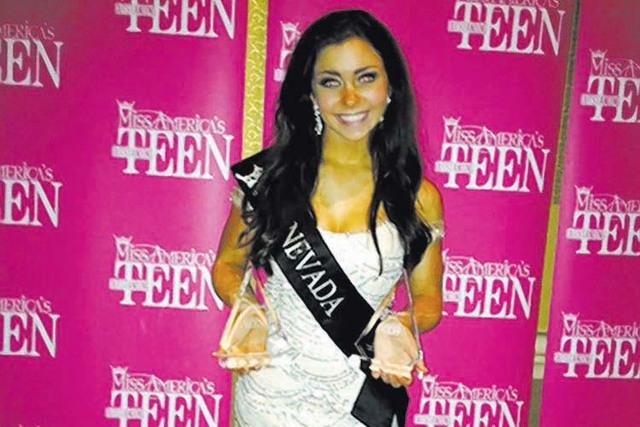 Miss Nevada's Outstanding Teen Amy Smith, whose state title came under question after an audit discovered voting irregularities, won two awards in Miss America's Outstanding Teen pageant in Orlando, Fla., on Saturday.
A panel of judges gave the Best Platform award to Smith, 15, of Henderson, for her community service program titled "Amy's Ambition: Empowering Youth Through Service" and her fellow contestants named her Miss Congeniality.
Rumors had swirled around Smith's status in recent weeks, with the Miss America Organization offering little in the way of clarifying the situation. After the audit, it was announced that the actual winner was Haleyann Hart, 16, a student at Las Vegas Virtual High School.
Hart did not compete. There was no explanation from Miss America Organization, the Miss America Outstanding Teen organization or Hart's family.
Smith's father, Rick Smith, a Henderson developer, told the Review-Journal "we just couldn't be prouder of her. Those two awards are even better than winning the whole thing."
He added, "For her to be loved by her peers, it just blew us away. It's such a blessing. She was so happy, we were all in tears."
"It was very taxing on our girls," he said. Amy's sister, Ellie Smith, 17, won Miss Nevada the same night, June 1, that Amy won the teen title. That was a first for the state organization, but storm clouds soon gathered when Miss American Organization ordered an audit.
Hart, who had not finished in the state pageant's top five, was declared the winner by Donna Bozarth, chairwoman of the pageant's national board. In a statement, she called it an "unfortunate situation" which resulted in having two winners. Both would be allowed to compete separately in the national teen pageant, she said at the time.
Ellie Smith, in a telephone interview from Orlando's airport on Sunday, said "coming home with 52 new sisters made the struggle I had all worth it.
"I'm very relieved that some of this will be put away," she said, "and I can focus on my sister going to Miss America next month and cheer her on. I'm so proud of my accomplishments and I hope it will calm everyone down. It made all the stress and struggle worth it."
Her long-term goal, she said, is to attend broadcasting school and become a chief White House correspondent.
Georgia's Outstanding Teen, Olivia McMillan, won the national title.
THE SCENE AND HEARD
Ed Henry, Fox News' chief White House correspondent, participated in an NBA fantasy camp here last week. "Wanted to play for @UKCoachCalipari at fantasy camp but stolen away by the very cool @CoachDaveRice," Henry said in a tweet that showed him in a photo with the Kentucky coach. While watching Team USA practice sessions, Henry's two children, Patrick, 13, and Mila, 10, were befriended by Mason Plumlee of the Brooklyn Nets. He tweeted they bumped into Plumlee at Wynn Las Vegas and the 6-foot-10 Plumlee went back to his guest room and returned with a pair of his size 18 sneakers and signed one for each child. …
Washington Wizards star John Wall says he's a good tipper and doesn't deserve the recent negative coverage of a tipping incident that involved a local female limo driver. "Ask any bellman at Aria (about his tipping)," he told "Seat" Williams of ESPN 1100. He said a $27.50 tip was prepaid through the reservation booking and that covered his trip to Aria. "She dropped off my two coaches last (at The Cosmopolitan)." He added, "I was figuring they would take care of her" (for that leg of the ride.) The bigger issue, for many, is why the driver didn't get tipped for driving back to the airport to pick up Wall's dental retainer and delivering it to an Aria desk. He indicated his handlers were in charge of getting the retainer retrieved. …
Rising local teen singer Tommy Ward, who has been opening for Stratosphere headliner Frankie Moreno, is getting some major backing these days. There are rumblings that prominent choreographer Kenny Ortega, composer Quincy Jones and Larry Ruvo of Southern Wines are getting involved in the career of the Las Vegas Academy standout.
SIGHTINGS
Priscilla Presley, dining with friends and family at the Eiffel Tower Restaurant (Paris) on Saturday. They later attended "Jersey Boys" at the Palazzo. … Comedian Russell Peters, climbing in the DJ booth at Fizz (Caesars Palace) on Friday for an impromptu performance. … Boxer "Sugar" Shane Mosley, meeting the stars of "Absinthe" (Caesars) on Friday. … Carrot Top, getting his signature red locks tended to at Color salon (Caesars Palace) on Saturday. … At Sherry Gordy's one-year anniversary of her "Take the Stage" show on Thursday at the Fiesta Rancho: Jermaine Jackson and Todd Bridges, in the audience when former teen idol Corey Feldman ("Goonies" and "The Lost Boys") sang Michael Jackson's hits "Billy Jean" and "The Way you Make Me Feel."
THE PUNCH LINE
"Right now, available only in San Francisco, is an app where you can get marijuana delivered right to your door. Whoever pairs this with a pizza delivery app probably will get the Nobel Prize." — Jimmy Kimmel
Norm Clarke's column appears Sunday, Monday, Wednesday and Friday. Reach him at 702-383-0244 or norm@reviewjournal.com. Find more at normclarke.com. Follow @Norm_Clarke on Twitter. "Norm Clarke's Vegas" airs Thursdays on the "Morning Blend" on KTNV-TV, Channel 13.