New stage 'Oz' falls short of movie's magic
September 11, 2013 - 1:42 pm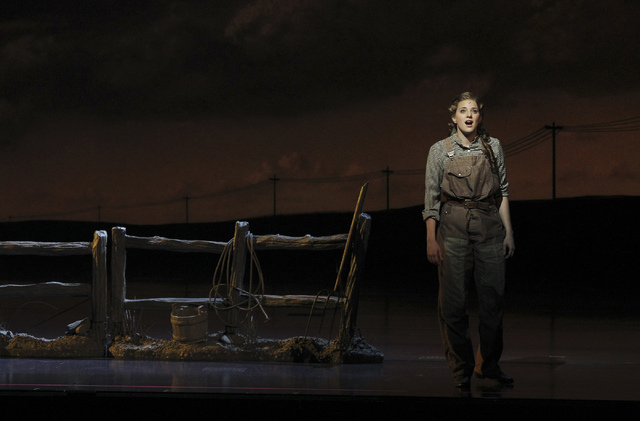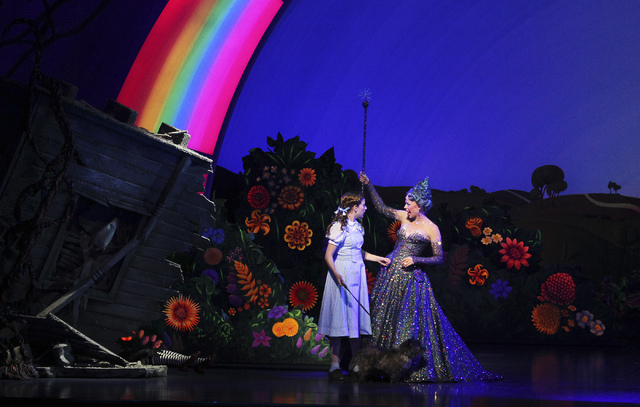 If it only had a compelling reason to exist.
The new stage version of "The Wizard of Oz" — launching its national tour at The Smith Center through Sunday, following an eight-month Toronto run — has almost everything else.
Based on the beloved 1939 movie musical that has bewitched kids of all ages ever since, this colorful theatrical experience boasts a perfectly plucky Dorothy (Danielle Wade), chosen for the role by Canadian TV audiences on a talent-search series featuring none other than Andrew Lloyd Webber (the composer who gave the world "The Phantom of the Opera," "Evita" and "Cats") as a judge.
There are six serviceable — if utterly extraneous — new musical numbers by Lloyd Webber and Tim Rice (his "Evita" and "Jesus Christ Superstar" lyricist) that give voice to such previously unsung characters as the Wicked Witch of the West and future wizard Professor Marvel.
Arlene Phillips provides suitably kicky choreography, while designers Robert Phillips (scenery and costumes) and Tony-winner Hugh Vanstone (lighting) create an eye-popping Technicolor Oz — and an appropriately sepia-toned Kansas — for author L. Frank Baum's all-American fairy tale.
Best of all: the welcome chance to bask in the perpetual glow of the original's enchanting songs by composer Harold Arlen (often unfairly overshadowed by the Gershwins, Berlins and Porters of the world) and lyricist/wordmaster E.Y. "Yip" Harburg (ditto).
This "Wizard's" congenial cast members approach their classic songs (and Webber's far-from-classic additions) with earnest, occasionally whimsical charm.
As always, the road to Oz begins in drab, hardscrabble Kansas, where dreamy young Dorothy bemoans the fact that "Nobody Understands Me" — except, perhaps, her little dog, Toto (played by the scene-stealing Nigel). And when witchy teacher Miss Gulch (Jacquelyn Piro Donovan) threatens to send Toto to the big dog pound in the sky, Dorothy and dog run away, oblivious to the stormy skies overhead.
Along the way, they encounter Professor Marvel ("Road to Avonlea's" warm, avuncular Cedric Smith), who introduces Dorothy to "The Wonders of the World" (the most charming of the show's new songs), courtesy of a magic-lantern show, and sends her home — until a massive twister hits and Dorothy and Toto aren't in drab Kansas anymore.
Happily, at least for us, they're in (literally) glittering Oz.
There, the Munchkins celebrate Dorothy's inadvertent crushing of the Wicked Witch of the East. And Glinda the Good (Robin Evan Willis, displaying a welcome touch of wackiness) advises her how to thwart the witch's vengeful sister (Donovan again, in demented diva mode) with a pair of to-die-for ruby slippers.
Thus begins Dorothy's odyssey along the yellow brick road to Emerald City, where the wonderful title wizard will presumably help her return home and reward her true-blue traveling companions: straw man Scarecrow (rubber-legged Jamie McKnight), the tap-dancing Tin Man (a sweet, fleet Mike Jackson) and the flamboyant, scaredy-cat Lion (Lee MacDougall).
Their adventures illustrate the perils of staging a road trip rather than filming it.
Director Jeremy Sams (who adapted the screenplay with Webber) finds some serviceable alternatives — at times.
But at several key moments (Dorothy's cyclone-powered trip to Oz, the flight of the Wicked Witch of the West's creepy winged monkeys), Sams acknowledges the inevitable, resorting to extended video projections (designed by Jon Driscoll) to get the storytelling job done.
That they do, but all the high-tech trappings in the world are no substitute for pure imagination. As this "Oz" demonstrates during Scarecrow's "If I Only Had a Brain," when a chorus of puppet crows suddenly pops up, proving you can delight an audience without high-tech effects.
Even with all the high-tech effects, however, this musical proves a relatively beguiling journey. It's just that every step reminds us that there's no place like home: the original, unimprovable, perfectly wonderful movie version of "Wizard of Oz."
Contact reporter Carol Cling at ccling@reviewjournal.com or 702-383-0272.
Review
What: "The Wizard of Oz"
When: 7:30 p.m. through Sunday; also 2 p.m. Saturday and Sunday
Where: Reynolds Hall, The Smith Center for the Performing Arts, 361 Symphony Park Ave.
Admission: $27 to $130 (702-749-2000; www.thesmithcenter.com)
Grade: B