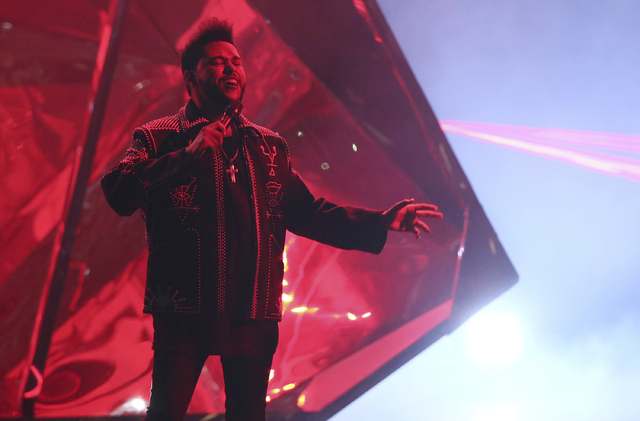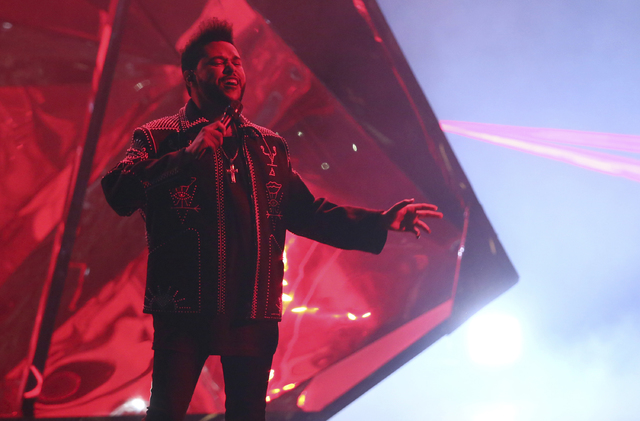 They're two of the biggest names in the same genre, and yet, they're united only by their willingness to bed your girlfriend.
Bruno Mars and The Weeknd.
One's repertoire is a repudiation of R&B's core values, the other's a preservation of them.
One's a futurist, the other's a nostalgist.
One's out to make you forget your troubles, the other's out to get you so bent you forget your name.
Together, Bruno Mars and The Weeknd are drawing and quartering R&B, pulling it sharply different directions and making a beautiful mess of the gore.
Which one should you get with?
Let's break it down.
Bruno Mars
Why you should love him: He's a playful playa, his songs as sparkly as a diamond-encrusted pinkie ring. Taking in Mars' latest record, "24K Magic," is akin to huffing a box of musical whippets, meant to get you dizzy, lightheaded and doing things you'll regret the next morning — if you can remember them, that is.
If The Weeknd's brooding buzz is like a handful of Adderall chased with a pint glass of Hennessey, Mars' catalog is akin to endless flights of Champagne: sweet, bubbly, occasionally headache-inducing.
In an even more pronounced contrast with The Weeknd, Mars always aims to please. Even when he's chastising one of his many female conquests for not picking up the phone quickly enough when he drops them a line on "Calling All My Lovelies" ("Honey pie, I'm far too fly to be on standby"), he quickly changes his tune by song's end. "Pick up the phone, pick up the phone. 'Cause all this loving needs a home," he implores. "Oh no, look at what you started, baby / Now I'm left here broken hearted, baby." Mars is a willing supplicant, putting you before himself, with the giddy-sounding "24K Magic" registering as one prolonged mood enhancer.
Hey, if nothing else, you'll save money on Zoloft.
Why you should leave him: Dude's becoming the R&B equivalent of "Groundhog Day," repeating the same moment in time over and over.
Mars is such a disciple of late '70s, early '80s funk and R&B, his songs can start to feel like a study in form at times, especially on "24K Magic," an album so retro with its DayGlo-bright, Reagan-era synth lines and throwback electronic drums, it should be made available on eight-track.
To Mars' credit, he's a fantastic student of soul, the music's most apt pupil, whether he's impersonating James Brown's preacher-worthy exhortations on "Perm," a young Michael Jackson at his most doe-eyed on "Versace on the Floor" or channeling New Edition on "Finesse."
It's all kind of like a knowingly cheesy pickup line: You've heard it before, and yeah, sometimes you fall for it because of the conviction of its delivery, but ultimately, you feel a little guilty for doing so.
The Weeknd
Why you should love him: He's changing the face of R&B, even if he has well-documented struggles feeling his own face, at times. Allergic to pretense, The Weeknd is unlike his R&B brethren who either woo the ladies with candy-coated come-ons or promise sexual fireworks should they succumb to his charms: He tends to view love as the rare four-letter word he's reticent to utter, treating the very concept contemptuously, in many cases, unless it's being used as a guise, a means to an end.
"Tell 'em this boy wasn't meant for lovin' / Tell 'em this heart doesn't stay to one," he sings on "Real Life," the opening track on last year's "Beauty Behind The Madness," his second studio album. "I'll be the same, never changed for nothin' / It's all I know, never learned much more." This sentiment is a recurring motif in The Weeknd's catalog, which is dark, candid, lascivious, frequently profane and, above all else, honest. Too much of R&B is about telling the opposite sex what they want to hear. The Weeknd simply tells it like he sees it.
Why you should leave him:"I'm tryna put you in the worst mood." That's the first line uttered on "Starboy," the title track to The Weeknd's recently released third record, and while he's directing his words at his detractors, they could apply to anyone listening, really. This is music meant to sting, not soothe. Talk about sound and sentiment diverging: whether he's warning of gold diggers or recounting life on the streets as a kid in his beatific upper register lilt, The Weeknd's voice is as gorgeous as his subject matter is frequently grim.
The message: Romance is dead. Here's its epitaph.
Read more from Jason Bracelin at reviewjournal.com. Contact him at jbracelin@reviewjournal.com and follow @JasonBracelin on Twitter.
Preview
Who: Bruno Mars
When: 9 p.m. Friday and Saturday
Where: Park Theater at the Monte Carlo, 3770 Las Vegas Blvd. South
Tickets: $160.55, $504.59 (702-730-7777)
Who: The Weeknd
When: 8 p.m. Friday
Where: The Chelsea at The Cosmopolitan, 3708 Las Vegas Blvd. South
Tickets: $150, $250 (702-698-7000)