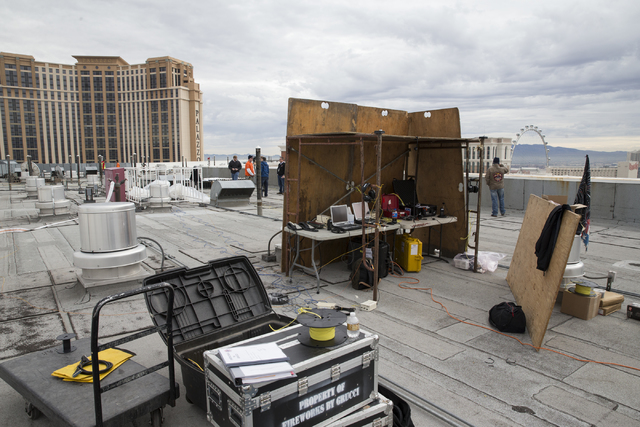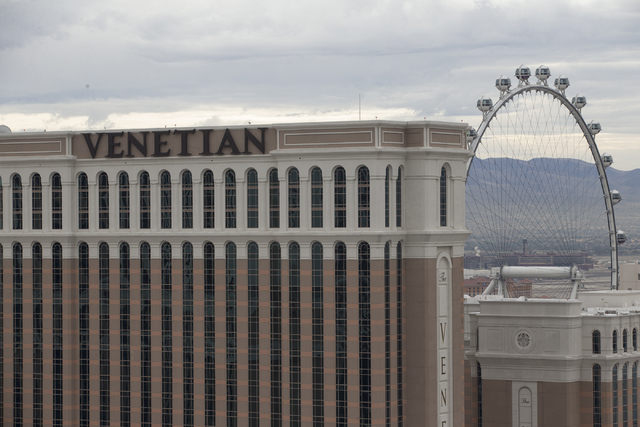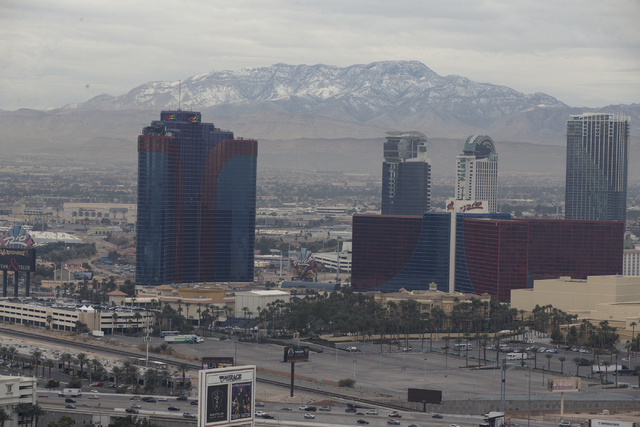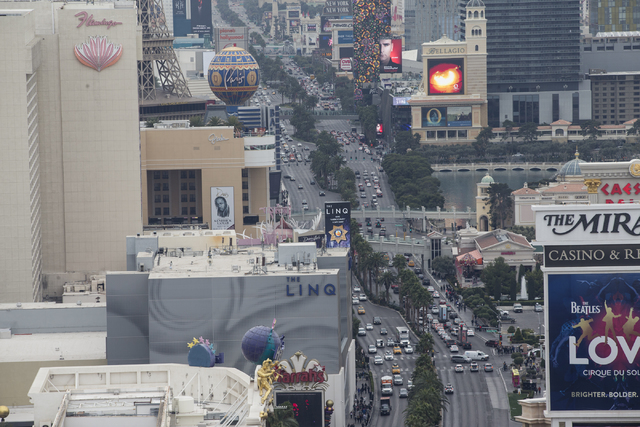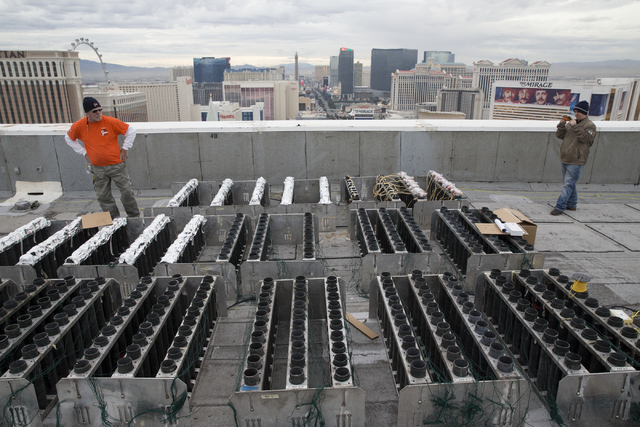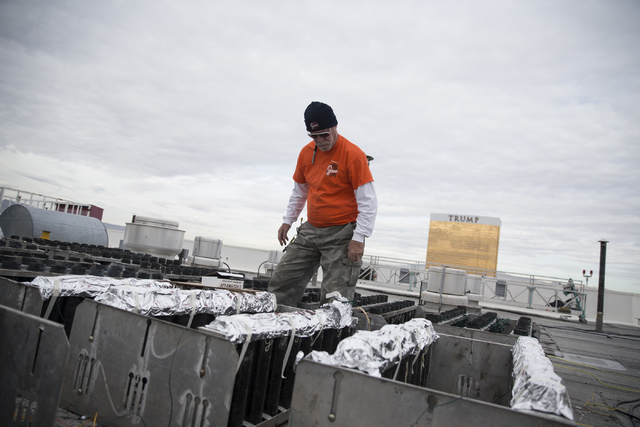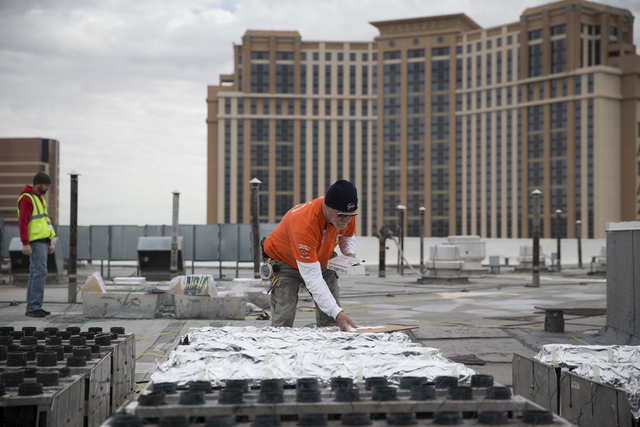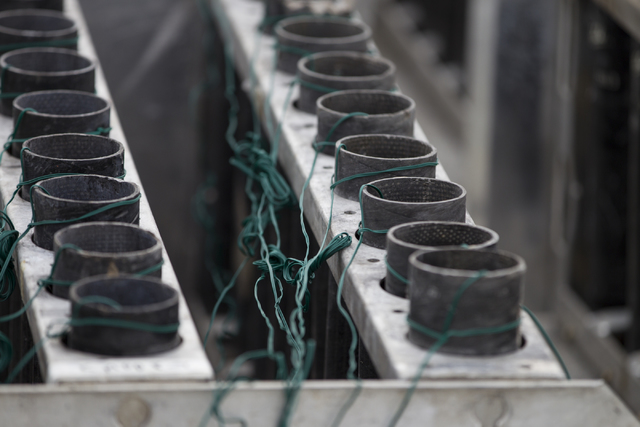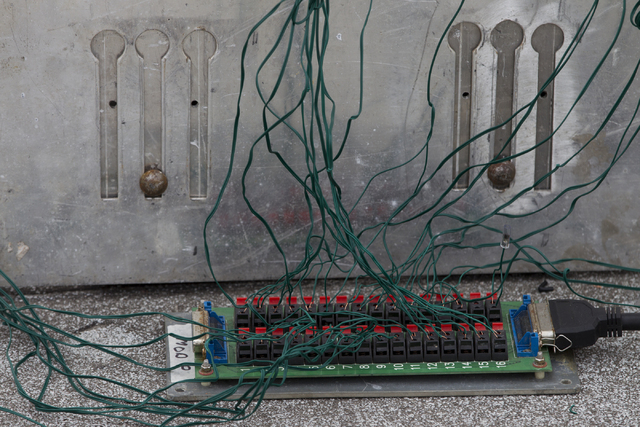 Less than 36 hours before 330,000-some raucous revelers pack the Strip to ring in New Year's Day 2017, a crew of pyrotechnicians worked in near silence atop Treasure Island to finish assembling the celebration's dazzling centerpiece.
Wearing beanies and jackets to fend off the cold, about 50 workers spent Friday wiring hundreds of black mortars positioned across seven Las Vegas resort rooftops that will launch more than 80,000 fireworks.
"My priority and the other guys' is to get every shell in the air. When you don't have 100 percent it's kind of disappointing," said Henry Herman, a pyrotechnician who's been working on the display 10 hours a day since Tuesday. "This is the biggest show in the country, so I wouldn't want to be anywhere else but here. … New York is nice, but the fireworks are not even close to being what they are here."
Fireworks By Grucci is coordinating the show for the 10th year in a row.
It will kick off with a 10-second countdown before midnight as fireworks are launched from progressively higher points on the Stratosphere tower. The real show begins when 2016 ends.
Pyrotechnics will explode between 200 and 300 feet above Aria, Caesars Palace, MGM Grand, Planet Hollywood Resort, Treasure Island and The Venetian.
"If you're kind of situated in the middle of the Strip it will definitely be a 360(-degree) event," said Scott Cooper, director of business development for Fireworks by Grucci. "Every rooftop is linked together, so at the magic moment of the midnight hour, every rooftop will be in unison."
Fireworks By Grucci orchestrates the launch from a control center at the Rio. This year the company was forced to relocate from its usual position inside the resort to a different part of the property due to an ongoing power outage.
The show will last last 8 minutes, 1 second and cost an estimated $500,000.
The theme is "Vegas Rocks" and will include synchronized music for viewers who download a free smartphone app, available for both iPhone and Android devices through a search for "Fireworks by Grucci."
The event celebrates some of Las Vegas' long-standing entertainers and pay tribute to iconic artists who died in 2016, including Prince and David Bowie.
Silky gold shell fireworks will rain down during Celine Dion's "These Are Special Times," red-tipped comets will adorn a remix of Bowie's "Let's Dance," and fireworks will spell out the title of Clint Holmes' "L.V." in giant, multicolored letters.
Prince's "Let's Go Crazy" will close out the show.
"The biggest challenge we face as a performer each year is to outdo what we did the year before," Cooper said. "We're working with the fire departments and with each of the buildings to use more of the rooftops for a wider field of view, a wider stage if you will."
The show will go on rain or shine, said Michael Mack, vice president of marketing for Las Vegas Events. It will only be delayed if there are winds "consistently" above 10 mph.
"Rain is not a delay factor, only wind, and the forecast is looking really good," he said. "This will be our 17th show of America's Party, and we haven't had a cancellation yet."
Contact Michael Scott Davidson at sdavidson@reviewjournal.com or 702-477-3861. Follow @davidsonlvrj on Twitter.
RELATED
Your guide to New Year's Eve in Las Vegas