New Year's Eve bash in Las Vegas, with lots of glamour, stays peaceful
January 1, 2017 - 2:39 am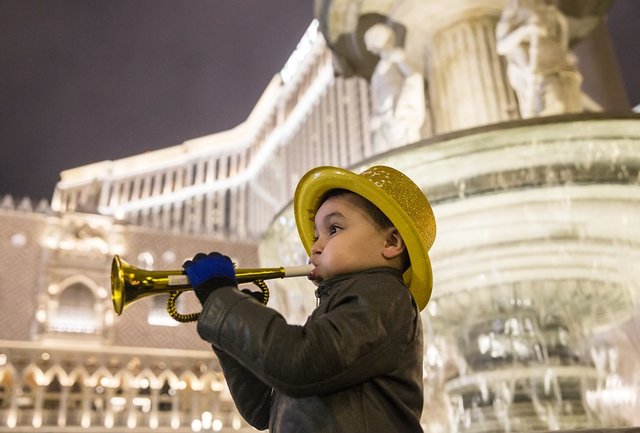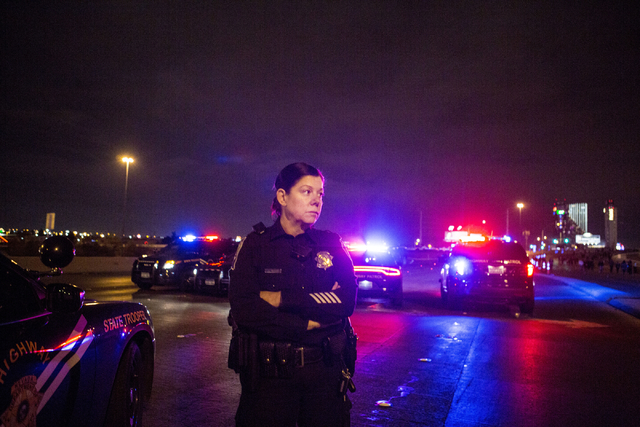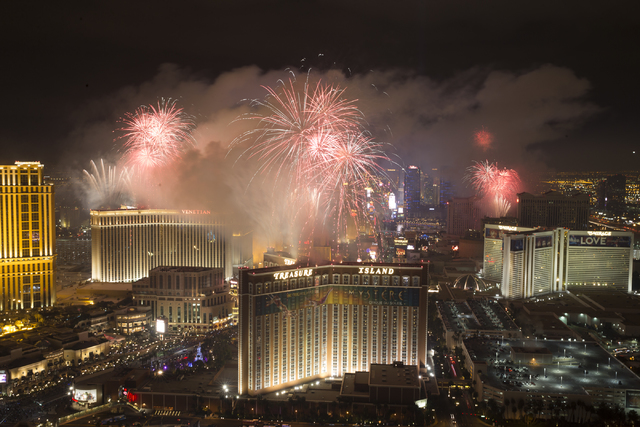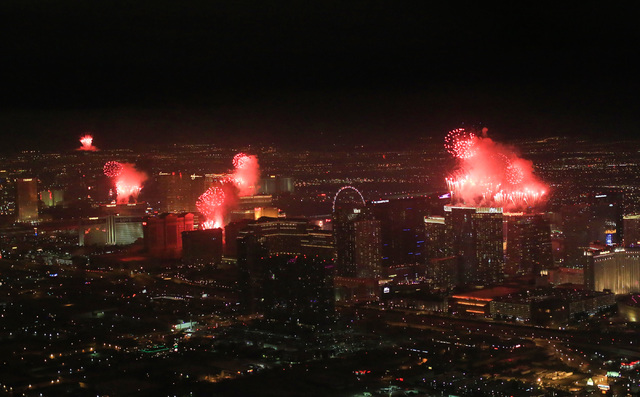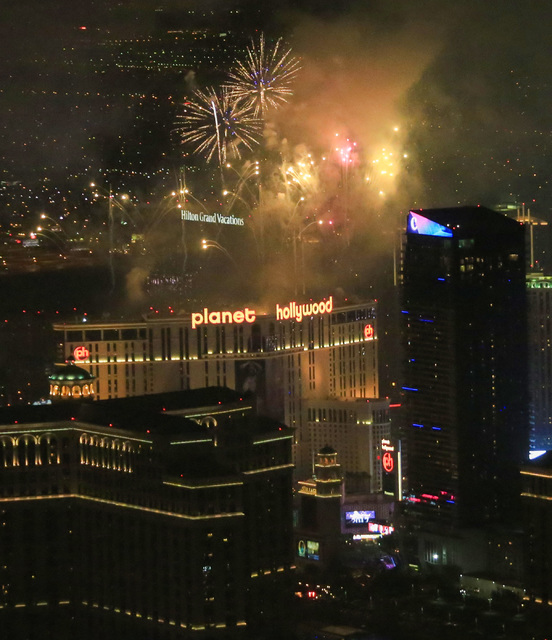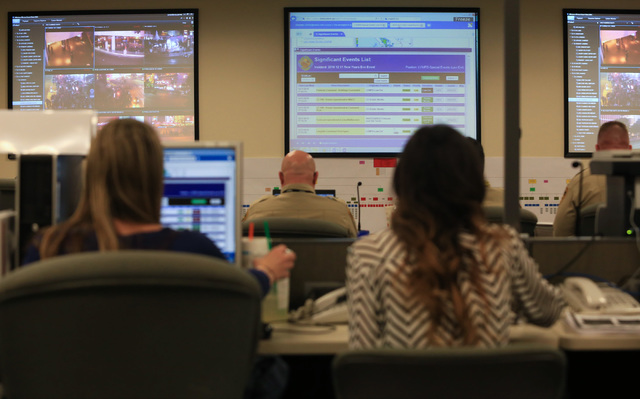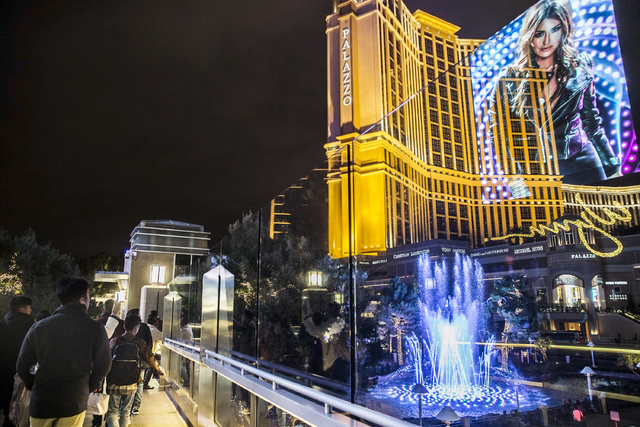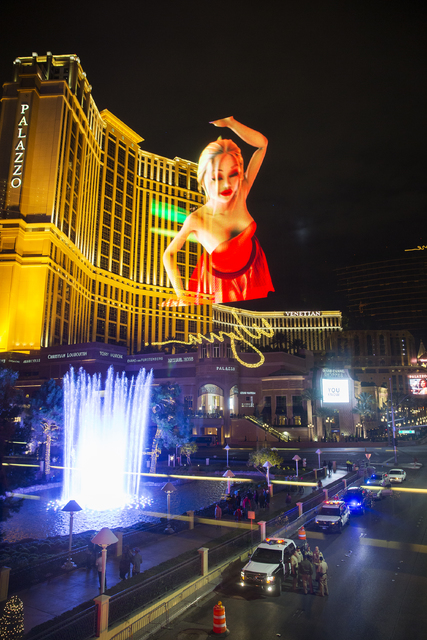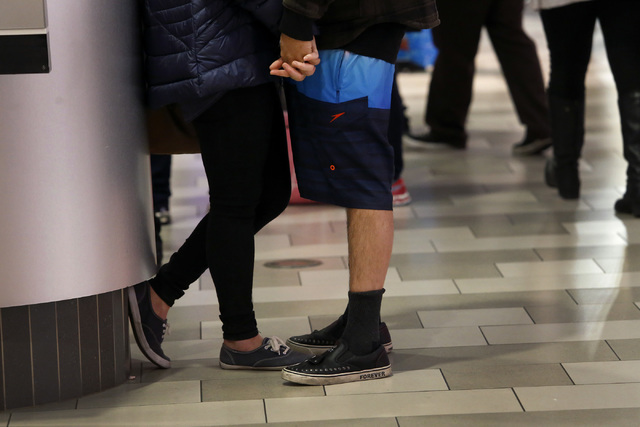 Las Vegas rocked into 2017 with a massive fireworks display that turned a hazy sky into a kaleidoscope of color as hundreds of thousands of revelers swayed on the Strip to a medley of pop songs.
In what authorities described as a relatively peaceful celebration, couples kissed, and partiers hoisted libations. Some lit up joints, despite an army of police officers on the lookout for everything from inebriated tourists to terrorists. Smoking pot in public remains illegal under the state's new recreational marijuana law.
An estimated 330,000 visitors from all over the world descended on the city for the annual New Year's Eve celebration billed as "America's Party," packing area hotels. A fair number of them joined the throng of locals on the Strip or at downtown's Fremont Street Experience for spectacular pyrotechnic displays, both real and digital.
The festivities weren't confined to the streets.
In addition to ritzy parties and small soirees in downtown and Strip hotels, Las Vegas was hosting a concert cornucopia that included New Year's Eve performances by Maroon 5, the Wu-Tang Clan, Bruno Mars, Drake, Elton John, Snoop Dogg, The Roots, Lady Gaga and Tony Bennett, and Sting.
At the Eastside Cannery, an older crowd clad in black concert T-shirts and leather mini-skirts packed into the casino's Grand Events Center to see rocker Vince Neil, a Las Vegas local, rip through a slew of hits from now-retired heavy metal band Motley Crue.
While revelers in shiny gold party hats played slot machines on the casino floor, this bunch played air guitar to Crue favorites like "Dr. Feelgood" and "Piece of Your Action."
But the main attraction of the evening was the $500,000 Fireworks by Grucci show, which set off 80,000 pyrotechnic rounds from the roofs of seven Strip hotels: the Stratosphere, Aria, Caesars Palace, MGM Grand, Planet Hollywood, Treasure Island and The Venetian.
BEST SEATS IN THE HOUSE
Matt and Cindi Bingel, a couple from Denver, may have scored the best seats in the house: They booked the top car on the High Roller Ferris Wheel at the Linq to watch the eight-minute show.
Matt Bingel, 44, said he came up with the idea as a way to ensure that his 38-year-old wife's birthday and the new year were memorable.
"She always gets shafted because her birthday is right after Christmas," he said. "I wanted to do something special."
MINDING THEIR P'S AND Q'S
Security on the Strip and downtown was tight, with backpacks, strollers and ice chests banned. Officers kept close watch on the crowds that police said were generally well-behaved during the last hours of 2016.
About 1,000 Metropolitan Police Department officers were working the Strip and downtown along with 40 to 50 undercover federal agents and about 220 Nevada National Guard soldiers.
That was just the presence on the ground. Local and federal law enforcement agencies also monitored the Strip and downtown through real-time cameras in several different command centers stationed throughout the valley.
Metro Capt. Christopher Darcy, who heads the Southern Nevada Counter-Terrorism Center, said local and federal law enforcement agencies were mindful of the mass shooting at an Istanbul nightclub Saturday that left at least 35 dead.
Laura Meltzer, a Metro spokeswoman, described the situation as "pretty quiet" as of 11:30 p.m., though officers were still encountering people with banned items like bags and strollers.
Around 1:15 a.m., the Clark County Fire Department reported it had treated 27 people in the Strip area, and 26 of them were hospitalized with injuries that weren't life-threatening.
Nevada Highway Patrol troopers were scouring the valley's roads for drunken drivers before the fireworks even started.
Trooper Angie Wolff, who's been with the agency for 21 years, said the New Year's Eve weekend is consistently the busiest for DUI arrests, which include drugs and alcohol.
"I choose to work graveyard every New Year's Eve because, I mean, I'm a trooper," she said. "Our job is to protect the citizens of the state of Nevada and to me, protecting them means taking drunk drivers off the road."
FIELD SOBRIETY TEST
Just before 11 p.m., Wolff pulled up on the scene of a suspected impaired driver, who had been stopped by another trooper on northbound Interstate 15 near the Spaghetti Bowl.
When Wolff stepped out of her car, the suspect was undergoing a field sobriety test. Another trooper held a flashlight near the suspect's face and looked for jerkiness in the man's gaze.
"A sober person, your eyeballs are going to follow nice and smooth," Wolff said. "Somebody who's drunk, their eyes are actually bouncing."
The man completed a series of other tasks for the test and ultimately failed. He was arrested on suspicion of impaired driving, but not without being a little uncooperative with troopers.
"It's a shame," Wolff said. She understood the man's frustration, but added, "We're just trying to do our job, to keep everybody safe."
Soon, she got back in her patrol car and pulled away, looking for more possible impaired drivers.
"After midnight, it gets crazy."
WEATHER WORRIES
While the city's sendoff for 2016 offered one more reason for a party in a town where people come to revel every day, another Las Vegas mainstay — sunshine and clear skies — was in short supply.
A heavy rain shower on the city's west side about 6 p.m. gave early arrivals a dousing, but National Weather Service radar images showed scattered showers moved north of the city as the night wore on.
But the cloudy skies also offered revelers some relief from the near-freezing temperatures and cold, clear nights of recent years, with the weather service forecasting an overnight low of 43 degrees. That would be 5 degrees above the average of 38 for the date and a far cry from the frigid record low of 18 degrees that froze fountains at Caesars Palace in 1990.
By 7 p.m., the party was beginning to kick in with the celebration's theme, Las Vegas Rocks.
HALF-NAKED COMPETITION
The cover band Alter Ego, a Fremont Street staple, amped up its stage presence as it competed for the attentions of a boozy crowd.
"We're competing with girls dancing half-naked in their underwear, as well as men in G-strings," said guitarist Sean Benham.
The band sees plenty of wild things playing five days a week on Fremont Street but was expecting New Year's Eve to surpass the usual madness.
When it comes to the sights on New Year's Eve, anything goes.
"We only hope that it tops what we see on the daily," Benham said. "Anything and everything."
BEER AND THE CHIPPENDALES
Also on Fremont Street, Anna Marie Cervantes posed with Chippendales dancers at the encouragement of her husband, Orlando.
The two came to Las Vegas to celebrate their one-year anniversary on New Year's Day.
Their new year's resolution: Just be happier than they already are.
"We're very blessed," she said, holding a mug of beer while her husband donned a crown and enjoyed a cigar.
DANCING THE NIGHT AWAY
Farther down Fremont, performer Rachel Evans helped pump up the crowd, dancing to pulsing music on stage with a flowing cape.
Evans, who moved to Vegas to pursue her entertainment dreams, was beginning a marathon night. After dancing downtown, she was headed to the Stratosphere to dance there until 5 a.m.
"This is the longest New Year's I've ever had," she said. "But I'm so grateful for all the jobs."
LONG JOURNEY IN SEARCH OF A PARTY
Some celebrants traveled thousands of miles to join the party.
Annelies Van Es, 58, shot a video of her daughter Sabrina Van Bakkum, 28, standing near the northbound entrance to Interstate 15 on Tropicana Avenue.
The two self-described "Vegas addicts" were on their third visit to Las Vegas from their home in Mallorca, Spain, and searching for a party, preferably a cheap one.
But they came prepared in case they came up empty.
"We've got the party right here," Van Bakkum said, holding up a handbag. "We brought booze."
GROWING CROWDS
As the country's east coast rang in 2017, the bars of the East Fremont District downtown were getting crowded, though some dance clubs remained near empty.
Inside the Don't Tell Mama piano bar, a crowd of about 30 was celebrating underneath an assortment of colorful balloons and lights.
Minh Pham, manager for the past eight years, said he expected as many as 400 patrons throughout the night. It's an increase from last year, but about the same as he'd expect from other recent weekends.
"Every year it's getting better because more people are coming out to downtown," Pham said. "They don't want to deal with the crowds on the Strip, and it's less expensive here."
He attributed his business' crowds to a combination of live music and no cover charge.
LONG JOURNEY IN SEARCH OF A PARTY
Some celebrants traveled thousands of miles to join the party.
Annelies Van Es, 58, shot a video of her daughter Sabrina Van Bakkum, 28, standing near the northbound entrance to Interstate 15 on Tropicana Avenue.
The two self-described "Vegas addicts" were on their third visit to Las Vegas from their home in Mallorca, Spain, and searching for a party, preferably a cheap one.
But they came prepared in case they came up empty.
"We've got the party right here," Van Bakkum said, holding up a handbag. "We brought booze."
IN SEARCH OF 'NEW EXPERIENCES'
Valentina Zolezzi, 21, couldn't wait to tour the Strip and see all that the area's clubs and hotels have to offer.
"I hear that the party's really good here," she said.
Zolezzi, who is from Chile but is living in Los Angeles while studying English for a few months, said she's missed her family in recent days but can't wait for what the new year brings as she experiences living on her own in a foreign country.
"I think this new year's going to be really, really great (with) new experiences," she said.
QUICKLY PLANNED TRIP
Spending New Year's Eve in Las Vegas was a last-minute decision from 20-year-old Joshua Shaver and his girlfriend, Loretta Strickland.
"It was her idea," Shaver said, pointing to his pink-haired belle.
The couple were sitting on their couch in Lemoore, California, two nights prior when the idea to make the four-hour drive to Las Vegas hit them.
"It was just a spur-of-the-moment thing," Strickland said.
Shaver, a self-described "pencil pusher" in the Navy, is on leave for a few weeks and said there was no better time to make his first visit to Las Vegas than for New Year's Eve.
ENTREPRENEURS GET THE BOOT
For Washington state residents Tiffani Miller, 20, and Ricky Coleman, 22, who have spent the last year on the road trying to make ends meet with odd jobs, Las Vegas was a bit of a disappointment.
After working at carnivals, pumpkin patches and Christmas tree lots along the West Coast, they thought they had a money-making idea selling party accoutrements such as large glow sticks and festive hats for the New Year's Eve party.
Unfortunately, they were booted from the Strip because they were carting their wares around in two strollers. Instead, they were trying to attract buyers near Flamingo Road.
"We're trying to make the most of what we got here," Coleman said.
'THAT IS LIFE'
Brothers Fernando and Ezequiel Coronet also were having a hard time as they tried to sell jewelry, handmade leather wristbands and other accessories they had spread out on a cloth at the Tropicana Avenue intersection.
"Hey, fellas," a Las Vegas police officer told the brothers. "Pack up your s—- and go."
With that, the makeshift shop of the Coronet brothers was no more.
Fernando Coronet, 33, said he's been living in Las Vegas for four years after moving from Los Angeles and recently has been selling on Instagram, in part to avoid police forcing him to move all the time.
"That is life," he said as he rolled up his shop.
THE PARTY HAS TO END
Sporting a large paper hat adorned with handwritten insults from Dick's Last Resort restaurant in the Excalibur, 16-year-old Alex Duncan said as his first visit to the city came to a close that he never wants to leave Las Vegas.
Accompanied by a friend from Arizona, he said he felt a world away from his home in Mesa, Colorado, and was dreading the trip to the airport in the morning.
"I wish I didn't have to leave so soon," he said.
Reporters Colton Lochhead, Amelia Pak-Harvey, Michael Scott Davidson, Pashtana Usufzy, Wesley Juhl, Rachel Crosby, Wade Millward, Meghin Delaney and Jason Bracelin contributed to this report. Contact Keith Rogers at krogers@reviewjournal.com or 702-383-0308. Follow him on Twitter: @KeithRogers2. Contact Ben Botkin at bbotkin@reviewjournal.com or 702-384-8710. Follow him on Twitter: @BenBotkin1.
RELATED
Las Vegas rings in 2017 with New Year's Eve celebrations on Strip, downtown – PHOTOS
Celebrating the start of 2017, Vegas-style — PHOTOS