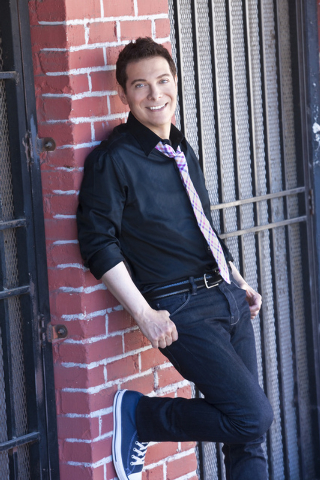 Performers love to sing Gershwin songs — and who can blame them? (To quote one of Ira Gershwin's felicitous "I Got Rhythm" lyrics, "Who could ask for anything more?")
Yet Michael Feinstein has a personal as well as professional interest in the songs of George and Ira Gershwin, as he'll explain "The Gershwins and Me," which he brings to The Smith Center on Saturday night.
It's Feinstein's second Smith Center visit; his "Sinatra Project" played Reynolds Hall in March 2012, during its first week of operation.
But if home is where the heart is, then "The Gershwins and Me" finds Feinstein going home — and taking audiences with him.
After all, Feinstein spent six years as Ira Gershwin's assistant, giving him access to unpublished Gershwin songs — and an equally precious treasure trove of memories, made even more poignant in the wake of George's 1937 death, from a brain tumor, at 38.
Last year, Feinstein published a coffee-table book (complete with CD) titled "The Gershwins and Me."
Saturday night's concert is based on the book that "made me mindful of all of the great stories that are part and parcel of the Gerswhin legacy," Feinstein, 57, says in a telephone interview. "It's an amalgam of great Gershwin songs sings and funny and sometimes poignant anecdotes."
All to the accompaniment of a 17-piece big band.
"We'll be presenting these songs in all their glory," Feinstein promises, citing classic tunes from such shows as "Strike Up the Band" and "Porgy and Bess."
There's also a medley of Gershwin tunes associated with song-and-dance master Fred Astaire, a Gershwin family friend who introduced such imperishable standards as "Funny Face," "They Can't Take That Away From Me" and "Let's Call the Whole Thing Off."
And, to remind audiences of Ira's continuing dexterity as a lyricist, Feinstein also uncorks the tongue-twisting "Tchaikovsky" — written with composer Kurt Weill and introduced by Danny Kaye in "Lady in the Dark" — that name-checks 49 Russian composers, from Stravinsky to Rimsky-Korsakov to Rachmaninoff.
Overall, it's a great cross-section of Gershwin songs and stories, says Feinstein — who adds that Ira, 18 months George's senior, was the first person to recognize George's genius and devoted his life to preserving George's legacy before his own death in 1983, at age 86.
The only time Ira Gershwin expressed "a little bit of pique" about George's greater fame came during the McCarthy era, when Ira was grilled by a Los Angeles-based committee regarding his (nonexistent) Communist Party connections, Feinstein notes.
After his testimony, according to Feinstein, Ira's interrogator told him, " 'By the way, Mr. Gershwin, your brother's work is wonderful' " — to which Ira replied, " 'You SOB, how about me?' "
That inquisitor wasn't the only one to describe Gershwin's music as wonderful. (Or, "S'Wonderful," to use the title of another George-and-Ira classic.)
"The name George Gershwin is synonymous with the best of American music around the world," Feinstein says, citing the fact that, with "concert works and opera" as well as Broadway and Hollywood scores, the composer "had a larger soundbox to play in" than such contemporaries as Irving Berlin, Cole Porter and Jerome Kern.
At the time of George Gershwin's death, he had completed a string quartet "that, sadly, wasn't written down," Feinstein said. Also, Gershwin wanted to compose a symphony and another opera to follow "Porgy and Bess."
Even with such forays into classical music, however, Gershwin wanted to get back to New York to create more for Broadway, Feinstein says, adding that he "loved working with Ira and he loved writing songs. Nor did he ever consider one more important than the other."
We'll never know what songs the Gershwins would have written — but the ones they did still reverberate, still enchant and delight.
For Feinstein, "they are organic," he says, likening them to "our first love." And, to cite another favorite Gershwin title, "Our Love Is Here to Stay."
Contact reporter Carol Cling at ccling@reviewjournal.com or 702-383-0272.
Preview
Michael Feinstein: "The Gershwins and Me"
7:30 p.m. Saturday
Reynolds Hall, The Smith Center for the Performing Arts, 361 Symphony Park Ave.
$39-$129 (702-749-2000, www.thesmithcenter.com)