Nick Young, Lakers and Warriors made their weekend mark on Las Vegas
October 17, 2016 - 2:57 am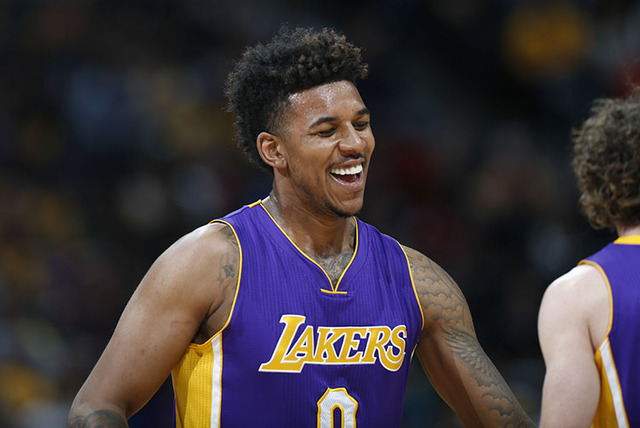 The Los Angeles Lakers' Nick Young played a trick on fans and on his very recent ex, pop star Iggy Azalea, by posting a photo online of a Vegas wedding chapel brochure while suggesting he proposed to his new girlfriend.
"She said yes," Young posted Friday in reference to girlfriend Paloma Ford, sending entertainment writers scrambling to launch a new tirade on him, since he famously cheated on Azalea to the point that her heartache has delayed upcoming new songs.
But it was just a joke, apparently, and he took down the post.
Young came to Vegas for a Lakers-Golden State Warriors game at T-Mobile Arena.
After losing to the Warriors, Young, with Ford and friends, played Topgolf late into the night.
WHY NOT PARTY?
Before playing the Lakers Saturday, the Warriors decided to get in the spirit of NBA competition by partying at club Heart of Omnia late Friday night.
Partying worked. The Warriors won.
In the club: Kevin Durant, Draymond Green, Klay Thompson, Anderson Varejao and JaVale McGee.
The next night, after beating the Lakers, Durant, Thompson and Green partied at Drai's in the Cromwell hotel.
Meanwhile on Friday, Lakers coach Luke Walton and assistant coach Brian Shaw went to STK Steakhouse in The Cosmopolitan hotel to gobble down a table full on burrata and beet salad, shellfish, beef tartare, rib cap steak, lobster Krispies, donuts and banana cheesecake.
ACTORS DO BACHELOR PARTY
Actor Patrick J. Adams (of USA Network's legal drama "Suits") came to Vegas with famous friends to celebrate his bachelor party Friday night.
Actors Chris Pine (the recent James T. Kirk in "Star Trek" films) and Brendan Hines (of Fox's crime drama "Lie to Me") helped Adams say goodbye to singlehood at Omnia nightclub in Caesars Palace.
No reports of bachelor-esque shenanigans have rolled in.
Adams is engaged to actress Troian Bellisario of Freeform TV's thriller "Pretty Little Liars."
PREGNANT BRIDE?
Pregnant Brazilian TV star Rafa Brites (she's on several shows there) and journalist husband Felipe Andreoli just wrapped up a very newsworthy Vegas vacation week.
First, they went to the Elton John/Billie Jean King charity tennis match at Caesars Palace, where John McEnroe/Maria Sharapova took on Martina Navratilova/Andy Roddick.
Then the Brazilian couple cheered Bob Dylan at The Cosmopolitan on the day he won the Nobel Prize in Literature.
Next, she was dressed in a pregnant wedding gown at Little White Chapel, though they were already married.
They saw "Absinthe." And they went to the Warriors-Lakers game at T-Mobile Arena.
What a whirlwind.
"If we cultivate romance, fun and celebrations, so be it," she wrote in Portuguese on Instagram, thanking her husband for "so much love." "As corny as the most beautiful love songs. 5 years of marriage!"
Sunday they took a three-day desert road trip to Arizona.
SIGHTINGS
Colombian actress Kimberly Reyes and lover Federico Severini (a children's welfare advocate) checked in at the Bellagio over the weekend, drank during happy hour at the Hard Rock Hotel on Saturday, and kissed under the "Welcome to Fabulous Las Vegas Nevada" sign Sunday morning.
Actress Carly Hughes, of ABC comedy "American Housewife," dined with a friend Friday at Beauty &Essex in the Cosmopolitan.
At Drai's Saturday night: snowboarderLuke "The Dingo" Trembath; skateboarder Ryan Sheckler; and Supercross' 2016 Monster Energy Cup winner Eli Tomac with his peers Chad Reed, Taka Higashino, Andre Villa and Blake "Bilko" Williams.
There was a bachelorette party at Drai's Beachclub dayclub Saturday for Allie Long, of the U.S. Women's National Soccer Team, who was joined by friends and teammate Alex Morgan.
And The Killers' drummer, Las Vegan Ronnie Vannucci, saw Blue Man Group Saturday at the Luxor. He's going to be a judge in the upcoming, free-to-see Blue Man Group Drum-Off Oct. 22 in the Downtown Container Park.
HOME TWEET VEGAS
Daily Beast reporter @OliviaNuzzi: "Prediction: after the election's over, Trump, reluctant to give up his rallies, will agree to a Vegas residency."
Doug Elfman can be reached at delfman@reviewjournal.com. He blogs at reviewjournal.com/elfman. On Twitter: @VegasAnonymous