5 best recently revamped Las Vegas pools
April 29, 2017 - 11:52 am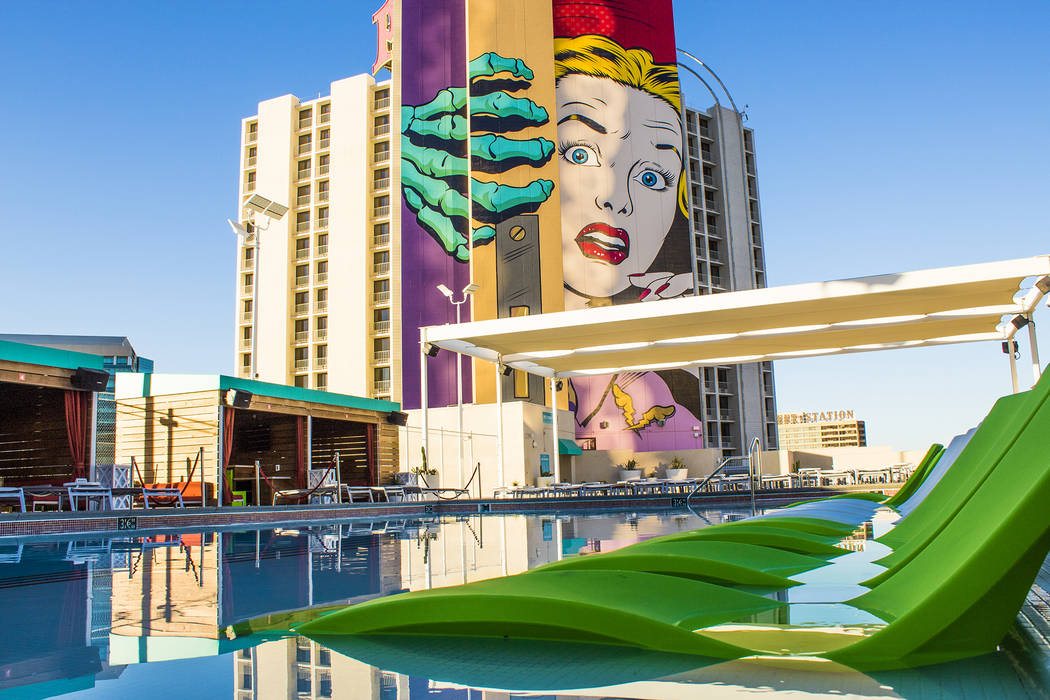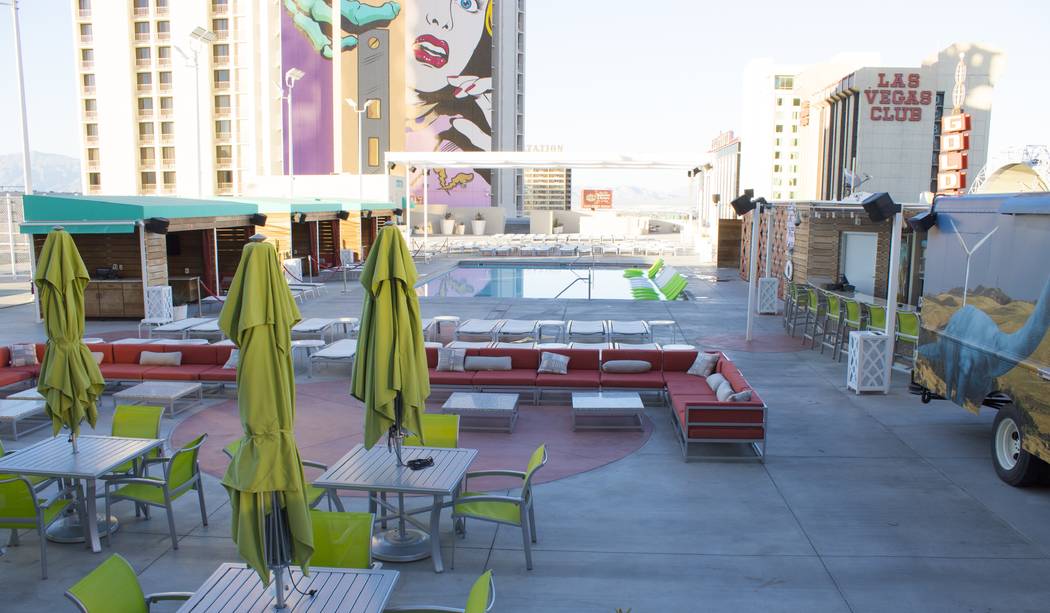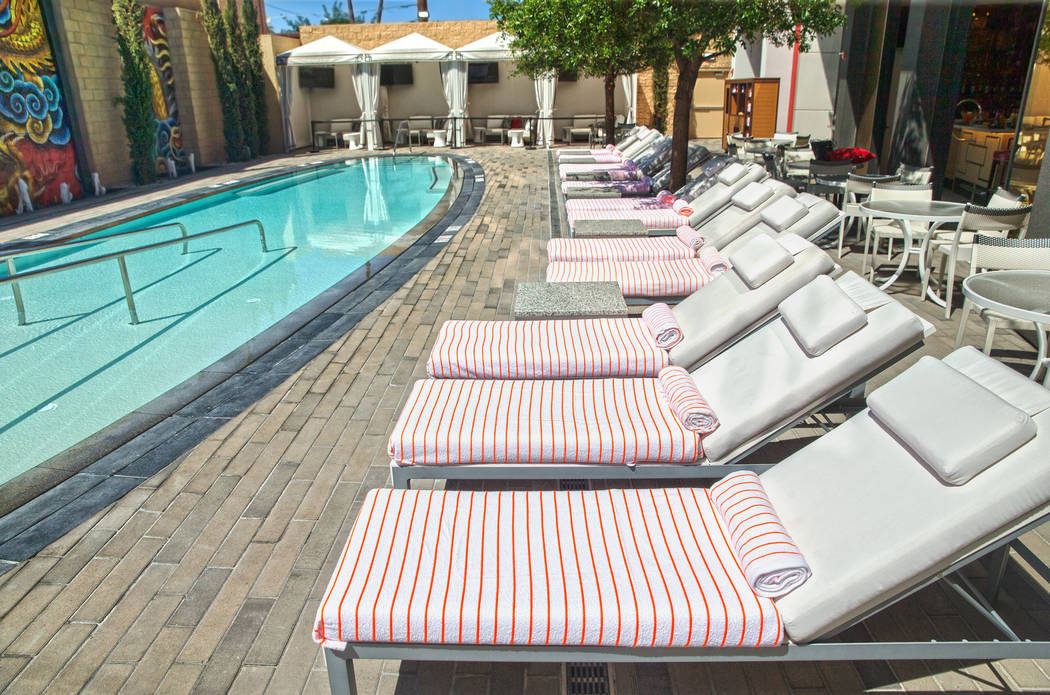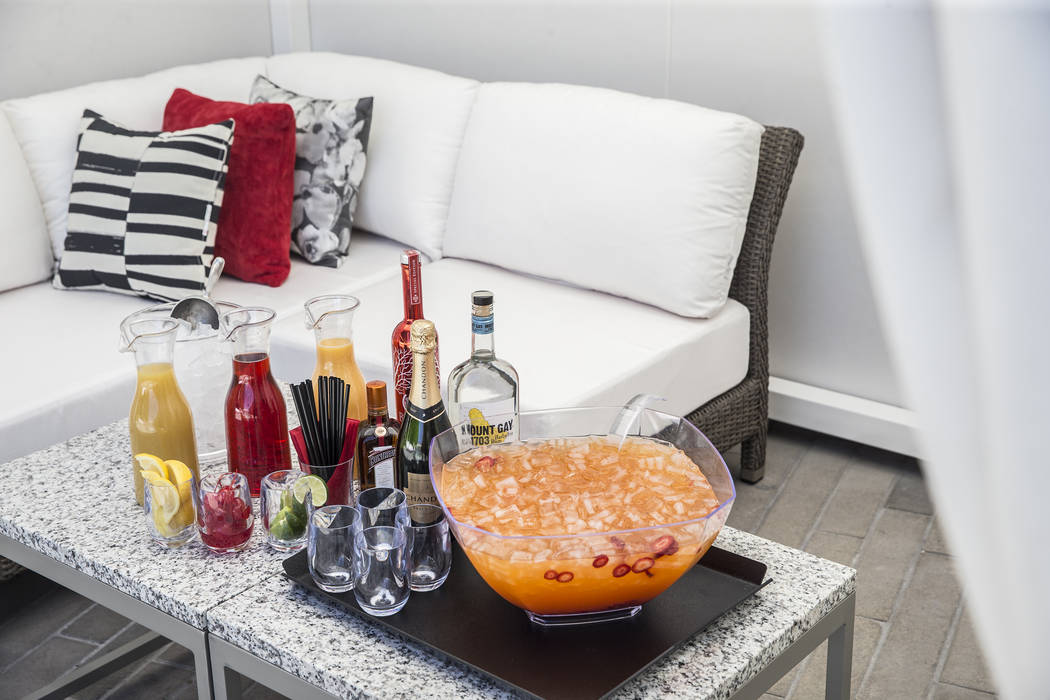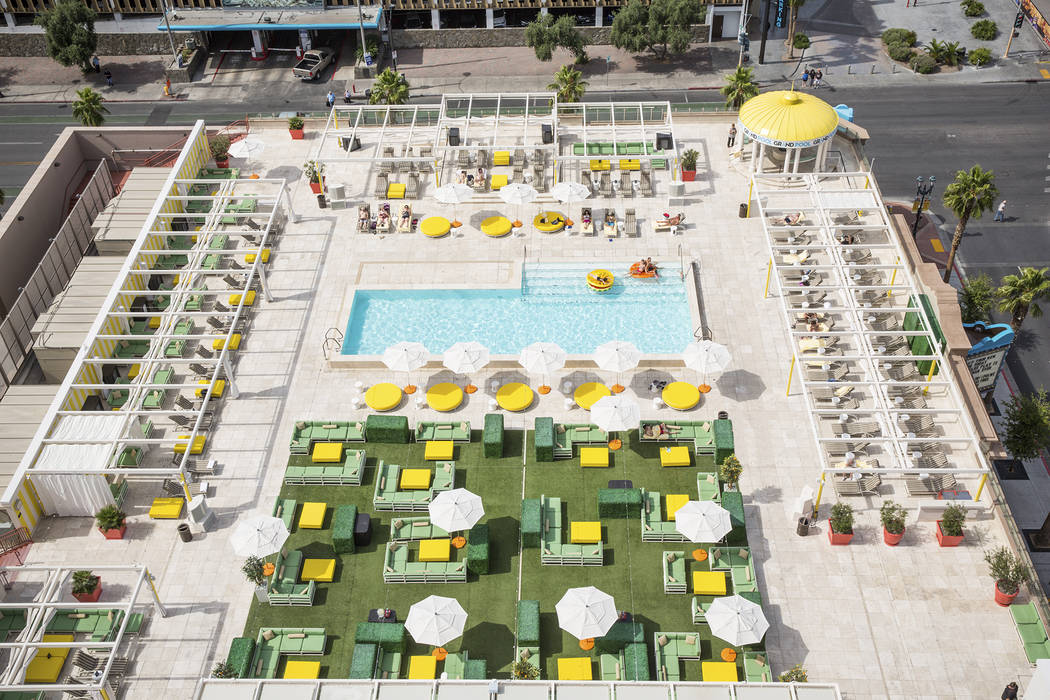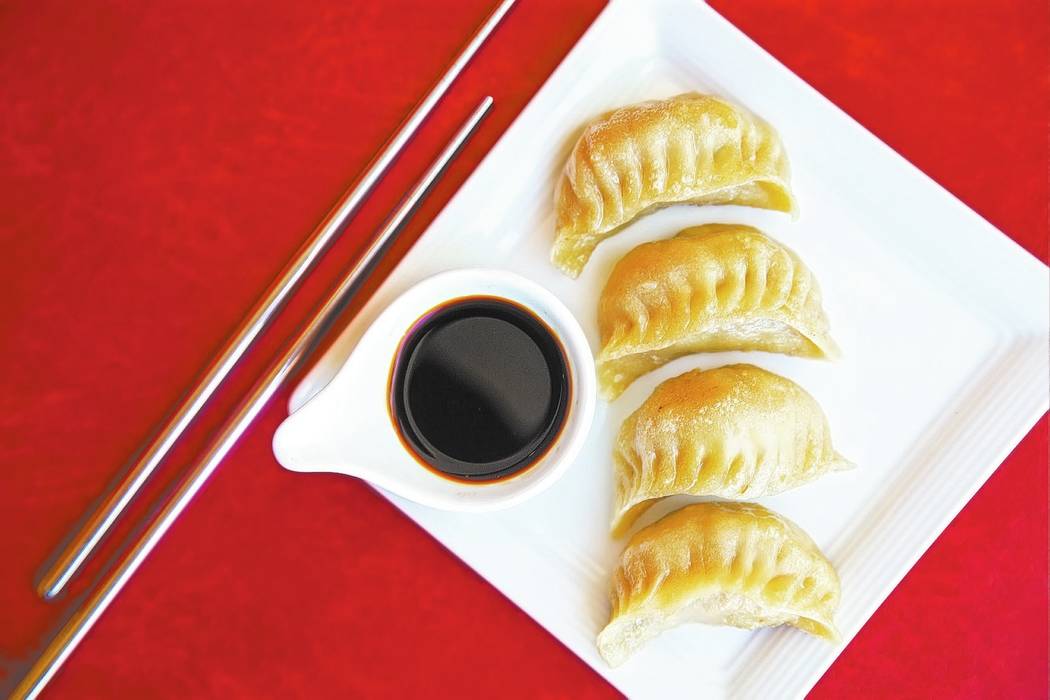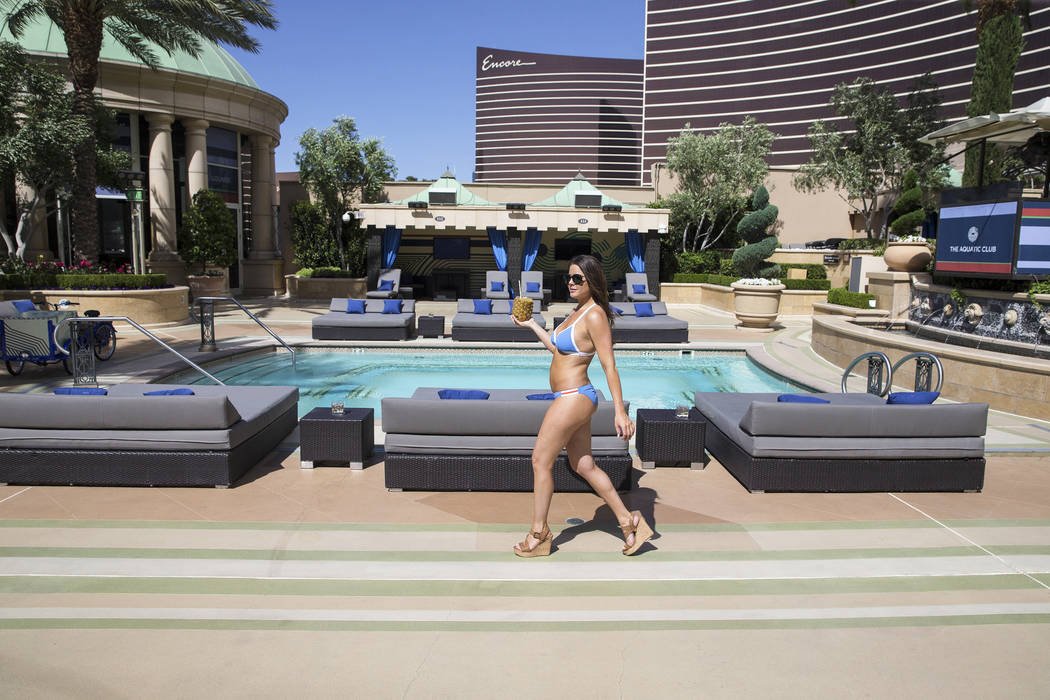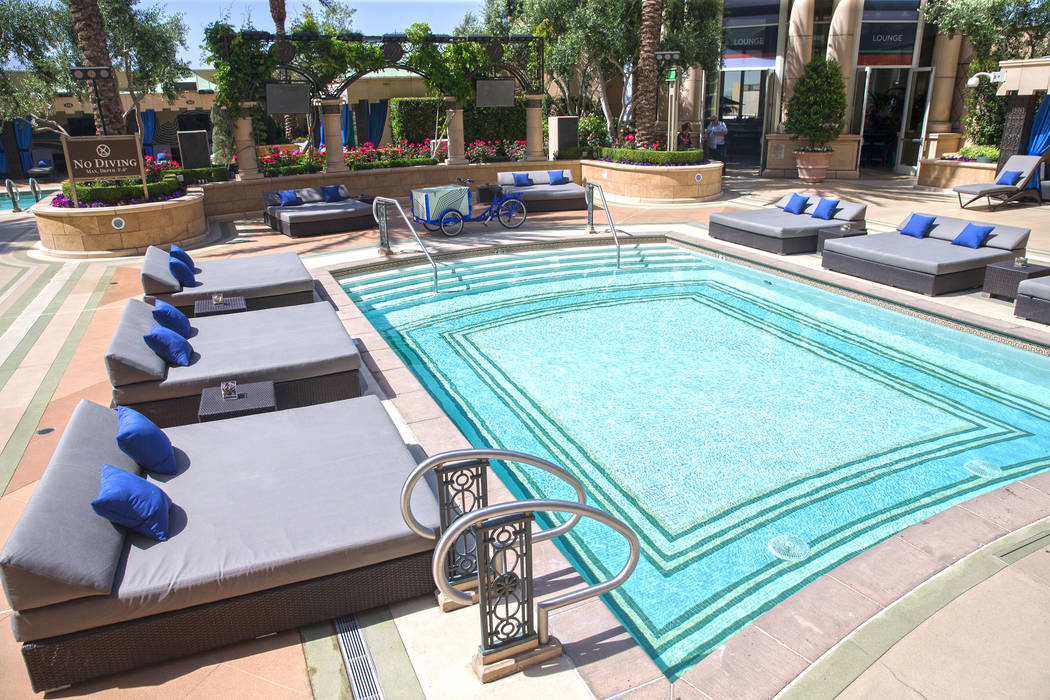 Maybe it just comes with having to live in a desert, but we Southern Nevadans know how to summer in style.
Let the rest of the country whine about high temps and humidity. We celebrate incredible sunsets, sweeping vistas and swimming pools everywhere we can see, and we survive just fine, thank you.
As we begin to acclimate ourselves to another triple-digit season, here's a look at some recently revamped places to cool our brows, soak up some sun and dive into a colorful cocktail.
The Aquatic Club at The Palazzo Las Vegas
The vibe: Sophisticated, replicating the classic social and athletic club feel of decades ago, via a white/navy/aqua color scheme, artwork inspired by '40s and '50s abstract impressionism and staff wearing togs by Tory Sport by Tory Burch.
Perfect for: Sun worshippers who consider "The Great Gatsby" a perfect poolside read.
Features: Floating table tennis on Fridays, tastings by distilleries and mixologists on Fridays from 3 to 5 p.m, poolside manicures all day Sunday, and a Bloody Mary bar all day Sundays.
Entertainment: Hip-hop, Afro-Cuban and world music on Fridays, retro-inspired music with pop-up performances by synchronized swimmers on Saturdays, and live acoustic/contemporary music on Sundays.
Signature sips: The Tee Time, a watermelon-inspired concoction with lime and ginger flavors ($18 for 12 ounces, $60 for 60-ounce pitchers).
Nosh: Poolside tidbits from Wolfgang Puck include appetizers and salads ($14 to $26), pizzas ($18 to $20) and sandwiches and entrees (starting at $15).
Open: Friday through Sunday, 11 a.m. to 6 p.m.
Capacity: 200
Citrus Grand Pool Deck at the Downtown Grand Las Vegas Hotel and Casino
The vibe: A rooftop venue that overlooks downtown Las Vegas, featuring an infinity pool and strategically located green areas (including a dozen organic herb gardens that nurture ingredients for some of the pool's drinks).
Perfect for: People who find downtown's skyline actually pretty beautiful.
Features: A fire pit, backyard games (corn hole, Foosball, table tennis), a grassy seating area with umbrellas and outdoor day beds, a restaurant and full bar on the pool deck.
Entertainment: Citrus Summer Series Thursday through Sunday at 7 p.m. featuring Old School on Thursdays, poolside dance parties on Fridays, rock on Saturdays and Latin hits on Sundays.
Signature sip: The Tickled Pink, a concoction of gin, pomegranate liquor, almond lime sour and ginger beer ($10)
Nosh: Falafel skewers ($10), part of a menu by Chef Scott Commings, who won season 12 of "Hell's Kitchen."
Open: Pool deck opens daily at 9 a.m. Locals free.
Capacity: Just over 100.
The Pool at the Plaza, Plaza Hotel and Casino
The vibe: Distinctly Las Vegasy, thanks to a mix of what the hotel calls a retro Palm Springs feel and classic downtown.
Perfect for: Sun worshippers seeking the feel of someplace mom and dad would have taken you on a family vacation as a kid if your mom and dad were the coolest mom and dad in the neighborhood.
Features: Upgraded pool deck and renovation of of five suites that overlook the pool deck. Tennis court and 12 Pickleball courts. Offers a great view of the Fremont Street Experience area, and don't miss the giant mural by street artist D*Face on the hotel tower overlooking the pool.
Entertainment: Plaza Pool Nights — free swim parties with a DJ and food and drink specials — begin May 6 and run Saturdays from 8 p.m. to 1 a.m.
Signature sip: The Downtown Mule (Absolut Lime, ginger beer, lime juice), $10
Nosh: Chicken caesar or Cobb salad, $11 each.
Open: 9 a.m. to 7 p.m. Sunday through Thursday, and Saturdays from 9 a.m. until after midnight for Plaza Pool Nights. Locals 21 and over with valid Nevada ID get in free.
Capacity: 150
Foxtail Pool at SLS Las Vegas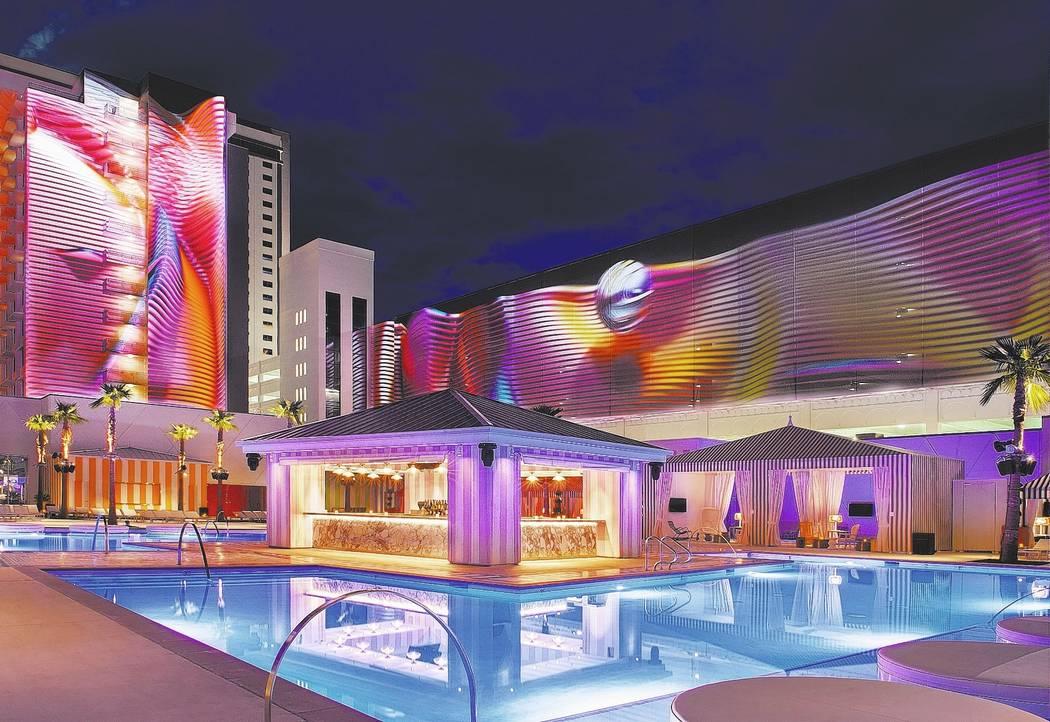 The vibe: Classy, resort-style pool, decorated with soothing but sunny pinks and whites and aquas. Cute, in the best sense of the word.
Perfect for: Candyland for adults.
Features: Cabanas can be reserved Monday through Thursday for a $250 food and beverage minimum, or for a $300 to $750 food and beverage minumum Friday through Sunday.
Entertainment: A weekly lineup of DJs play Fridays through Sundays from about noon to 6 p.m.
Signature sip: Island Boost (rum, pineapple, lemon and Tropical Red Bull), $15.
Nosh: Ahi poke tacos topped with guacamole, yuzu creme and truffle soy, $16.95
Open: 9 a.m. to 6 p.m. daily. Free admission for locals Monday through Thursday, and locals admitted Friday through Sunday with reservation of a couch, day bed, cabana or premium cabana for the day with minimum food and beverage tab ranging from $150 to $750.
Capacity: 300
Cha Garden Pool & Tea Lounge at Lucky Dragon Hotel and Casino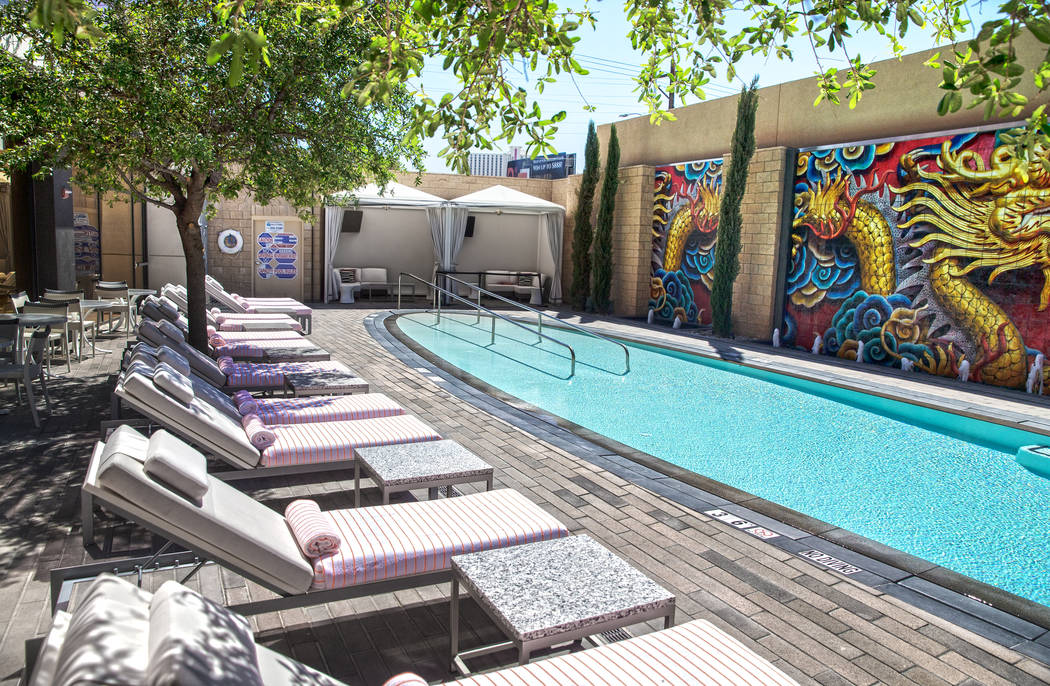 The vibe: The newly opened pool — pond, really — offers what the hotel calls a "Zen pool experience" in its Cha Garden area featuring artwork, a dragon mural and plenty of greenery to create a cozy, calming place.
Perfect for: Adults who secretly envy their children because kids can wade in a pool and nobody thinks anything of it.
Features: Private tea cabanas, a Feng-Shui-designed garden, a fountain surrounded by a mosaic dragon mural and other artistic touches.
Entertainment: DJ every Saturday in May
Signature sips: The Colorwolf, with tequila, watermelon liqueur, lime juice and kaffir syrup ($12).
Nosh: Baos, sandwiches, salads and small bites, including Roast Duck Bao, $6
Open: 10 a.m. to 6 p.m. daily. No charge for locals.
Capacity: 69