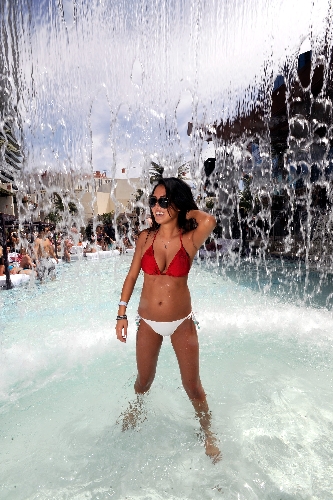 Toast the 2012 Nightclub & Bar Convention. When it rolls into Las Vegas next week, attendance will be the strongest in nearly three decades.
Some 34,000 exhibitors and attendees are expected to swap ideas and hear about the latest innovations in the $19 billion-a-year industry at the Las Vegas Convention Center from Monday to Wednesday, bringing an estimated nongaming economic impact of $32.8 million to Las Vegas.
"It's the biggest numbers I've ever seen in our 27 years," said Jon Taffer, president of Nightclub & Bar Media Group.
The show attracted 31,000 people last year. Educational conference registrations so far are up 40 percent.
Taffer attributes the increase to several factors. The nightlife industry veteran said that club operators are done waiting for the economy to turn around.
"People are moving on now and are accepting what it is. That tentativeness is gone," Taffer said. "It's time to go back to growing our businesses."
And Taffer, ever one to lead by example, is doing just that.
This year his exhibit hall is 7,000 square-feet bigger than last year's 176,000 square-feet, and exhibitor revenue is up 25 percent over last year.
"There's a certain innovation people want to see when they come to Nightclub & Bar," Taffer said. "The other thing that people want to see is the big brands."
Taffer is providing plenty of both.
This year, Malibu is showcasing its new offering, Malibu Red, while Miller Brewing Co. and Coca-Cola also will have a strong presence. The Innovation Pavilion, featuring all-new products, gives start-ups a chance to exhibit for less than a traditional booth. A traditional setup, not including extras like carpet, starts at $2,500. Pavilion spots run $1,500.
Buzzworthy new items to be displayed include the Smart Bar, a touch-screen computerized bar that can mix as many as 700 drinks using 26 liquors, mixers and ice. Taffer also said he was excited about the second year of the craft beer pavilion, which is a growing segment in the industry.
"It's huge. For the first time I can remember, brands like Bud light are being eroded by these brands," Taffer said.
Taffer said he thinks consumers are more food- and beverage- savvy now because of available information from sources such as the Food Network that encourage people to try new things.
"Brand choice is such a personal choice," Taffer said. "There is no logic to absolute value sometimes. We're in the business of perceived value."
In addition to producing the convention, Nightclub & Bar each year names the nation's top 100 nightclubs, based on total revenue. Marquee Nightclub & Dayclub, with revenues of $70.8 million for 2011, secured the No. 1 spot on the list. Rounding out the top five in order were: XS Nightclub, TAO Nightclub, Pure Nightclub and LIV. Only one of the top five, Miami's LIV, is not in Las Vegas.
In addition to revenue information, the Top 100 survey yields performance benchmark information — showing, for example, that 70 percent of venue operators saw revenue growth in 2011, with nearly half reporting increases exceeding 10 percent.
"Marquee does well because of the scene it creates," Taffer said of the popular nightclub.
He explained the clubs that top the list have the best atmosphere, often created by management that carefully controls energy levels through music, ambiance and special events.
"Those that can throttle up and throttle back, and know when, are the best venues," he said, citing TAO and Marquee and XS. "(Jason) Strauss and Jesse Waits are masters of the throttle."
Strauss is co-founder of TAO, Lavo and Marquee, and Waits is co-founder of Drai's, XS and Tryst.
"It's not about the products they sell. The intangible creates the tangible in the nightclub business," he said.
Contact reporter Laura Carroll at lcarroll@reviewjournal.com or 702-380-4588.
Las Vegas Nightclubs