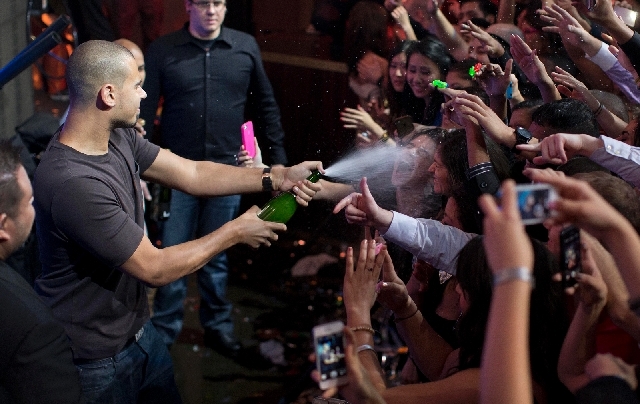 Here is where you may get your freak on at area nightclubs, where famous DJ-producers will help guide that freak on:
FRIDAY
Calvin Harris and Fergie at Hakkasan. Above and Beyond at XS. Gareth Emery at Marquee. Keidy at Marquee Dayclub. Ginuwine performs at Chateau. Dillon Francis at Surrender. Taboo at Palms pool Ditch dayclub. Drop City Yacht Club at Lavo. Politik at Tao. Mark Stylz at Moon. Benny Black at ghostbar. Pizzo at Gallery. Ookay at Body English. D-Miles at Hyde.
SATURDAY
Tiesto at Hakkasan. Kaskade at Marquee. Steve Aoki and Fergie DJ at Wet Republic. Above & Beyond at Encore Beach Club. Benny Benassi at Marquee Dayclub. Dirty South at XS. Diplo at Surrender. Miguel performs at Tao. Jay Sean performs at Haze. Five at Tryst. Alie Layus at Palms pool then ghostbar. Exodus at Moon. Skribble at Chateau. Riddler at Body English. Scooter & Lavelle at Liquid pool dayclub. Joe Maz at Hyde.
SUNDAY
Kaskade at Marquee Dayclub. Bruno Mars performs at the Bank. Dada Life and Bambi at Hakkasan. Tiesto at Wet Republic. Sultan and Ned at Encore Beach Club. Afrojack night swim opening at XS. Ryne Green at ghostbar. Presto One at Palms pool. Godfather at Body English.
MONDAY
Chuckie at Marquee. Diplo at XS. Seany Mac at ghostbar. OB-One at Gallery.
TUESDAY
Dijital at Lavo. Direct at ghostbar. Alie Layus at Moon. Five at Hyde.
WEDNESDAY
Knife Party at Surrender. Axwell during night pool show at new Mandalay Bay Eclipse pool nightclub. Lisa Pittman at ghostbar.
THURSDAY
Laidback Luke at Hakkasan. Cedric Gervais at Surrender. AN21 at Tryst. Major Lazer at Haze. Benny Black at ghostbar. Exodus at Moon.
Doug Elfman's column appears on Page 3A in the main section on Mondays, Tuesdays, Thursdays and Saturdays. He also writes for Neon on Fridays. Email him at delfman@reviewjournal.com. He blogs at reviewjournal.com/elfman.