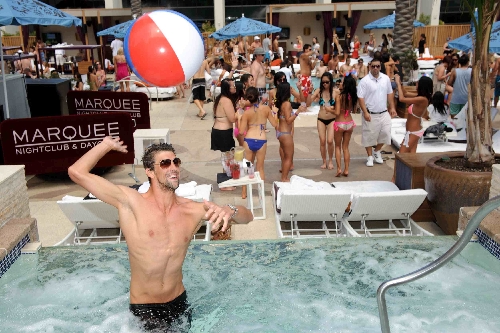 For women who don full makeup to spin class and men who regularly say the words "Can I get a spot, bro," this time of year has been long-awaited. Dayclubs are finally reopening.
Yes, it means you can dust off your dental floss bikinis and trucker hats. The atmosphere that proves the party in Vegas truly never stops is back. Here's a look at some of the dayclubs opening this weekend and what to expect at each.
Marquee Dayclub: Just like the nightclub scene at The Cosmopolitan of Las Vegas, it's one of the hottest of hot spots for dayclubs (10 a.m. to 6 p.m. daily). The 22,000-square-foot scene is standing-pool only. In just its second year, the dayclub pumps things up this season with new production staging. Expect celebrities and DJ celebrities alike to frequent this one. Grammy-nominated Avicii will be behind the turntables for the grand opening Saturday. Cost: Varies from free midweek to $80 or more holiday weekends.
Beachlife: The Hard Rock Hotel has four days of events with four different themes. Every Friday (11 a.m. to 8 p.m.) enjoy Summer Camp, which debuts with electric band Dragonette. Cost: $20 ladies; $40 men. Saturdays (starts at 10 a.m.) bring the Nectar Music Festival, where Basshunter, Hyper Crush, Jump Smokers and more will kick off the season. Cost: $20 ladies; $40 men. Sundays (starts at 10 a.m.) are dedicated to Rehab, the dayclub that spurred a dozen dayclubs in Vegas. Look for Pitbull and DJ Pauly D of "Jersey Shore" to get the party started. Cost: $50 ladies; $70 men. And, just in case you didn't do enough rehabbing, you get Relax Mondays (11 a.m. to 8 p.m.), where the dance pop-rock band Cobra Starship really gets the workweek going Monday. Cost: starts at $20; guests and locals complimentary.
Ditch Fridays: This dayclub at the Palms (starts at noon) began as a means of getting an early start on the weekend. That's still the premise, and four bars, three pools and a gaming area make it all possible. Kelis works her milkshake with a performance at the launch, and guests can participate in a 10K Hottourage contest. Cost: starts at $40; local ladies free.
Encore Beach Club: This 60,000-square-foot dayclub at Encore (11 a.m. to 7 p.m.) is uber-popular. You'll find three tiered pools and 26 cabanas, for which reservations are highly advised. DJ sets for the opening weekend include Steve Angello on Saturday and Tiesto, who was voted "The Greatest DJ of All Time" by Mixmag, on the grand-opening Sunday. Model Sara Underwood has hosting duties Sunday. Cost: $50 ladies; $100 men.
Contact feature writer Xazmin Garza at xgarza@reviewjournal.com or 702-383-0477. Follow her on Twitter @startswithanx.