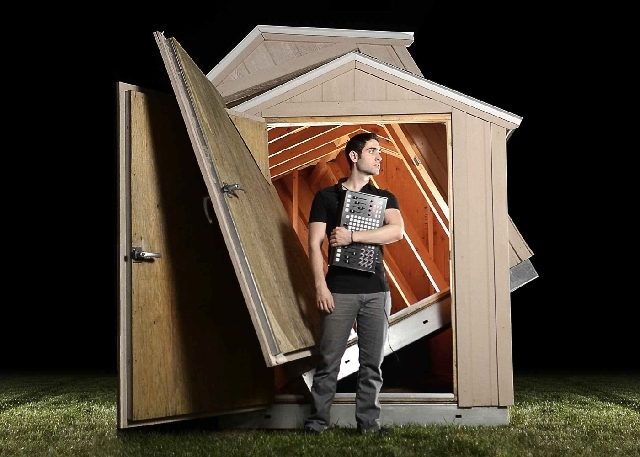 In the past month, Justin Blau (aka DJ 3Lau, rhymes with "Tao") tweeted the following honest feelings about the popular Pitbull and influential Daft Punk.
■ "Pretty sure Pitbull has made the same song 37 times."
■ "I don't get chills/feel invincible listening to (the new album by) Daft Punk, that's what I look for in music. That's why Sigur Ros is my fave."
■ "To me, Alesso's 'Lose Myself' remix is infinitely more emotionally moving and impressive than anything on that album, but that's just me."
When I saw these tweets by Vegas-raised Blau — who performs Friday at Marquee nightclub — I thought, "I agree."
I was also reminded of my interview with Blau late last year, in which he gloriously did not hold his tongue.
At the time, he told me other DJs in electronic music are humble, especially compared with some people in pop music he has met.
"I played with Wiz Khalifa, and the dude was high out of his mind and had no idea what was going on," 3Lau said, laughing.
(Khalifa enjoys weed reportedly. He was previously arrested on marijuana charges.)
3Lau went on: "He (Khalifa) wasn't a (jerk). But the people working around him were pretty embarrassingly unfriendly."
I'm not resurrecting 3Lau's quotes to call him out. I'm doing the opposite.
You see, Blau is barely older than 21, which means he is part of a generation that just says whatever, whenever.
As a professional who relies on the First Amendment, I applaud this gigantic change to American society.
But there are still people in the entertainment media who will often admonish such quote-makers for speaking openly, because a lot of journalism is about magnifying conflict.
I am magnifying conflict right now between me and those other prudish entertainment journalists.
But just like you, I prefer honesty and craziness from my famous people. I'll give you a few other fun examples from favorite tweeters.
Actress Olivia Wilde recently tweeted to 900,000 followers, "Ladies, I'm gonna need you to stop peeing on public toilet seats. Work on your aim. It's a big target."
The same week, comedic actress Aubrey Plaza tweeted to 343,000 followers, "Owwwwww! Someone get these lollipops outta my underwear!!!!"
And let's bring it back to Blau, who tweeted: "I need your love," and "Who is drunk alrdy" and "Masturbation is a safe alternative to random sex. #besafe #masturbate."
My point is: Famous people (actors especially) used to be more guarded. Social media has unleashed many of them, thankfully, to let their personalities be seen unvarnished, outside of the constraints of traditional media — such as myself.
That is a great thing for America. Truly.
It also means famous people make fools of themselves on Twitter, sometimes. But that's awesome, too, for the same reason.
It lets us see the real them. I guarantee you that we, as a society, can handle that truth.
Doug Elfman's column appears on Page 3A in the main section on Mondays, Tuesdays, Thursdays and Saturdays. He also writes for Neon on Fridays. Email him at delfman@reviewjournal.com. He blogs at reviewjournal.com/elfman.